We're at the midway point for the New York Jets in the preseason and a full month away from the start of the 2023 NFL regular season. 
Before the Jets can even prepare for their Monday Night battle against Buffalo though, the team needs first to figure out who will play in some of the more critical positions on the roster. Luckily for them, their answers are beginning to be solved as the preseason continues. 
New York may be coming off a 27-0 dismantling of the Carolina Panthers, but many of the position battles that have been observed to this point seem to be drawing to a close already. Let's take a look at how the Jets are expected to look heading into Week One. 
A reminder that this is only a projection and not an announcement made by the New York Jets at this time. 
Offense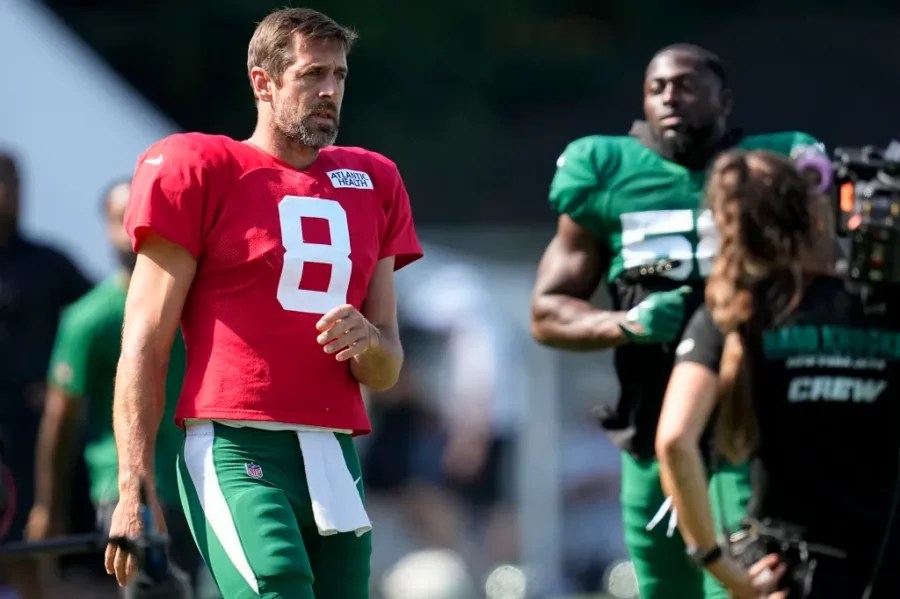 Jets Offensive Projection
Position
First
Second
Third
Fourth
 
WR
Corey Davis
Mecole Hardman Jr.
 
 
 
TE
C.J. Uzomah
Jeremy Ruckert
 
 
 
LT
Duane Brown
Billy Turner
 
 
 
LG
Laken Tomlinson
Wes Schweitzer
 
 
 
C
Connor McGovern
Joe Tippmann
 
 
 
RG
Alijah Vera-Tucker
Wes Schweitzer
 
 
 
RT
Mekhi Becton
Max Mitchell
Carter Warren
 
 
TE
Tyler Conklin
Jeremy Ruckert
 
 
 
WR
Garrett Wilson
Randall Cobb
 
 
 
WR
Allen Lazard
Mecole Hardman Jr.
 
 
 
QB
Aaron Rodgers
Zach Wilson
Tim Boyle
 
 
RB
Breece Hall
Michael Carter
Zonovan Knight
Israel Abanikanda
 
FB
Nick Bawden
 
Notes:
If the New York Jets want to find a solution to their tackle crisis, it needs to start this week with joint practices against Tampa. It also means giving Mekhi Becton first-team reps to see what he can do against starters. New York's patient approach with him has been commendable, but if the Jets want to play the five best offensive linemen, they need to make sure he is on the field. 
It's hard to envision where New York goes at running back as long as Dalvin Cook remains available. If Cook decides against going to Gang Green, then all four running backs could remain safe. If Cook comes to the Jets, it could mean they only keep three on the active roster. 
What the team will do at receiver is also very interesting. They could keep six players and like Malik Taylor and Jason Brownlee battle it out, or neither could make the team and be sent to the practice squad to start the 2023 season. For the benefit of starting out strong, I think they'll start away from the 53-man roster.
Remember, the third quarterback no longer counts towards the active roster on gameday so the Jets offense currently employs 27 players on the active roster with this projection. Let's see what the defense looks like now. 
Defense
Jets Defensive Projection
Position
First
Second
Third
Fourth
Fifth
EDGE
Jermaine Johnson
Carl Lawson
Will McDonald IV
 
 
DL
Quinnen Williams
Quinton Jefferson
 
 
 
DL
Al Woods
Solomon Thomas
 
 
 
EDGE
John Franklin-Myers
Micheal Clemons
Bryce Huff
 
 
LB
Jamien Sherwood
Zaire Barnes
 
 
 
LB
C.J. Mosley
Chazz Surratt
 
 
 
LB
Quincy Williams
 
 
 
 
NB
Michael Carter II
 
 
 
 
CB
Sauce Gardner
Bryce Hall
Jimmy Moreland
 
 
CB
D.J. Reed
Brandin Echols
 
 
 
S
Jordan Whitehead
Ashtyn Davis
 
 
 
S
Tony Adams
Adrian Amos
 
 
Notes:
There are a lot of good defensive players that are going to be on the chopping block. Bruce Hector and Deslin Alexandre both had excellent preseason games in Carolina, but the defensive line depth is too deep for open roster spots. 
New York's linebacking core is pretty much already settled except for a couple of backup roles. Nick Vigil looked good in spurts but the battle seems to be won by Chaz Surratt. I still give the WILL battle to Jamien Sherwood but Zaire Barnes is making it a very close competition. 
Remember, Brandin Echols is suspended for the first week of the season so while the team is expected to keep him on the roster, expect a call-up to be made to someone like Jarrick Bernard-Converse who is still recovering from his offseason injury.
The roster now sits at 50 with three special team spots available.
Special Teams
Jets Special Teams Projection
Position
First
Second
Third
Fourth
Fifth
K
Greg Zuerlein
 
 
 
 
P
Thomas Morstead
 
 
 
 
H
Thomas Morstead
 
 
 
 
PR
Mecole Hardman Jr.
 
 
 
 
KR
Mecole Hardman Jr.
 
 
 
 
LS
Thomas Hennessy
Notes:
The Jets' special teams units are as complete as they have ever had in recent memory. This should be a very good group.
And here we are. This is how the Jets starting roster expects to look on opening night against Buffalo, but as always, things can certainly change. Do you agree with our list? Let us know in the comments!
For more New York Jets news, turn to AMNY.com