We're just a day away from the start of the 2023 NHL season and that means hockey is back for the Metropolitan division. Is another playoff season in the works for the New York Rangers, New York Islanders, and New Jersey Devils? 
Today, before we focus on puck drop for the new season, we look at the first power rankings of the season for the Metro division. 
Let's get to it.
8. Philadelphia Flyers
It's another year in the Flyers rebuild and that means another bottom finish in the Metro division. This team has some talent, and Carter Hart gets a bad rap, but this team isn't fully ready to compete in this division just yet.
7. Columbus Blue Jackets
As talented as the Blue Jackets are at times, they are completely in disarray. Mike Babcock's resignation from the team before the season even began is a sign of things to come for this group. This team is an organizational mess. 
6. Washington Capitals
The Capitals seem to be a team clearly in transition. They do a lot of good things but the aging roster is seemingly on their last legs. The only focus for them this year is to see if Ovechkin can get past Wayne Gretzky over the next couple of years.
5. New York Islanders
Can the Islanders get back to the postseason with a full year of Bo Horvat in tow? It'll certainly be challenging this season with a surging Devils roster and an improved Penguins team. We currently have them on the outside looking in at this point, but key matchups against the Rangers and Penguins could very well turn the tide for their playoff hopes. 
4. New Jersey Devils
A lot of people won't agree with the Devils being so low on this list, but they remind me a lot of the Rangers last season. New York was coming off a surprise run to the Eastern Conference Finals and struggled to match their success the year after. This isn't to say the Devils will be bad, but a natural regression is possible. 
The Metro division is loaded and many people will pick New Jersey to be in the thick of the group's top spot. That being said, like their cross-town rivals, regression could come in weird moments. A slow start could hurt their chances as well.
3. Pittsburgh Penguins
Erik Karlsson's acquisition by the team should make the Penguins a dangerous team this season. They may be an aging group, but the team is built the right way and has solidified key areas that had killed them over the last few years. They'll match up better than people expect this year and should be in a position to have a successful year. 
2. New York Rangers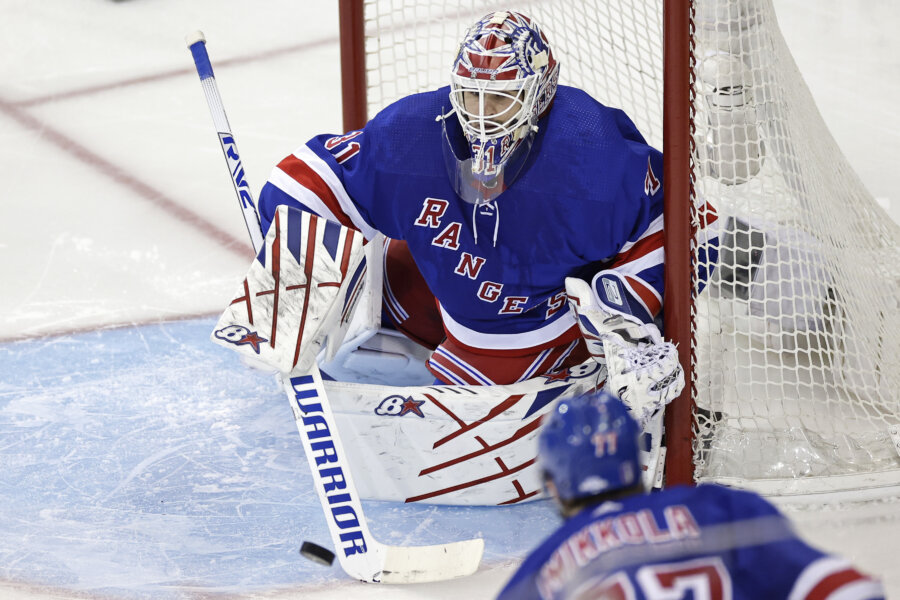 There are a lot of people who aren't pleased with how the Rangers have looked in the preseason so far this year. They've looked like a team still learning under a new head coach in Peter Laviolette. With all the concerns coming through though, the Rangers still have important differences from other teams in this division. 
They still have a top goaltender in Igor Shesterkin, a top defensive player in Adam Fox, and offensive firepower at every line. While every team in the Metro has certain qualities that can make them good, the Rangers should be able to match up well with every team on their slate. 
The only reason why they won't is if the team doesn't fully buy into Laviolette or their lack of focus has continued into another year. 
1. Carolina Hurricanes
Carolina is the class of the Metro and until teams show they can beat them at their own game, it's unlikely to change any time soon. The Hurricanes may have been upset in the Eastern Conference Finals, but they return key players from last season and know their identity well. 
Straightforward, it's unlikely that teams such as the Rangers, Islanders, or Devils can get an edge on a team like the Hurricanes. 
For more New York Rangers news, turn to AMNY.com