Not many quarterbacks in football can perform at a high level when they go through the punishment the New York Jets offensive line allowed Sunday evening in Dallas. 
Zach Wilson, replacing Aaron Rodgers for the first time this season, was harassed in his first start of the 2023 season. He was hit six times, sacked a few, and pressured on 13 times that were credited to his linemen. In short, it doesn't matter how he's going to play if the line plays as poorly as they did on Sunday. 
Luckily, with it just being the second week of the season, there are solutions on the table to not only save Wilson's 2023 season but also the Jets' year as well. 
Let's go through the three here. 
Replace Laken Tomlinson with Joe Tippmann
To be blunt, the Jets signing of Laken Tomlinson has blown up in their face. The Pro Bowl player he was in San Francisco hasn't existed since he arrived in Florham Park. He's the weak link of a group getting worse. The Jets need to replace this veteran as soon as possible. 
His replacement is already on the roster too. Joe Tippmann is a solid size for a guard, athletic, and strong enough to handle NFL rushers. We've seen recent history show drafted centers transition to guard very nicely. 
The quickest way to help improve the Jets' offensive line is by improving the left side. Improving the left side means starting the second-round rookie from the 2023 class. 
Move Mekhi Becton to Left Tackle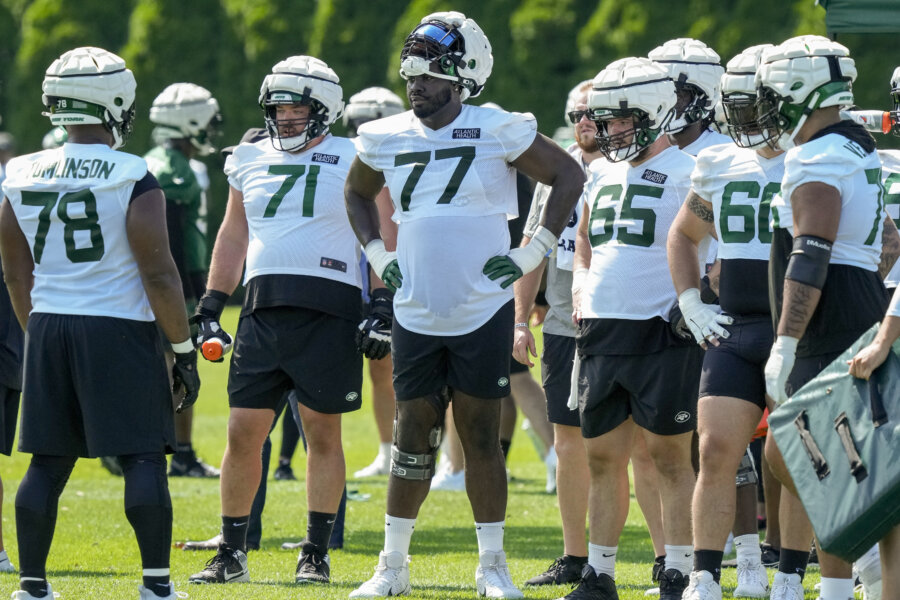 It's well-documented how much the Jets coaching staff loves Duane Brown as a player and person. At 38 years old though, the first two games of the season have shown his best days are behind him. 
If the Jets are focused on winning in 2023 then replacing Brown with another tackle is extremely important. Mekhi Becton has played very well at right tackle so far this year – specifically in the run game. Moving Becton to the left side won't just protect Wilson's blindside, but it'll balance out the Jets' offensive line. They'd be effective on both sides with Tippmann and Becton on the left, and AVT on the right with the final piece to the puzzle brought in. 
Sign La'el Collins
New York could move Brown to right tackle, or try and see what Max Mitchell or Billy Turner can bring. Any of those three options aren't winning moves though. New York needs to have balance along their lines and La'el Collins is a major solution there. 
Collins is a free agent after being cut by the Bengals and is looking for a chance to start. He'll need some time to ramp up, but Gang Green could solve their problems on the overall line if they just improve their depth. 
There won't be a lot of easy fixes over the next few weeks for the Jets. Upcoming games against the Patriots, Chiefs, and Eagles will be very difficult to traverse as an overall group. There are some moves to make in the immediate future that would give the Jets a better chance to succeed for the rest of the year though. 
If they want to reach their goals for the playoffs, things will need to change immediately. 
For more New York Jets news, turn to AMNY.com