Gang Green's preseason slate may not be over just yet, but the New York Jets have some clarity on clear winners of their position battles. 
2023's training camp saw several positions open up to competition from young players and older veterans alike. Not every young prospect was able to nab a starting role while not every wily veteran secured a spot either. Each position group has been a case by case basis. 
Let's take a look at where things stand heading into the final week of training camp for the Jets. 
Starting Tackles – Duane Brown, Billy Turner, Mekhi Becton, Max Mitchell
Winners: Duane Brown (LT), Mekhi Becton (RT)
Any thought of this position battle continuing into the final preseason game may have ended Saturday night. Mekhi Becton's dominance against the Buccaneers second and third string was a sight to behold and should clearly entrench him as the team's starting right tackle. He has outplayed Max Mitchell and Billy Turner over the last month and there really isn't anything else to say on the matter.
Duane Brown has not played yet as he recovers on the PUP list, but as a long-time veteran and solid left tackle, he should be safe as the team's starter there. 
Both Becton and Brown could be interchangeable at the left and right side, but if the Jets are serious about their championship aspirations, having Brown defend Aaron Rodgers' blindside might be the best bet for the 2023 season. 
3rd Running back – Michael Carter, Zonovan Knight
Winner: Michael Carter
This is not a starter position battle but with the addition of Dalvin Cook, the third running back role was something to watch over the last week. Like the tackle position, it may have concluded after Saturday's loss though. Michael Carter did not suit up in the game and Zonovan Knight struggled to do anything positive in the contest. Knight fumbled and dropped multiple passes – something that you cannot do in a position battle. 
It's hard to see something changing here any time soon. 
Center  – Connor McGovern, Joe Tippmann, and Wes Schweitzer
Winner: Connor McGovern
Joe Tippmann's knee injury not withstanding, the Jets starting center in 2023 is going to be Connor McGovern. McGovern has been the most consistent, dependable and experienced player of the entire competition and clearly has the confidence of Rodgers. Tippmann has looked good when given the chance to play, but a below-average day at center on Saturday, coupled with his experience recently at guard leads many to believe that his 2023 role could be at another position. Schweitzer just hasn't been good enough to start. 
As starters go, the Jets could do a lot worse than McGovern at center. 
Free Safety – Tony Adams, Adrian Amos
Winner: Tony Adams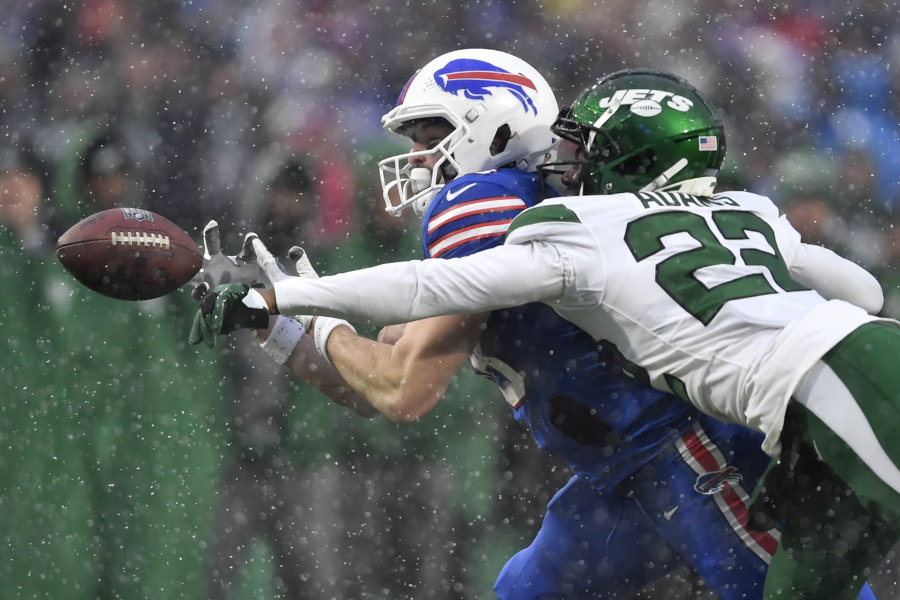 This is arguably the one position in this entire list that hasn't even been a battle. Tony Adams has taken the reigns at free safety following Chuck Clark's injury, and hasn't relinquished it at all. Adams has been the starter since the beginning of camp and has played so well that the team has not played him in any of the preseason contests to this point. 
It's an incredible mark on the Jets scouting department to have a strong undrafted free agent class like last year's group but Adams has been excellent. 
For more New York Jets news, turn to AMNY.com