Nicknamed the "most compelling team in football" after one episode of "Hard Knocks" the New York Jets have added a new wrinkle to their preseason plans after a dominant 27-0 win over the Carolina Panthers Saturday evening. 
In their second game of preseason action, the Jets had more starters play against Carolina than when they took the field in Canton, Ohio just a week ago. Starting players like Connor McGovern, Billy Turner, and a plethora of defensive stars all had a hand in New York's victory that had plenty of people excited for the incoming start to the 2023 season.
The starters weren't the only group to show out Saturday evening either. We have the most important thoughts from Saturday's win here:
Defensive Line welcomes Bryce Young to the NFL in a big way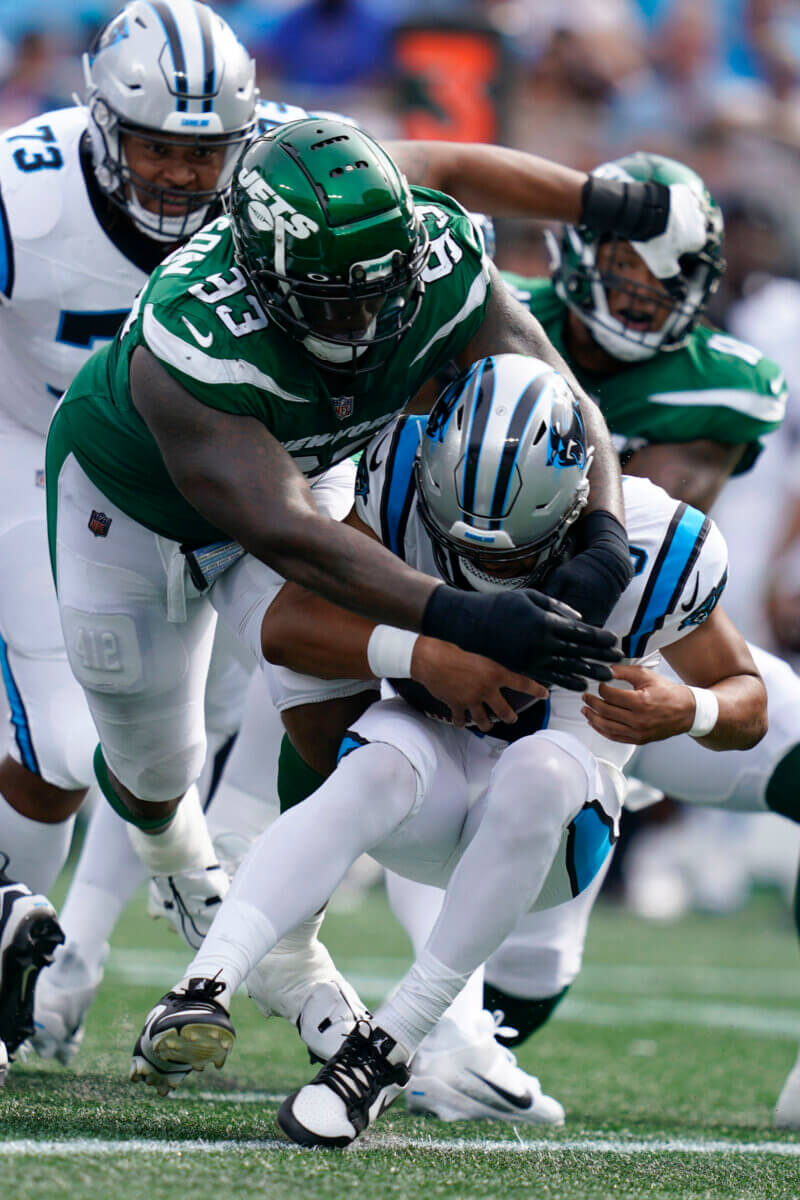 There is really no other way to describe Saturday's contest than a complete whooping up front by the Jets' defensive line. New York, facing the number one overall pick from this past year's draft terrorized Bryce Young throughout his first quarter of work. Young's backups did not fair much better. 
Gang Green tallied three sacks with five quarterback hits in the first half alone with rookie Will McDonald tallying one of the sacks on the day. Bryce Huff and Jermaine Johnson also got in on the fun with several major hits on Young and other quarterbacks thrown onto the field by Carolina. It's even crazier when you realize this defensive line was just the backup group with Quinnen Williams, Carl Lawson, and John Franklin-Myers not playing Saturday against the Panthers' top offensive line. 
After most of the second-team defensive line sat for the day, the third and fourth groups still had plenty of success as well getting after the quarterback. Recently signed Bruce Hector forced a fumble and recovered it to start the third quarter, the first turnover of the day forced by New York. In total, the Jets recorded five sacks on the day. 
It's clear the Jets' pass rush was going to be a strength of the team but the way the group has looked through camp has teased the potential of setting the team's single-season sack record in 2023. 
Zach Wilson's strong showing
Aaron Rodgers is now the face of the franchise, but his backup has done a good job of instilling confidence in the organization should anything to him during the regular season. Getting the start in the Carolina heat, Zach Wilson played the entire first half and scored on three of the six drives he was in on.
His best drive came on a two-minute drill to end the half. Wilson was 5-5 on the drive for 31 yards and a touchdown strike to Kenny Yeboah. In the game, Wilson finished 14/20 through the air for 123 yards passing and a passer rating of 102.7. He was poised in the pocket and, when he was decisive, looked like a potential starting quarterback. 
It's the best Wilson has looked in a game since he came to the Jets two years ago. 
Michael Carter runs hard
Carter's slow start to training camp had many thinking he would be the odd man out if the Jets were to bring in a free agent like Dalvin Cook. Saturday was easily one of the better days for the young back though. 
Carter had 53 yards of total offense with 4.8 yards a carry. He also caught two passes for 34 yards and a 17-per-catch clip. If he continues to play like this throughout the preseason and even in practices, he could very well secure himself a spot on the final 53-man roster.
Special Teams plays…special
Has New York's special teams ever had as strong a start to the preseason as they have done this year? Greg Zuerlein connected on both field goals to start the game with over 40 yards in distance. He really hasn't missed much at all this preseason or camp. 
It wasn't just Greg "The Leg" that looked good either. Thomas Morstead had a very good day as a punter. His first punt went 56 yards and dropped at the 2-yard line, a perfect coffin-corner punt to help the dominant defensive line continue to play well. 
Even Xavier Gipson continued to play well as a returner. His 14-yard punt return got the Jets' second drive started with great field position. 
In a loaded division where every play will matter, having a strong special teams unit will be incredibly important for New York this season. 
Mekhi Becton and OL shrug off slow start
Saturday was a major milestone for Mekhi Becton, even if it wasn't the best of starts. Becton and the offensive line shrugged off a slow start to the game in the second quarter in which he was beaten for a sack to have a pretty solid game. 
More importantly, Becton played over 25 snaps against Carolina – a milestone that Saleh was hoping he would get through before getting first-team reps. 
All eyes will be on how the Jets handle Becton now after playing through a full game and week of practice without injury, but it was a very encouraging sign for New York and their former first-round pick. 
Rookies continue to excel
Another week, another excellent showing from the 2023 rookie class for Gang Green. New York received plenty of positive tape on their rookie class who all have shown enough to earn more playing time throughout the preseason, and even with the 2023 squad. 
Will McDonald tallied a sack against Matt Corrall, Joe Tippmann had another game at center without giving up a sack, and Zaire Barnes flashed his speed on the defensive side. Seventh-round tight end Zack Kuntz recorded his first preseason touchdown late in the fourth quarter. Even Deslin Alexandre recorded his first sack of the preseason as an undrafted free agent.
The Jets had a clear rookie winner in running back Israel Abanikanda though. Izzy used his speed to great effect throughout the game while accounting for over 80 yards of offense. Before the end of the first half, Abanikanda had an impressive 27-yard run before the half where he spun out of a would-be tackler for a first-and-goal situation. He averaged over six yards a touch and showed why he can be a very important balance to the offense when Breece Hall returns. 
A lot of people may have been a little disappointed with the Jets' rookie class when they were first drafted, but they've all looked strong to start the preseason. 
For more New York Jets news, turn to AMNY.com