Another week, another New York Jets roster projection. With final cutdown day drawing ever closer, the Jets have received some clarity on their roster decisions after three preseason games. 
The Jets may be coming off a 13-6 loss to the Tampa Bay Buccaneers, but the loss gave the team plenty of tape and answers on some of their biggest questions on the roster. Let's go through the latest projection that we have for the final 53-man roster.
A reminder that this is only a projection and not an announcement made by the New York Jets at this time. 
Offense
Jets Offensive Projection
Position
First
Second
Third
Fourth
Fifth
WR
Corey Davis
Randall Cobb
 
 
 
TE
C.J. Uzomah
 
 
 
 
LT
Duane Brown
Carter Warren
 
 
 
LG
Laken Tomlinson
Wes Schweitzer
 
 
 
C
Connor McGovern
Joe Tippmann
 
 
 
RG
Alijah Vera-Tucker
Trystan Colon
 
 
 
RT
Mekhi Becton
Max Mitchell
 
 
 
TE
Tyler Conklin
Jeremy Ruckert
 
 
 
WR
Garrett Wilson
 
 
 
 
WR
Allen Lazard
 Mecole Hardman Jr.
 
 
 
QB
Aaron Rodgers
Zach Wilson
Tim Boyle
 
 
RB
Breece Hall
Dalvin Cook
Michael Carter
Israel Abanikanda
 
FB
Nick Bawden
 
Notes
A reminder that the Jets and other NFL teams need to have three quarterbacks on the final 53-man roster.
Zonovan Knight seems like the odd man out in the running back room after a disappointing loss to Tampa. Carter and Abanikanda are seen as the depth players behind Cook and Hall.
New York could easily keep six wide receivers but as neither of the combination of Jason Brownlee, Xavier Gipson, or Malik Taylor have stood out in games, it's hard to see any of them make the final roster. These seem more like practice-squad candidates to me.
The offensive line battles seem like a wrap to me. Becton has outplayed everyone at right tackle, Duane Brown is on his way back, and the Jets' interior is solid. This is the best five that head coach Robert Saleh has been looking for. 
By my count, there are 26 players on the offensive side to start the year.
Defense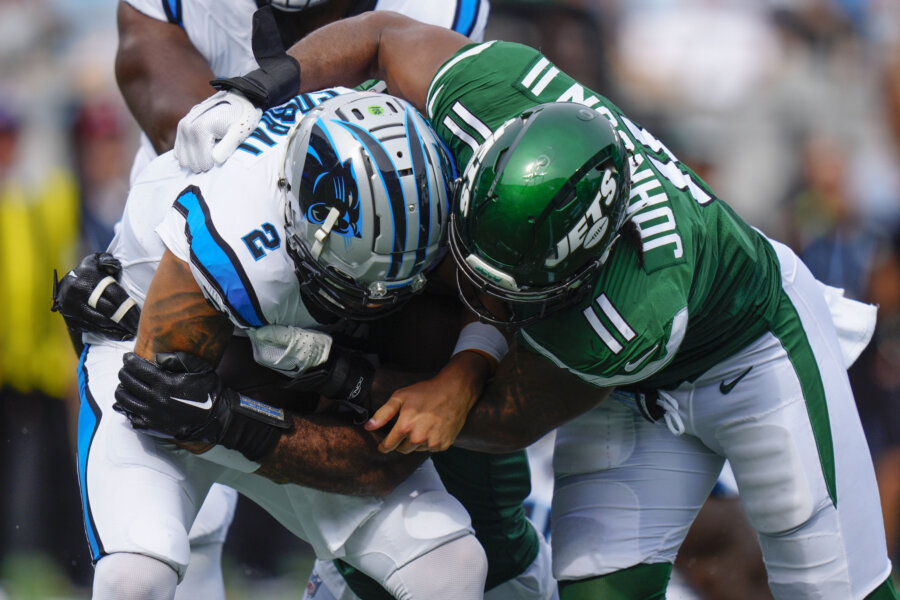 Jets Defensive Projection
Position
First
Second
Third
Fourth
Fifth
EDGE
Jermaine Johnson
Carl Lawson
Will McDonald IV
 
 
DL
Quinnen Williams
Quinton Jefferson
 
 
 
DL
Al Woods
Solomon Thomas
 
 
 
EDGE
John Franklin-Myers
Micheal Clemons
Bryce Huff
 
 
LB
Jamien Sherwood
Zaire Barnes
 
 
 
LB
C.J. Mosley
 
 
 
 
LB
Quincy Williams
 
 
 
 
NB
Michael Carter II
 
 
 
 
CB
Sauce Gardner
Bryce Hall
Jimmy Moreland
 
 
CB
D.J. Reed
Brandin Echols
Craig James
 
 
S
Jordan Whitehead
Ashtyn Davis
 
 
 
S
Tony Adams
Adrian Amos
 
 
Notes
You can't cut any of the edge players the Jets possess currently. They are too good and too deep. This is arguably the deepest group in all of football.
Thanks to Michael Clemons' versatility, the team will only need to keep four defensive tackles on the roster.
Four linebackers are the smart choice for this projection. Saleh loves Surratt but Zaire Barnes continues to play well and the team really likes what they've seen from Jamien Sherwood.
At corner, it's pretty straight forward. Jimmy Moreland and Craig James have played pretty well during the preseason. It also doesn't hurt that Brandin Echols is suspended for the first-week of the NFL season so another player can be added to the roster without any major cause. 
New York has a deeper safety group this year than last year. After his tremendous performance against Tampa Bay, it's hard not to seee Ashtyn Davis find a place on the Jets final roster.
With Echols' suspension, this roster sits at 50 players.
Special Teams
Jets Special Teams Projection
Position
First
Second
Third
Fourth
Fifth
K
Greg Zuerlein
 
 
 
 
P
Thomas Morstead
 
 
 
 
H
Thomas Morstead
 
 
 
 
PR
Mecole Hardman Jr.
 
 
 
 
KR
Mecole Hardman Jr.
 
 
 
 
LS
Thomas Hennessy
Notes
Same old, same old. This group is good to go for Buffalo.
For more New York Jets news, turn to AMNY.com