EAST RUTHERFORD — Saturday night may have resulted in a 13-6 loss for the New York Jets to the Tampa Bay Buccaneers but there was plenty to be happy about for Gang Green. 
Whether it was an improved showing from the entire offensive line, excellent defense from key position groups, or simply competitive reps from depth players, head coach Robert Saleh has plenty to be happy about from his team's performance.
New York jumped out to early 3-0, and 6-3 leads thanks to some nifty plays from Zach Wilson and strong defensive standouts. It wasn't until Kyle Trask found a leaping Trey Palmer in the end zone for the game's first touchdown that the Buccaneers finally got rolling on the offensive end. The Jets weren't able to muster enough offense the rest of the way. 
As always with a preseason contest like this, there were plenty of important takeaways from Saturday night's contest. Let's get to them all. 
Zach Wilson turns into Mike Vick in a flash
It was a relatively quiet night for Wilson. The young signal-caller went 9/13 passing for 70 yards while leading two field-goal drives in the first half. He was smart and efficient as he's been all preseason.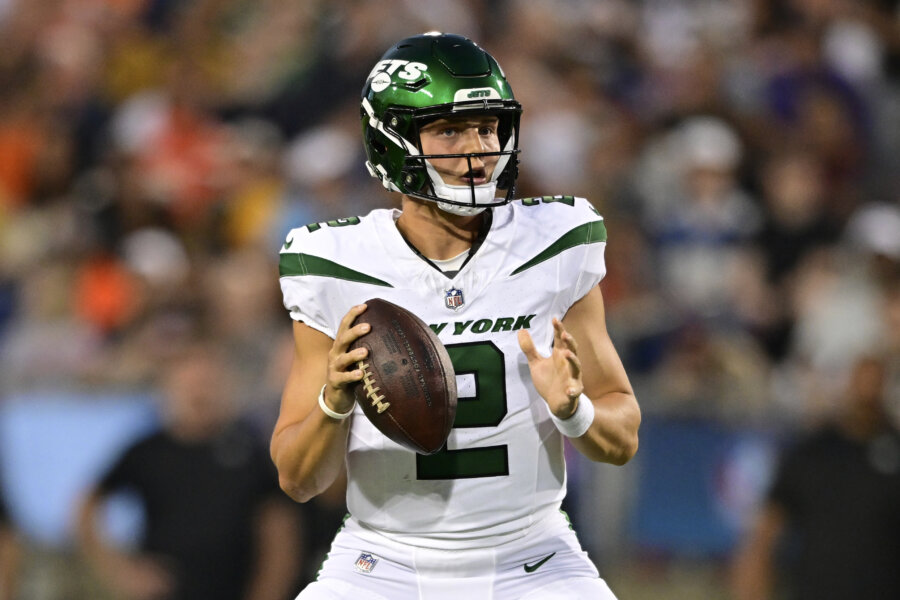 But the highlight play came not from his arm, but from his legs. 
With the score tied at three, Wilson spun to evade interior pressure and then ran the extra yards for an electric 35-yard run. It was the kind of play that had everyone in the stands on their feet while showing the kind of skill Wilson had when he was the second-overall pick out of BYU. 
The Jets may have lost on Saturday, but Wilson was another bright spot for the offense. 
Injury Scares
You never want to see big injuries in preseason games but MetLife Stadium and the Jets saw a few Saturday. The rookie running back had to leave the game due to a thigh injury and did not return. He struggled to put weight on his right leg after banging into an offensive lineman. Head coach Robert Saleh later confirmed the running back suffered a thigh contusion. 
Joe Tippmann also had to leave the game due to a knee injury. Saleh later said that he would get later word from the doctors before Tuesday's practice. 
Tampa had an even bigger scare though on their end. In the fourth quarter, third-string quarterback John Wolford was sacked by Pita Taumoepenu and would need to be carted off on a stretcher. The Buccaneers later announced that Wolford was taken to the hospital for further evaluation but had feeling in all his extremities. 
Bryce Huff needs playing time in 2023
It is insane that the Jets have this many great pass rushers. Bryce Huff would be a top starter on any other team but in New York, he's fighting for a roster spot. More so, he's proving that even though the team is loaded at the position, he deserves playing time during the 2023 season.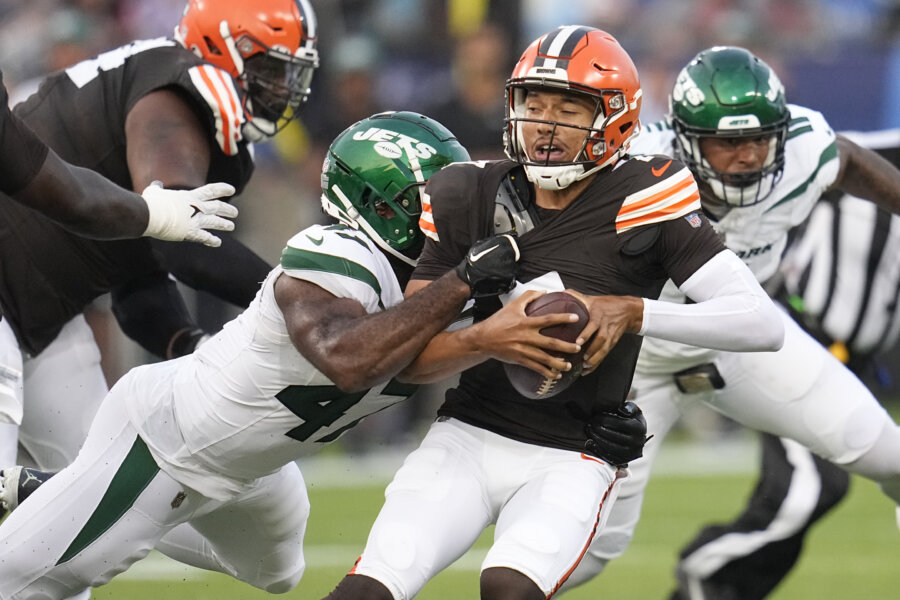 Huff recorded another sack on Saturday while adding a few more pressures to his total over the first three preseason games. 
He was the best player on the defensive line against Tampa Bay for the Jets and is more than deserving of a role this season. 
Safeties Shine
New York seemingly has their two starting safeties locked up. Neither Tony Adams nor Jordan Whitehead played in Saturday's preseason contest, as well as the entire preseason at this point to boot. In their place, Ashtyn Davis and Adrian Amos received the start at opposite safety positions and put forth an excellent effort. 
The duo combined for seven tackles and four for losses. Making it even more impressive was the fact that the Jets played them for an entire half and there wasn't anything the Buccanneers could do offensively through the passing game. 
The Jets may have had a bad safety group last year, but they are certainly a lot deeper in 2023. 
Offensive Line Update
The tackle position battle may have ended Saturday night. 
Billy Turner and Max Mitchell both again struggled to show any level of consistency throughout the night with Mitchell playing with the second team as well on the left side. 
No, the true winner against Tampa Bay was Mekhi Becton. The former first-round pick recorded multiple pancake blocks in pass protection while also being a sturdy protector of Wilson's front side. It was the kind of game that showed Becton is not meant to be on the second team, there's too much talent. It's also fair to point out he played well into the fourth quarter.
There's no excuse anymore from the Jets coaching staff. Becton has seemingly won the right tackle position battle with Duane Brown expected to be on the left. He's hit every snap count the team could want – it's just now about giving him the chance to earn being a starter again. 
Bam Knight and Michael Carter fight for a final RB spot
Saturday might have been the last time we see Zonovan Knight compete for a role in the 2023 Jets. With Michael Carter sitting the entire night, Knight had a chance to solidify his role. 
He just couldn't do it. 
Outside of a bad fumble early in the second quarter, Knight struggled to catch the football multiple times and wasn't explosive enough when the offensive line did open holes for him. Knight may have had some nice spurts in 2022, but with Dalvin Cook on the roster, it seems that the writing is on the wall for Zonovan Knight in New York. 
Jets special teams units strike again
We know how good Greg Zuerlein and Thomas Morstead have been this preseason for the Jets. Zuerlein was, once again, perfect from field goal range on Saturday night, but it was in the other groups that stood out. Arguably the most important player that stepped up was Xavier Gipson. Gipson has been competing with Malik Taylor and Jason Brownlee for the final receiver spot on the 53-man roster, but his 31-yard punt return to set up the team's first score was a big plus for him. 
When it comes to final roster spots, being able to be excellent on special teams is usually a major factor. It's not a guarantee that Gipson makes the team off a play like that, but it certainly doesn't hurt. 
Gang Green will conclude their preseason work next Saturday against the New York Giants next Saturday.
For more New York Jets news, turn to AMNY.com