FLORHAM PARK — We're a week away from the start of preseason games for the New York Jets, and the team is getting even healthier as the calendar turns to August.
Veteran wide receiver Randall Cobb has been taken off the physically unable to perform list (PUP) while Allen Lazard also returned to the practice field Sunday morning. 
They weren't the only two with injury updates though. 
Garrett Wilson's injury update
Dalvin Cook may have been the key guest to Sunday's practice, but the Jets didn't have their full force of offensive firepower out there. Garrett Wilson is dealing with a lower-ankle issue according to Jets head coach Robert Saleh following practice. The injury isn't considered serious, but he is expected to miss a few days of training camp.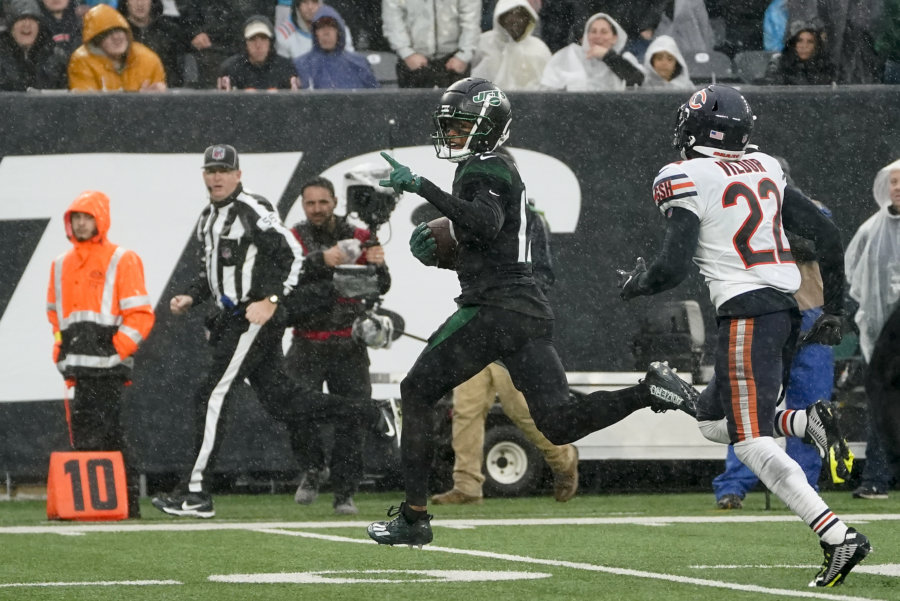 Corey Davis, another receiver battling an illness, was not at practice but the team hopes to have him back within the next few days. Breece Hall, on the other hand, is on track to make his return to the team within the next few weeks according to the head coach. 
Wilson's status for Thursday's Hall-of-Fame preseason game is that of someone not playing. The same can not be said for some of his young teammates. 
Hall-of-Fame Game Starters
Saleh confirmed that New York's starters would not be playing against the Browns in Canton, Ohio for the inaugural football game of the 2023 season on Thursday. 
Zach Wilson and Mekhi Becton will in fact be playing though. 
Over the last few drafts, Wilson and Becton have easily been the most frustrating for the Jets' front office. Ineffectiveness from Wilson forced the Jets to bring in Aaron Rodgers, while Becton's injury history has left him off the playing field for over two years. 
Both players are expected to have very important starts on Thursday night. 
Dalvin Cook Update
There is no news on a potential deal between the New York Jets and free agent running back Dalvin Cook. Saleh confirmed that he did not have a timeline of when Cook would eventually make a decision but that the team could use a player of his caliber. 
The coach also confirmed that the team has not been interested in Cook to spite a division rival. The Miami Dolphins have been a favorite to land the former Viking because that was where Cook grew up, but the Jets have remained in the mix for the four-time Pro Bowler. 
Before Cook even makes a decision though, it's fair to point out that Zonovan Knight and Michael Carter both had very good days of practice on Sunday. 
Standouts from Sunday
Arguably the three best players on the field Sunday were Aaron Rodgers, Knight, and second-teamer Mekhi Becton. 
Rodgers continued to use his snap count to frustrate the first-team defensive line and it helped open holes in the run game. Through the air, Rodgers made some excellent throws throughout the practice. The highlight play came in red zone work where Rodgers threw a perfect fade ball to Allen Lazard who high-pointed the football over Jordan Whitehead for the score. 
Thanks to Rodgers' snap count, Bam Knight had his best practice of camp. He used his speed and athleticism to get to the outside and continuously picked up would-be first downs. He has played better than Michael Carter so far through camp and it makes it extremely interesting if Cook were to sign in New York. Who would be the odd man out at running back?
Finally, I thought Becton had one of his best practices to date in camp Sunday. He was very good in the run and was relatively quiet in pass protection. When you don't have to say an offensive lineman's name too much in a drill, it usually means they did something right. 
It's an important step for the Jets' former first-round tackle. 
"Keep my coach's name out of your mouth"
Who knew Aaron Rodgers was such a Will Smith fan? 
Following practice, the four-time NFL MVP spoke on NFL Network to chastise Denver Broncos coach Sean Payton regarding his comments against current Jets' offensive coordinator Nathaniel Hackett. 
Payton called Hackett's tenure "one of the worst coaching jobs in the history of the NFL," while also joking about the Jets being on "Hard Knocks" this season. 
Rodgers' response to the Super Bowl-winning coach was blunt. 
"He (Hackett) is arguably my favorite coach I've ever had in the NFL. I thought it was way out of line, inappropriate, and I think he needs to keep my coaches' names out of his mouth."
Denver and New York meet in Week 5 of the NFL season in Colorado. 
For more New York Jets news, turn to AMNY.com