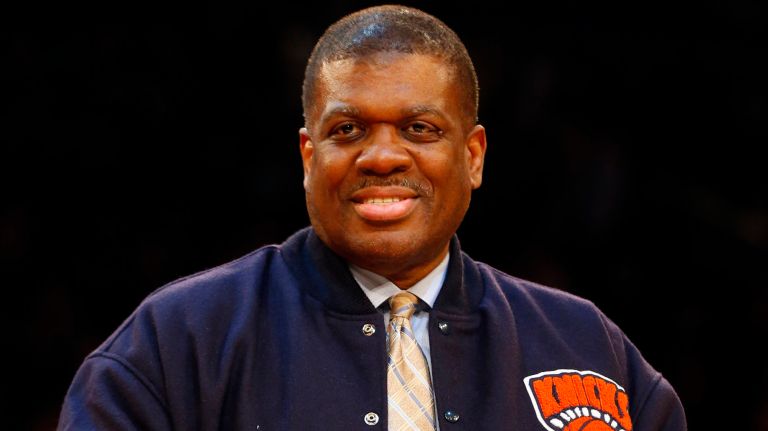 Despite an NBA-worst 17-65 mark, the ping pong balls failed to bounce the way of New York Knicks and grant them the No. 1 selection in the upcoming NBA Draft.
Tuesday's NBA Draft Lottery, which saw the small-market New Orleans Pelicans and Memphis Grizzlies leapfrog New York, wasn't a total loss for the Big Apple, as the Knicks still were awarded the No. 3 overall pick. While Duke's Zion Williamson is the clear prized prospect, Knicks great Bernard King was quick to point out that there are two other clear-cut top-three players, one of whom is expected to wear orange and blue next season.
"You have two other dynamic players behind him in R.J. Barrett, [Williamson's] teammate, and Ja Morant from Murray State," King told amNewYork on Tuesday at the FanDuel Sportsbook in East Rutherford, New Jersey. "So, either way, the Knicks are going to get an outstanding player."
King, a Hall of Famer who played for the Knicks from 1982-87, acknowledged he shared in the general disappointment from the fan base after missing out on Williamson, whom some consider the top basketball prospect to come along since LeBron James in 2003.
"[If] we would have had that No. 1 selection that…changes your planning," King said.
With Williamson no longer an option for the Knicks, attention turns to Barrett and Morant. Presumably, the Knicks will draft whichever of the two Memphis passes up. While King points out that the Knicks' roster will change this summer as it attempts to lure max contract-level free agents to Madison Square Garden, he believes one of the two potential picks is a better fit for the currently constructed team.
"I think probably Morant fits best with that roster right now," King said.
There's no telling whether either Barrett or Morant is more suited to handling the added spotlight of representing the Big Apple. But, to hear Brooklyn native King tell it, there's "no pressure playing in New York."
"I loved playing in New York," King said. "… It's a great city. [It has] a dynamic fan base that understands the game, a great arena, and it's very electrifying to play in the Garden."