The New York Mets announced on Thursday that they are retiring the uniform numbers of two foundational members of their 1986 World Series-winning club in slugging outfielder Darryl Strawberry's No. 18 and ace pitcher Dwight Gooden's No. 16.
"I'm thrilled that two iconic members of the 1986 championship club will have their numbers retired in 2024," Mets owner Steve Cohen said. "Darryl Strawberry and Dwight Gooden each had an enormous impact on our franchise and it's my honor to continue our commitment to celebrating our wonderful history."
Strawberry and Gooden are set to become the sixth and seventh players in Mets franchise history to have their jersey numbers retired, joining Tom Seaver (41), Mike Piazza (31), Jerry Koosman (36), Keith Hernandez (17), and Willie Mays (24). 
The franchise has also retired the numbers of 1969 miracle Mets manager Gil Hodges (14), their first-ever manager Casey Stengel (37), and the No. 42 of Jackie Robinson, which is honored across Major League Baseball. 
The numbers of Koosman, Hernandez, and Mays have been retired since the arrival of Cohen, who has stressed the importance of preserving the club's history.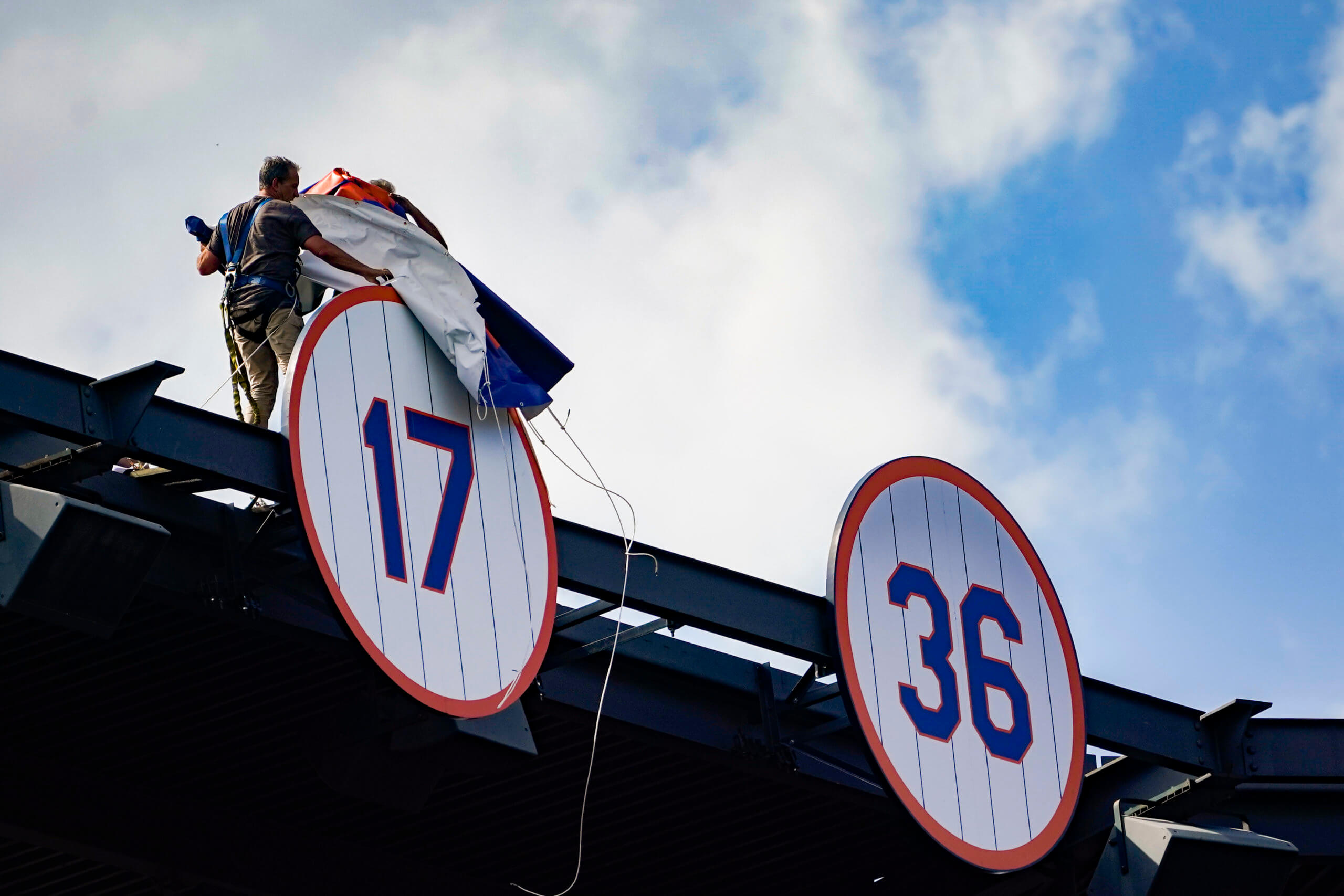 While both of their careers with the Mets were ultimately derailed from their original Hall-of-Fame trajectories due to off-field issues, Strawberry and Gooden are still regarded as two of the very best ever to don blue and orange in Queens. 
Strawberry is the franchise's all-time home-run leader with 252 and ranks second with 733 RBI, 580 walks. A seven-time All-Star, he was the 1983 National League Rookie of the Year by hitting a then-club-rookie-record 26 home runs after being selected No. 1 overall three years earlier. 
A two-time Silver Slugger Award winner, he led the National League with 39 home runs in 1988. He was elected into the Mets Hall of Fame in 2010.
"When I got the call from Steve, I welled up with tears of joy," Strawberry said. "I started to reflect on my journey through the organization. I had some ups and downs, but in the end, I am proud of my time in New York. I owe so much to Mets fans – they are simply the best. It's really amazing to me that No. 18 will be forever remembered. I would like to thank the Hall of Fame committee and especially Steve and Alex Cohen."
Gooden has long been considered the second-best pitcher in franchise history behind the immortal Tom Seaver, ranking second in franchise history in wins (157) and strikeouts (1,875) and third in innings (2,169.2), complete games (67), starts (303) and quality starts (209). 
He burst onto the scene in 1984, winning NL Rookie of the Year while setting a MLB rookie record with 276 strikeouts. He was also the youngest player ever named to an All-Star Game at the age of 19. In 1985, he became the youngest pitcher to win the Cy Young Award while capturing pitching's "Triple Crown," as he led the majors with 24 wins, 268 strikeouts, and a 1.53 ERA.
"I was completely overwhelmed when I got the call," Gooden said. "I want to say 'thank you' to the fans who supported me through the good times and bad times. I couldn't have made it through without their encouragement. There is no greater honor a player can receive than having his number retired. It's hard for me to express how honored and thankful I am to Steve and Alex (Cohen). This would make my mother and father extremely proud and I know they are looking down from heaven smiling."
The exact dates of their ceremonies will be announced at a later date.
For more on the Mets, Dwight Gooden, and Darryl Strawberry, visit AMNY.com