A state lawmaker from Brooklyn says the MTA has "bungled" the expansion of R train service it announced last month, with the promised reduction in wait times not materializing for straphangers.
The MTA said in August that it was adding more trains to the R line during midday hours, reducing time between trains entering stations from 10 to 8 minutes on weekdays.
The expansion was just one of several the agency has undertaken with $35 million set aside in this year's state budget, which also saw a bump in payroll taxes to fund the authority and called for a fare hike, which was completed last month when the cost of a subway ride rose to $2.90.
But State Sen. Andrew Gounardes, a Democrat representing western Brooklyn — including the entirety of the R line's stretch in Kings County — said Thursday that the MTA had not delivered, accusing the authority of "misrepresenting" the service expansion as constituents complained of midday wait times reaching 14 minutes at stations.
"After months of hard work in Albany to fight for a rescue plan for the MTA and service improvements for lines including the R and N, I'm shocked and frustrated that the MTA would misrepresent these service upgrades to the riding public," Gounardes said in a statement. "People need to trust that subways will be reliable and dependable, especially as the MTA is asking for more tax dollars and fare increases to pay for service. I urge the MTA to deliver on these upgrades as quickly as possible, and as a daily R train commuter myself, I promise riders I will hold them accountable until they do."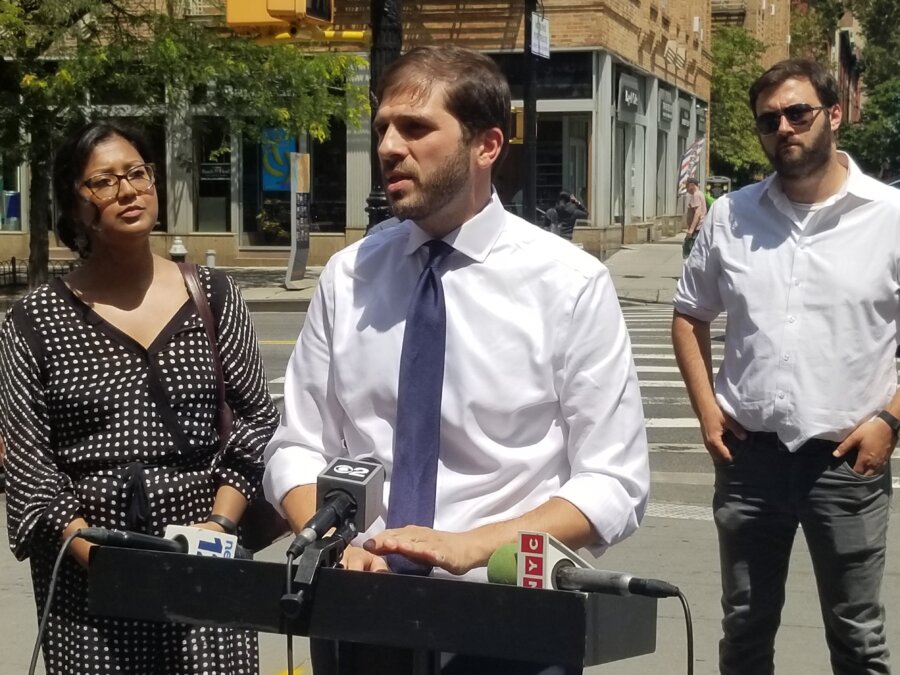 City Councilmember Justin Brannan, a fellow Democrat repping the R train corridor and an ally of Gounardes, took to X, the platform formerly known as Twitter, and compared the MTA to "a great vampire squid wrapped around the face of New York, relentlessly jamming its blood funnel into anything that smells like money," a reference to a 2010 Rolling Stone article where Matt Taibbi famously made the same analogy about Goldman Sachs.
Who was it that said the MTA is a great vampire squid wrapped around the face of New York, relentlessly jamming its blood funnel into anything that smells like money? https://t.co/zTWWQDds5F

— Justin Brannan (@JustinBrannan) September 7, 2023
Service expansions on other lines are also under scrutiny. The MTA announced increased weekend service on the G, J, and M lines in July, the first batch of lines to get the new treatment. But the M did not run any service at all over Labor Day weekend, as the MTA replaced old switches and tracks, and it will not run between Midtown Manhattan and Queens until 2024.
R trains were experiencing approximately 8-minute headways during the midday hours on Thursday, largely in line with the new service guidelines. But on Wednesday, some straphangers were experiencing wait times of more than 19 minutes between R trains, according to MTA data.
The MTA says that on average, wait times on the R between 11 a.m. and 4 p.m. have dropped to 8.5 minutes from 10 minutes.
"It's exciting to have added additional service on eight subway lines in eight weeks, including the R line — where average time for many riders between 11:00 a.m. until 4:00 p.m. is down to 8.5 minutes from 10 minutes," said NYC Transit President Rich Davey. "And we will reduce wait times even further in the coming months after completion of necessary track work. We're grateful to elected officials for their continuing support."
Average wait times can increase for any of a number of factors, especially the myriad of things that can delay subway service. Trains can and do get snagged by signal failures, switch malfunctions, mechanical issues on trains, fires, crime, sick riders, disruptive riders, and even goats finding their way onto the tracks, among many other things.
New York has one of the most "interlined" metro systems of any city in the world, meaning different lines frequently share the same tracks at points and merge onto other lines at interlockings. That allows for one-seat rides to different destinations from the same starting point, but it also means that failures on one line can cascade throughout the system and cause far-reaching problems.