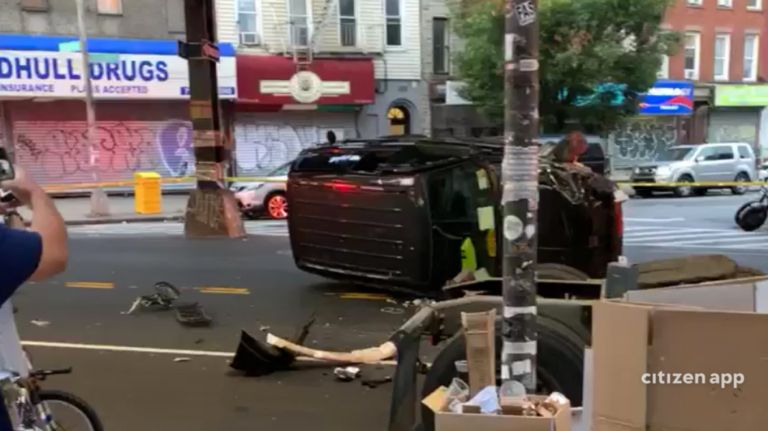 The SUV driver who chased down and fatally struck a cyclist who allegedly tried to break into his car in Bushwick Monday has been charged with murder, police said.
Korey Johnson, 41, of Brownsville confronted the 47-year-old cyclist at about 6 a.m. when he saw him trying to break into his car on Marcus Garvey Boulevard, near Ellery Street, cops said.
The two had an argument that escalated to a physical fight, during which, the cyclist cut a female bystander in the arm with a screwdriver, according to police.
The bicyclist, who was not immediately identified, then attempted to flee on his bike, but Johnson got into his Jeep Grand Cherokee and chased after him, police said. Johnson veered into the oncoming traffic lane on Broadway to slam into the cyclist, pinning him against parked cars, the NYPD said.
Johnson struck the cyclist with enough force to flip his SUV on its side, video footage from the scene shows.
First responders pronounced the bicyclist dead at the scene of the crash, having suffered head trauma.
Johnson remained at the scene, and was taken into police custody. He was later charged with murder and manslaughter.
The incident marked the 21st cycling death in the city this year.