Cyclists are sounding the alarm at a troubling increase in road deaths this year, and are pinning the blame squarely on Mayor Eric Adams.
Traffic collisions have claimed the lives of 26 cyclists so far in 2023, the highest tally at this point in the year since the city adopted Vision Zero as a policy goal in 2014.
On Tuesday, Adams dismissively told a reporter that "you get on your knees and pray every night" that he is the mayor so he is "able to ride your little bike safely through our city." But cycling advocates say they feel betrayed by the mayor, whom they once considered an ally in the cause of cycling safety.
"I think what's jarring to a lot of people is that as Borough President and even going back to when he was State Senator, Eric Adams showed up and stood with the cycling community a lot," said Jon Orcutt, director of advocacy at Bike New York and a former city transportation official. "He stopped doing that almost as soon as he became mayor."
Advocates are set to bike from Union Square on Wednesday evening en route to City Hall, where they plan to protest the skyrocketing death toll for cyclists and put the blame for it on the mayor with a banner reading "Mayor Adams, New Yorkers Are Dying On Your Streets." Protesters also plan to deploy a "die-in" and to produce ghost bikes, which are painted white to symbolize the death of a cyclist.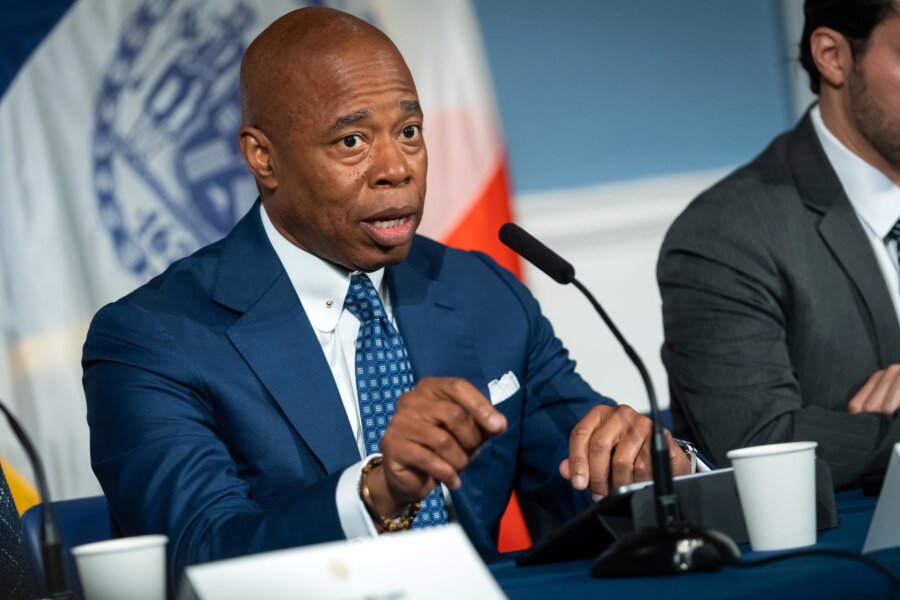 On his second day as mayor, Adams rode a Citi Bike to work, signaling to the bike advocacy community that he would take their concerns more seriously than his predecessor, Bill de Blasio.
They had reason to be optimistic: as Borough President, Adams had frequently taken up the mantle of cycling advocacy. He pushed for more protected bike lanes in Brooklyn, decried the racial disparities in where the city built bike infrastructure and where Citi Bike expanded, and embraced innovative companies working in the cycling sphere, like the secure bike parking startup Oonee.
The mayor has broad power to redesign the Big Apple's streets granted by the city charter. Adams has touted some major bike infrastructure projects, like on Third and Tenth Avenues in Manhattan, and Citi Bike — owned and funded by Lyft — has greatly expanded its geographic profile during his tenure.
But the longer he's been in office at City Hall, the more cyclists have started to sour on him.
"As soon as he gets all the power to do something about it…he's not there anymore," said Orcutt.
In 2022, his first year in office, the administration failed to meet its legal duty to build 30 miles of new protected bike lanes, required under the 2019 Streets Plan passed by the City Council and signed by de Blasio. Under the Streets Plan, the Department of Transportation is required to build 50 miles of new protected lanes this year, and do the same each year until 2026.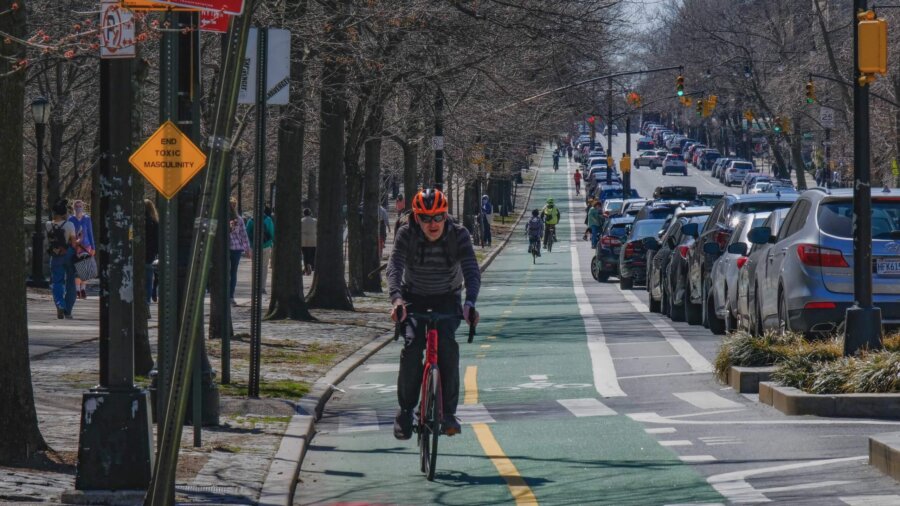 But in testimony to the City Council last month, DOT Commissioner Ydanis Rodriguez said his agency isn't even keeping track of its progress on Streets Plan compliance, which also requires the construction of 30 miles of bus lanes annually, a situation described as "unacceptable" by Transportation Committee Chair Selvena Brooks-Powers.
According to a tool maintained by cycling advocacy group Transportation Alternatives, the city has only installed 13.5 of its required 50 miles of protected bike lanes this year.
The mayor has also drawn ire for interfering in bike infrastructure projects proposed by his own DOT, allegedly at the behest of influential special interests and his own top advisor, Ingrid Lewis-Martin.
DOT was set to start work this year redesigning Greenpoint's McGuinness Boulevard — a notorious speedway where a beloved local teacher was killed in a 2021 hit-and-run — reducing motor vehicle lanes from four to two and adding protected bike lanes. The plan was supported by the area's local elected officials.
But the mayor switched course and ordered DOT back to the drawing board after Broadway Stages, a local company operating soundstages in Greenpoint, started helming an aggressive campaign to kill the project, contending it would hurt commerce in the neighborhood. After a summer of back-and-forth, scaled-down redesign work has begun on the northern half of McGuinness but is delayed to the south pending further analysis.
Broadway Stages' principals, siblings Tony and Gina Argento, donated a combined $9,600 to Adams' 2021 mayoral campaign, according to campaign finance records, and have given an additional $6,100 to his 2025 reelection campaign.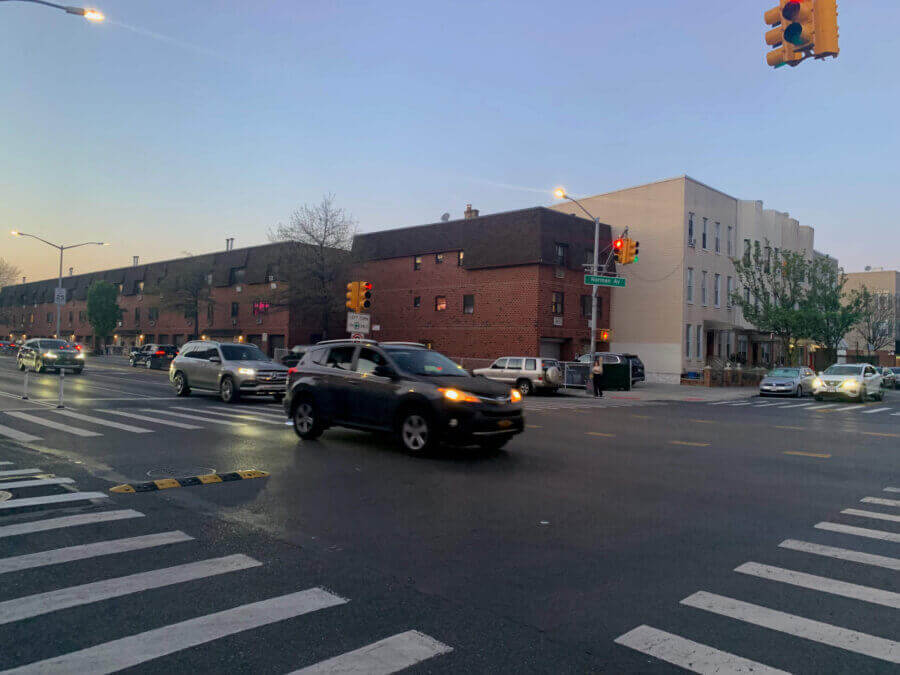 Cyclists are similarly miffed by City Hall's intervention on Downtown Brooklyn's Ashland Place. Most of the north-south street has been fitted with a two-way protected bike lane, except for a single block near Atlantic Terminal that advocates say is a crucial link for the borough's bike lane network, but presently puts cyclists in the path of oncoming traffic.
Streetsblog reported that the call to not extend the bike lane on Ashland was made by Lewis-Martin on behalf of Two Trees Management, a major real estate developer that built a luxury apartment building on that block with a parking garage run by a subsidiary. The outlet cited three anonymous administration officials; City Hall called the allegations "fabricated nonsense."
Two Trees founder David Walentas, his late wife Jane, and son and CEO Jed gave a combined $5,900 to Adams' 2021 campaign.
In a statement, a spokesperson for the mayor said City Hall is "laser-focused" on reversing the uptick in bike deaths, but argued they've been driven by a spike in e-bike usage, while noting pedestrian fatalities are down this year.
"As cycling reaches an all-time high in New York City, the city has experienced a spike in cyclist fatalities, driven largely by the growth in e-bikes that provide so many New Yorkers with accessible mobility options. Mayor Adams is laser-focused on reversing that trend so everyone in New York City can feel safe in our streets," the spokesperson said. "One traffic fatality is too many, and with 2023 on track to be among the safest years for pedestrians in the last decade, we are focused on street designs and other tools that will protect cyclists and all road users."
The last time bicyclist deaths approached this year's heights, in 2019, then-Mayor de Blasio yielded to activist pressure and launched a wide-ranging bike safety initiative called the "Green Wave." Adams hasn't responded to this year's death toll with any similar pronouncements.
"We're unhappy. We're watching what you do closely," said Orcutt. "And we don't understand why you came out and stood with us for years until you became the mayor."
This story was updated at 9:30 a.m. on Oct. 12 with comment from the mayor's office.