Early childcare providers across New York City are stuck in a costly waiting game with the city for contractual payments for their services from the city Department of Education (DOE), according to a number of employees who spoke with amNewYork Metro about the situation.
Three childcare providers in Manhattan and Queens — two of whom have requested anonymity for concerns around their unpaid invoices — shared their experiences of waiting to be paid, the impact to their businesses and programs, and suggestions to the DOE on how the situation could improve moving forward.
In mid-February, a DOE email regarding audit schedule and guidelines was, perhaps unknowingly, CC'd to hundreds of emails of childcare providers across New York City. From this fumble, childcare providers began communicating with one another about invoices, as well as classroom and operational ideas. 
One provider from a Brooklyn childcare center had initiated an online discussion group, which now has more than 100 members, in mid-February to discuss audit schedule and guidelines.
Other efforts were made recently to hold the DOE accountable for delayed invoices to special education contractors. Three parents of public school students with special education needs sued the DOE last month alleging they were not provided their required services in a timely manner. The lawsuit also alleged that some contractors waited up to six months to be paid for their services.
"The Council does not have the latest data from the Department of Education on how many outstanding invoices there are related to the city's early childhood education providers," stated Rendy Desamours, spokesperson for the New York City Council, in a statement to amNewYork Metro.
One source from within the DOE who spoke with this outlet claimed the reports of unpaid services were either erroneous or exaggerated, and shifted the blame toward provider leaders who may have filed their invoices late. 
The situation, as Bloomberg reported, has left some to speculate that the payment delays are part of an effort by the Adams administration to undo the massive early childhood program launched by his predecessor, Mayor Bill de Blasio. 
'A systemic problem'
Deborah Gregor, the executive director, and Lynn Fisher, the director of early childhood education, at the Forest Hills Jewish Center, told amNewYork Metro that their most recent invoice for their nursery school was being processed and that on May 15, they finally received payments for January, February, and March which totaled around $168,500.
Still, the DOE was "very late" on their January and February invoices, Gregor said. One issue raised was that the center was prevented from submitting their September through December invoices until December because apparently, the DOE's system wasn't ready for them to upload their invoices.
"Previously, sometimes payments were delayed by a couple of months, but it wasn't terrible," Gregor said. "We weren't aware that it was a pervasive problem, until this year. It became a problem."
Right now, the center's experience is that once they have see that an invoice approved, they receive the payment within a couple of days. The center's invoices are typically between $115,000 and $118,000 each month.
"We'll be current this week, I imagine," Gregor said.
When payments were more consistent, Gregor said the center got $50,000 deducted each month during the second half of the year to make up for the advance payments that had come in earlier on.
"This year, they had claimed that they were going to do the same thing, but they didn't start deducting until February," Gregor said. "So the amount that they're deducting is larger."
"In past years, it would be processed and we'd be paid in relatively acceptable timing," Fisher added.
Relatively acceptable timing for the center is if they got paid within two months, Gregor clarified.
"I think there's a systemic problem that has happened," Gregor said. "None of us really understood that we were all going through the same thing."
Because the center's nursery school is part of a larger synagogue and organization, cash flow was not a huge problem, though Gregor said she "can certainly understand how in many other places it would be if that's your only business."
The Forest Hills Jewish Center's nursery school will soon the capacity to serve more than 80 children in five classes through its contract with the DOE. Currently, the school's pre-K program is not full. Fisher believes this is because the DOE contracted out with so many schools and programs — leaving more empty seats than could be filled.
Gregor said being 10 children short is unheard of, and because the center gets paid around $14,000 per child in the pre-K program, they are essentially losing out on $140,000 a year.
"That's problematic because we get paid per capita," Gregor said. "It has changed entirely the calculus of profitability for the organization."
This has led to existential questions about the center's 3-K program and whether there will be funding for it.
"I think that there's a lack of understanding in general — whether or not these contracts exist is existential for us," Gregor said. "We need to know more about what's going on: Will we have a program, won't we have a program?"
Dipping into personal savings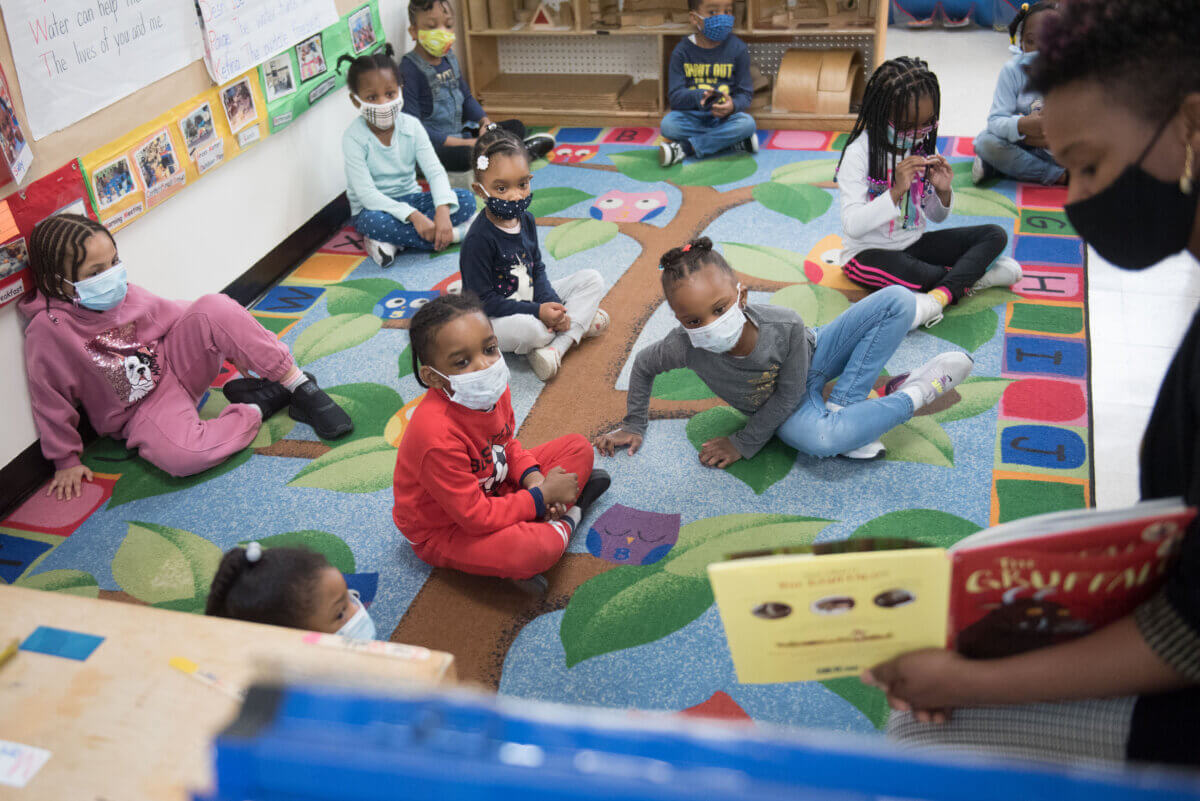 One early childcare provider located in District 27 in Queens — who requested anonymity due to privacy concerns — has been in the business for 21 years. The provider told amNewYork Metro that they had to dig into their retirement savings to fund the school and its teachers' salaries.
The school has six teachers and serves around 50 children — but for the first time in a long time, she didn't fill her classes.
"Last year I had to empty my bank account and take money from my 401(K) to keep the school afloat and to pay my teachers," the provider said.  
The provider received the rest of their invoices from the 2020-21 school year last July and August, but did not receive the January through March invoices until last week.
"We have to have our invoices in by the fifth of the month," the provider said. "Usually it takes a week and a half and then the money hits our bank. So if we have the invoices on the fifth, we should have payment in the bank by the 17th."
The 2020-21 school year, which she described as "a nightmare" came after the start of a new, six-year contract.
"What I think is they didn't know what the hell they were doing," the provider alleged. "They started a whole new invoicing system where you only got paid for what you spent, which makes a lot of sense. Don't get me wrong. But the lack of payment is what the problem is."
While she said that her school's district office and the DOE's operational analysts have done their jobs, the provider pointed to the "people above them that release the money" as being central to the issue.
"They check the invoices, they make sure you spent it, they make sure you have done everything and all the numbers equal up," the provider said. "The finance office has to check it themselves and then the operational analysts are allowed to release the money."
The provider told amNewYork Metro that they kept hearing the same excuses over when they poked and prodded about the outstanding invoices: "We're working on it. We're waiting for them to release the money."
At one point, the DOE owed her $180,000. They said that they still haven't been paid $30,000 for the startup cost which "came out of my own pocket."
The provider sent an email to their local City Council office and said they would be sending an email to their children's parents stating that if the provider doesn't get their money, the facility would be closing its doors on May 15. The provider soon got a phone call from the Council member's office telling them that the DOE had been notified.
Soon, the provider heard from the DOE's senior director of finance, and within seven days, the money was finally in their bank.
"I've been doing this long enough that I know exactly what to do and when it's due," they said. "We did everything on a timely manner and to sit here and have to beg for money. I'm supposed to be running the school and half my day is fighting with people for money. It's crazy."
'Dead silence' from city
A childcare provider operating several sites in District 5 in Manhattan — who also requested anonymity because of concerns around strained relationships with the DOE — told amNewYork Metro she is currently owed $335,000 in four unpaid invoices, including the startup payment and adjustments. The provider serves a total of around 100 children at several locations. 
"Just two weeks ago, we were owed over a million across three sites," the Manhattan provider said. "This year, I have spent more than 50% of my time going off trying to get payments. This is how big it is."
The Manhattan provider was recently paid at two of their locations last week for March; another location is current up to December, while still another is currently waiting for January through April invoices. The provider noted that the issue of delayed invoices started around a year ago. They still haven't heard back from the DOE, and now, it's just "dead silence."
"If we didn't have between our line of credit and a private program, we would have shut down a year ago," the Manhattan provider said.
They believe that multiple delays were caused throughout the process because providers previously couldn't upload multiple invoices. This system was recently changed in March, according to the Manhattan provider. 
"When the mayor changed, that's when this problem happened," they said. "Prior to that, invoices were delayed, but never like this. I say that with extreme disappointment and seriousness and concern. I don't know what what the reason is, but what I do know is it shows lack of commitment on DOE's part to early childhood education."
The provider suggests that the DOE ensures teachers are paid well, trained properly, and provided support. At one point, they said they were on the verge of losing four teachers, but through a salary adjustment through a private program, they were able to pay them more than what the DOE had given them.
"That is where you improve the program — not by increasing invoicing requirements," the Manhattan provider said. "Instead of giving that support, they actually took time away from us by creating all these hurdles."
"Honestly, part of me thinks that the DOE is trying to close these programs, for whatever reason, they don't want them to stay open," they added. "Because otherwise, why would you create that hardship?"
The city's response
The DOE helped providers submit over 4,000 back invoices and paid over $130 million in outstanding invoices from last year under three months. This year, the DOE paid more than $900 million in advances and invoices — with the vast majority of invoices paid within 30 days of submission, as stipulated by DOE policy. 
"Our staff work around the clock to process payments and provide support to providers," stated Nathaniel Styer in a statement to amNewYork Metro. "We encourage organizations that have payment issues to contact us to expedite their processing, and we will continue to support our providers."
Councilmembers Julie Menin (D-5) and Joann Ariola (D-32) have reached out to the DOE on behalf of their constituent childcare providers. 
Ariola stated in a written statement to amNewYork Metro on Tuesday that: "Since the beginning of the school year, we've been working with the DOE on this matter, and we are hoping to have a more concrete answer on this matter by end of day today. We are very much aware of this issue and we are hoping to see it rectified soon."
The City Council's Black, Latino, and Asian Caucus had proposed solutions in March to address New York City's early childhood care crisis, namely: paying contractors and improving salary parity between community-based organizations and DOE counterparts.
The caucus penned a letter to Mayor Eric Adams and Schools Chancellor David Banks that highlighted the city's "overly bureaucratic contracting processes, severely late contract payments, and insufficient enrollment and outreach efforts. The caucus also stated in the letter that the state is set to lose $4.5 billion every year because of the childcare crisis.
Stated Styer in a statement to amNewYork Metro: "We encourage organizations experiencing payment processing issues to contact us as we are committed to stabilizing our provider community."