Hundreds of K-pop fans lined up in Chelsea on Wednesday for a pop-up storefront dedicated to the popular band BLACKPINK, designed to only stay open for a few days.
The renowned South Korean quartet BLACKPINK are making their way to the Tri-State area this weekend for an encore performance of their record-breaking world tour: Born Pink. Fans are hoping to snag limited edition swag for the female performance at MetLife Stadium thanks a shop dedicated solely to the band. BLACKPINK unveiled their Born Pink Pop-Up Experience at 541 W. 25th St. for four days only, Aug. 9 to Aug. 12. 
Answering the rallying call, "BLACKPINK in your area," which is the band's infamous phrase, enthusiasts, affectionately known as "Blinks," started lining up outside of the pop-up venue at 8 a.m., some clinging tightly to the group's plush dolls and heart-shaped concert light sticks, as they poured over a catalog listing the limited-edition merchandise options. BLACKPINK-themed beanies, caps, t-shirts, hoodies—ranging from $20 to $500—and even a $3,500 electric bicycle were just a few of the clothing and accessories that were up for grabs.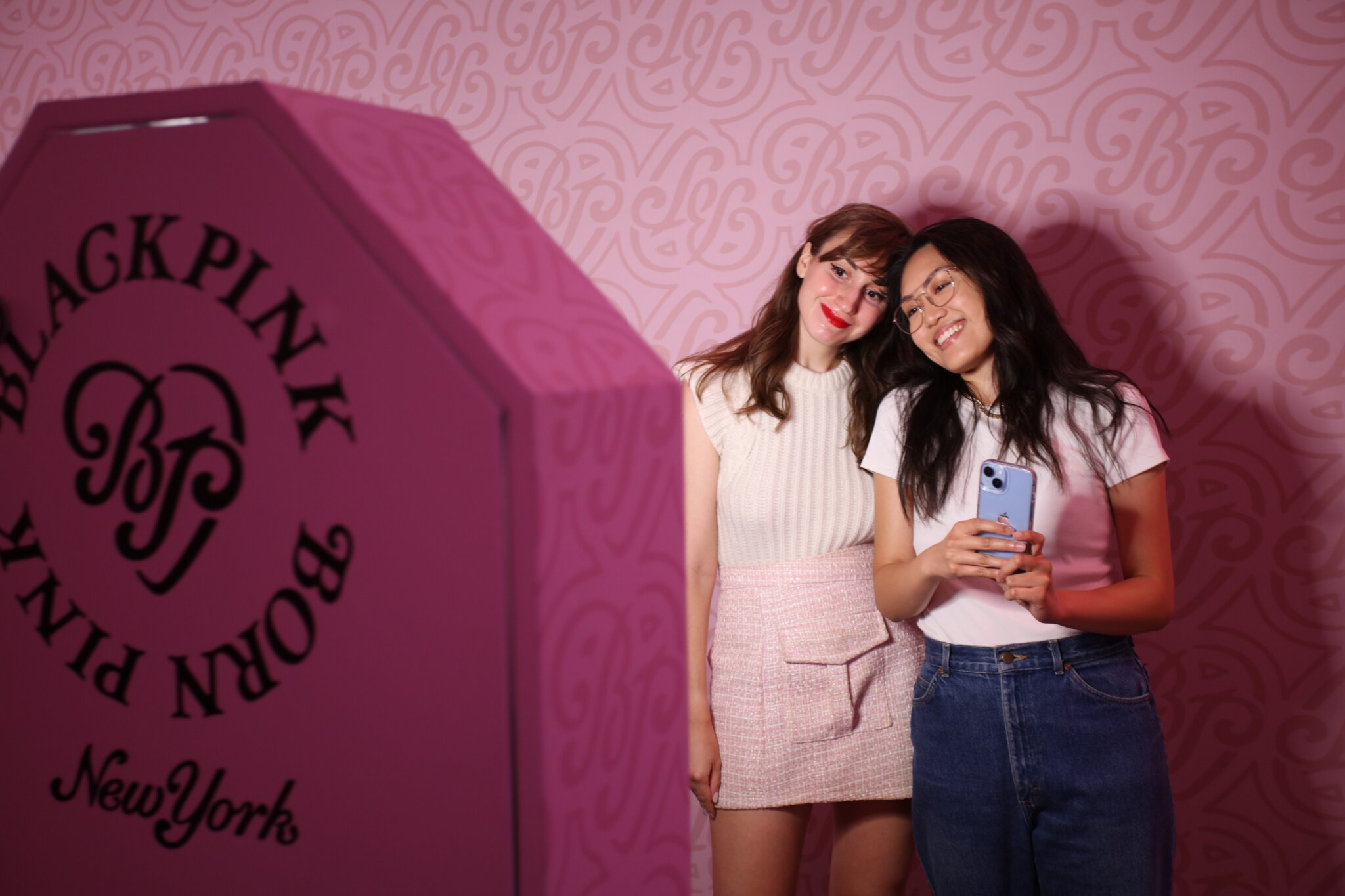 Presented by American Express, the interactive experience is designed by Japanese graphic artist VERDY who has developed a capsule collection of BLACKPINK's global tour. Those who are American Express card holders had the opportunity to receive early access to the pop-up shop (one hour ahead of opening time with one guest) and all visitors will receive a complementary tote bag designed by VERDY.
Front row VIP ticket holder Will Arevalo, 22, told amNewYork Metro that he wants to make sure he looks his best for his first BLACKPINK concert on Aug. 11, and the pop-up was exactly what he needed to complete his outfit. 
"I saw [the Pop-up] on Tik Tok and I thought it would be a great way to get a head start on looking good for the concert this Friday," Arevalo said, "I'm excited to go all out."
Upon entering the shop, which is completely covered wall to ceiling in bright pink wallpaper and neon lights, fans are greeted with a gigantic Blink Bear designed by VERDY, a large cashier area with merchandise on display, a photobooth to celebrate the band's seven-year anniversary, and a room with projected images of a BLACKPINK teddy bear caricature complete with an enormous velvet heart for fans to pose with. 
Meloney Cheng, 19, brought her eight-year-old cousin Nola Wu to the pop-up store since both are devout "Blinks."  Cheng has been a fan of BLACKPINK since middle school, and now that she is in college, she feels the music has grown with her. 
"I've listened to them since middle school and I'm in college now.," Cheng said. "I'm just really excited for the pop-up shop. This is my first time at a pop-up shop." 
Wu is preparing for a dance competition, and she will be performing to BLACKPINK's hit "How you like that." So, she decided to visit the pop-up to provide some inspiration and motivation for the upcoming audition.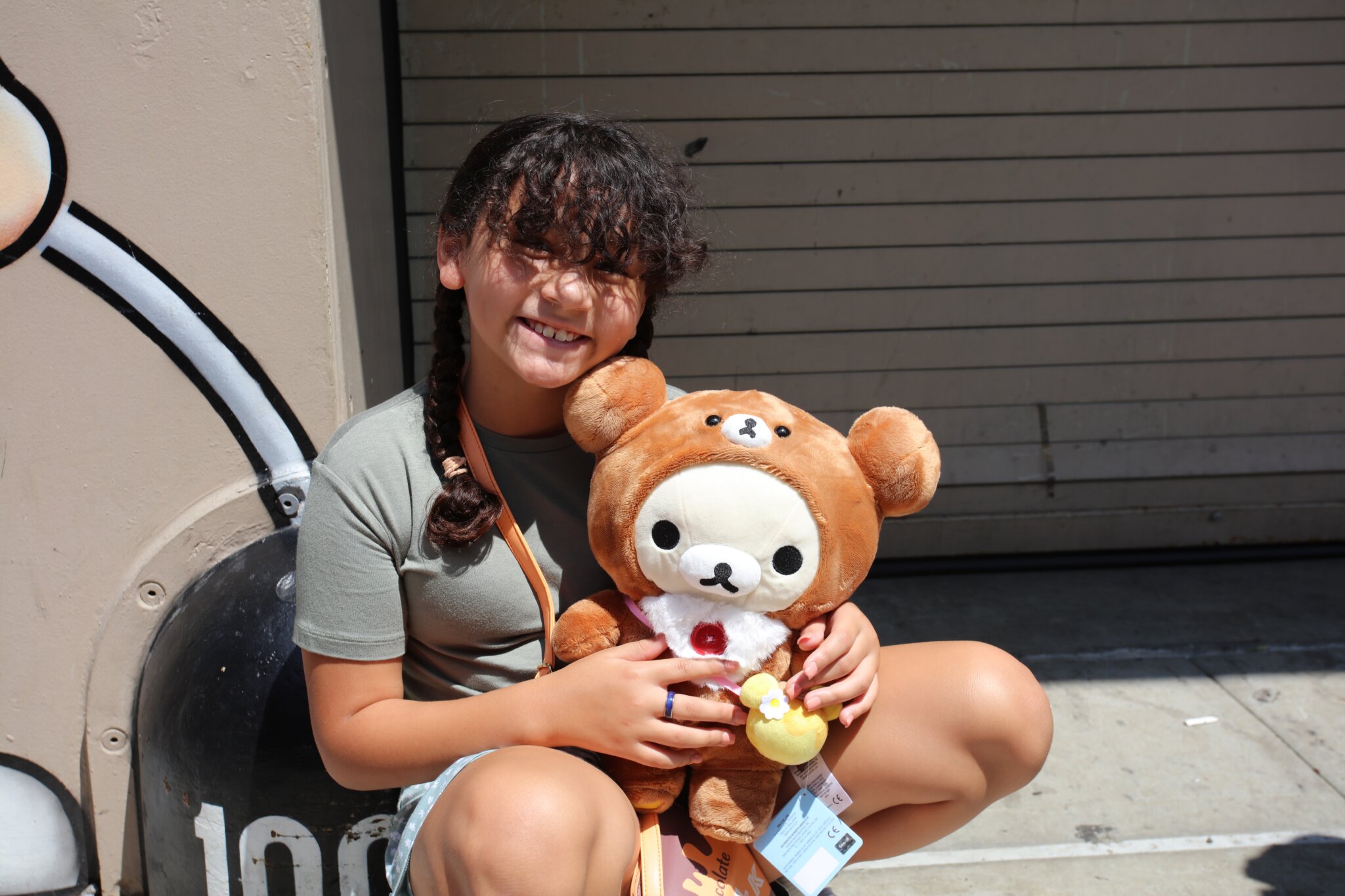 In addition to BLACKPINK's record for highest-grossing concert in history, their Born Pink world tour has surpassed the Spice Girls earning more than $78 million thanks to its vivacious and talented members Lisa, Jennie, Jisoo, and Rosé. Fans have shown their support by flying around the globe by attending as many concerts as possible. 
A trio of young women donned matching BLACKPINK t-shirts and showcased their plush toys and gushed over their favorite band member, Jennie. Chatting excitedly about the MetLife Stadium concert, this will be the third time they see the group perform.
"We love BLACKPINK because they are very quirky and fun and they are very down to earth," Annie Chen, 29, said. "We've been going to the tours wherever they are. We try to. We went to the London one and then we live in New York so why not to support them."
Sandy Chen, 21, candidly shared that she is attracted BLACKPINK due to their savage nature, something they exemplify in the namesake of one of their songs. 
The Born Pink Pop-Up experience will be open from Aug. 10 from 1 p.m. to 9 p.m., Aug. 11 from 11 a.m. to 9 p.m., and Aug. 12 from 11 a.m. to 7 p.m.