K-pop sensation Jung Kook of BTS made Times Square rock like New Year's Eve on Thursday with a special surprise performance that thousands of fans enjoyed.
The massive number of BTS fans, affectionately known as ARMY, filled Father Duffy Square on Nov. 9 from the early morning hours on after rumors spread that the South Korean singer would make an appearance at the TSX Entertainment stage. 
Fans wearing pink bunny ears, purple outfits and other BTS merchandise had amassed Times Square for hours before the free concert was finally confirmed, at about 5 p.m.  By then, NYPD had barricaded Seventh Avenue between 46th and 47th Streets due to flood of humanity filling the heart of New York City. 
It all started with a post on Wednesday by BIGHIT Music on X (formerly known as Twitter), stating "Jung Kook has a surprise for you tomorrow."
Fans, many of whom were still riding the wave of euphoria after camping outside of NBC's "Today" show in Rockefeller Center for days just to see the 26-year-old musician, then began their detective work to find out what the surprise event was. 
It didn't take long for ARMY to guess the very next day that Times Square would be the site of Jung Kook's next outing to promote his debut album Golden.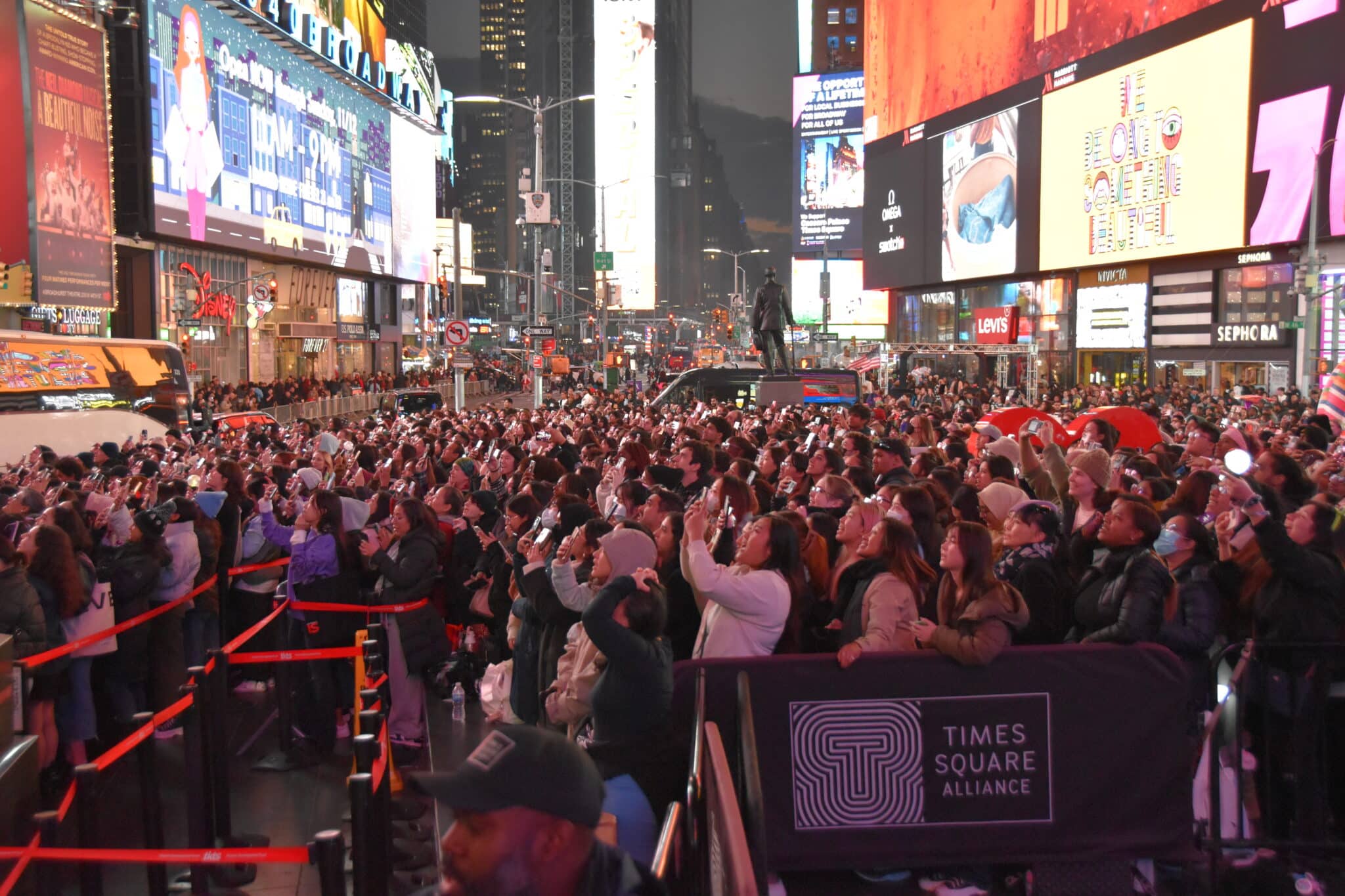 When Guadalupe Leon, 20, saw BIGHIT Music's tweet, she rushed to Times Square from Queens at 10 a.m. Thursday without any official confirmation or even a start time for Jung Kook's surprise appearance.
Leon is a longtime fan, even showcasing a tattoo on her wrist with the BTS 'Love Yourself' and shared that she wants to support members of the group as the make their solo appearances.
"I am so happy I got to see Jung Kook again," Leon said smiling brightly as she clung to her BTS light stick. "He's the cutest thing ever and I appreciate you Jung Kook coming to New York so many times. Until 2025 BTS we are here!" 
Nineteen-year-olds Marlena Brown and Somiah Singh both saw Jung Kook at the Global Citizen Festival in Central Park over the summer and were beyond ecstatic to get another chance to see the popstar perform for free. 
"Jung Kook is my bias. We both went to his concert and it's really good. I love his voice, it's so beautiful hearing it up close and in person," Singh said. 
At the TSX Entertainment stage — the only permanent stage area in Times Square affixed to a billboard — a countdown worthy of a New Year's Eve celebration began at 5:30 p.m. to celebrate Jung Kook. 
As the stage's electronic doors slid open, thousands of adoring fans screamed while watching Jung Kook perform "Say Yes or No," "Seven," "Standing Next to you," "Please Don't Change" and "3D" 
Jung Kook looked out into the sea of fans and shouted out "ARMY" and "Let's Go" as he began the showcase.
"This place is amazing," Jung Kook said looking at the sea of fans. "It's an honor to perform in New York's Times Square."