Droves of BTS fans lined up around Rockefeller Center since Monday in hopes of catching an up-close and personal look at the South Korean pop star Jung Kook during the Citi Concert Series on the Today Show on Nov. 8.
A few days after the K-pop sensation's solo album debut, Golden, he flew to New York City to promote his new music with two television appearances on NBC, The Tonight Show with Jimmy Fallon and Citi Concert Series on the TODAY Show.
The weeklong promotion of Golden in New York City brought fans from across the Tri-State area, even the nation, and riled them into a frenzy as they clamored for a chance to see the pop sensation live and earn a free fan pass or a Citi VIP Pass (for banking members.)
Both sides of Rockefeller Center, 49th and 50th Streets between Fifth and Sixth Avenues consisted of two separate lines—one for those who held a pass and the others who gambled a chance at general admission (a non-guaranteed spot).
Hundreds arrived in Midtown, some as early as Monday morning, while others joined at 10 a.m. Tuesday, clutching onto their bright pink plush rabbits called Chooky, a caricature that was created to symbolize Jung Kook, and BTS ARMY bombs (light sticks), with pieces of cardboard and blankets ready to brave the cold for their favorite singer.
Hales Morris and Jen Rojas are no strangers to camping out for Jung Kook, telling amNewYork Metro that they have spent many nights on New York City's streets waiting to see the singer for Good Morning America's Summer Concert Series and the Global Citizen Festival. While Morris trekked to Midtown from Brooklyn, Rojas came from Boston, Massachusetts, and arrived promptly at 7 p.m. and 8:30 p.m., respectively, outside of Radio City Music Hall for a chance to enter the concert venue through general admission since they were unable to obtain fan passes.
"I'm here because JK is my favorite singer on the planet. I've camped out a lot and I want to see him [up] close again," Morris said.  
"I'm here because the last two times Jung Kook was here, I was not able to see him, so we want to make it for his possibly last time in New York and we are very proud of his first solo album. I'm very excited to be here," Rojas added.
Fans, affectionately known by the band BTS as ARMY, either took the Metro North from Upstate New York, or buses from Boston or Philadelphia, while others hopped onto a plane from California, Arizona, Minnesota, and other states.  
Some lugged air mattresses and flannel blankets, sleeping with the sound of New York City traffic and construction work as their ambient lullabies.
Harlem resident Crescent Fynn, 21, strove to see Jung Kook so vigorously that she connected with a stranger via X, formerly known as Twitter, who stated they had a plus one spot available with their Fan Pass.
"I tried three different times for the Fan Pass, and I didn't get it. I am here because my friend, who was also trying to get a fan pass, said that they saw a Twitter post that someone had an extra [guest spot.] I've never met my Fan Pass holder before tonight," Fynn admitted.
While the prospect of relying on a stranger was daunting, Fynn, who camped outside of Rockefeller Center since 8:30 p.m. on Tuesday for the Wednesday morning show, shared that she was determined to stop at nothing to see Kook.
"I feel like because so many people know what it's like to really want to see a show, you can usually find someone who's willing to give you their slot or sell their ticket. Or you know, just make sure that you get to the show," Fynn said, "If you ask enough people, and if you just keep refreshing Twitter and looking in all the right tags, eventually you'll find someone out there."
Fynn wasn't the only one who described the fanbase for BTS as a supportive community, others stressed that the group has broken through cultural and language barriers and bridged a diverse sense of comradery between fans. Some stated that they travel the globe, seeing concerts with fellow ARMY members whom they've met at other performances. 
"We met camping out at GMA," Absura said. 
"We all started talking and became friends," Tania added, recalling the rainy Global Citizen Festival. 
Alina and Rudy just met while waiting Tuesday night outside of Radio City Music Hall for the Today show and have already built a lasting friendship. 
"[BTS] taught us how to come together, especially when they do live [videos]. It's all about us being together," Rudy said.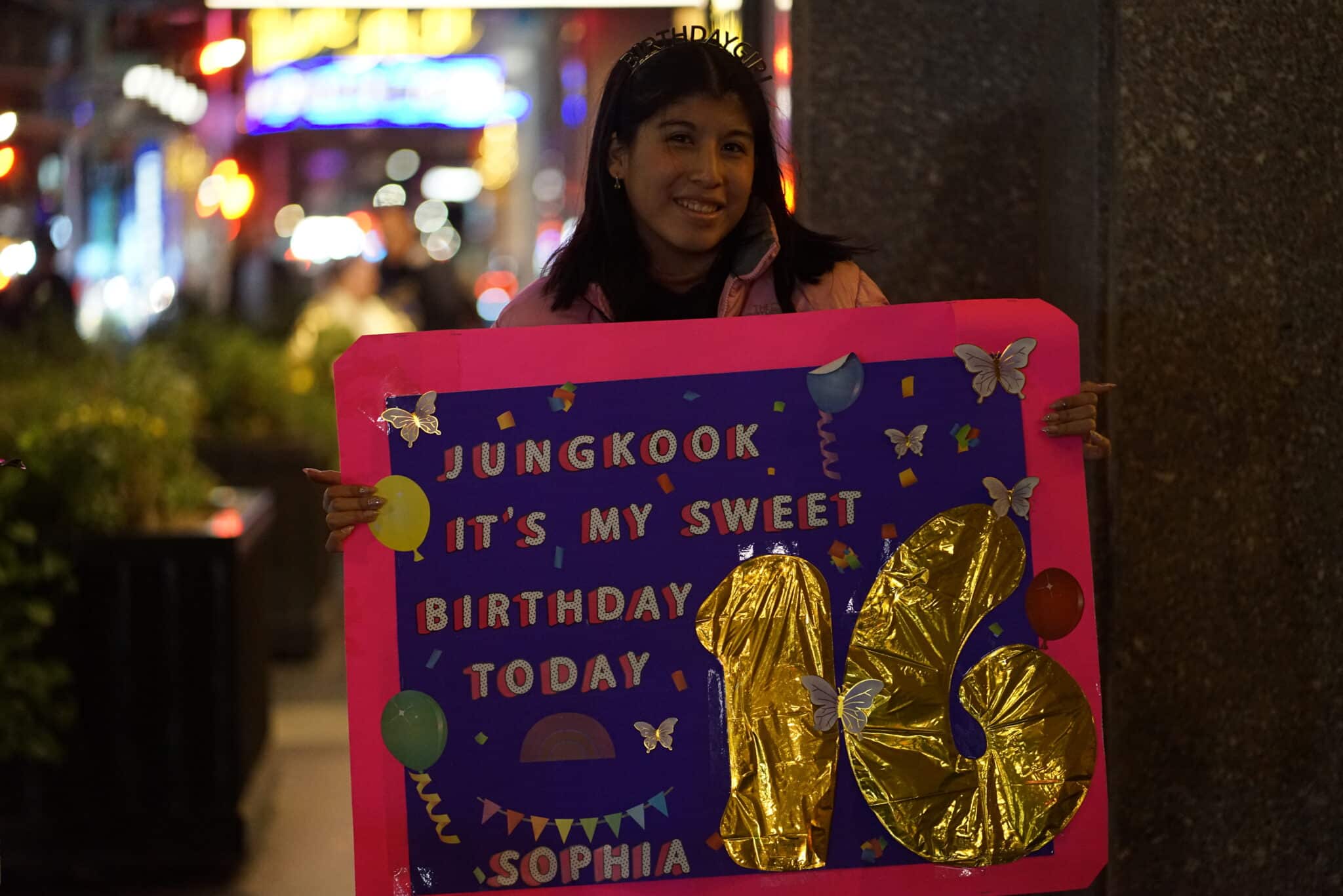 When the morning finally came and it was time for the show to begin, hundreds were corralled into barricaded sections within Rockefeller Plaza, while the overflow of humanity gathered in the back of the Citi Concert Series Stage on 49th Street and even across the roadway on 50th Street with another set of hundreds of fans standing on their tip toes to catch a glimpse of Jung Kook. 
Jung Kook arrived in a Michael Jackson-esque glittery silver suit, performing his sharp choreography and melodic vocals to three tracks from his new album, "Seven," "Standing Next to You," and "3D."
According to The Today Show, on average thousands of fans could attend their concerts with One Direction seeing 18,000 attendees.