After Fanny Perez performs, the question that she gets asked the most is, "Don't you get dizzy?"
It's a reasonable question, considering that at her relatively short performance in the lobby/art gallery at the Theater for the New City on July 5, she twirled without stopping for almost 15 minutes while her sister Claudia projected abstract images on her form. The answer, by the way, is no — even when she spins for two hours straight.
"I started whirling at a party in 2017," Perez recalled. "It just happened and I felt something that I hadn't felt before. I felt like a still point in the movement. The movement becomes a constant and you can find the stillness in there."
She began to research this particular type of dance and found that it has been a religious practice that dates at least back to the 13th Century in Persia where the Whirling Dervishes were organized by the mystic poet Rumi, and later learned that the practice actually predates him and Sufism.
It was a bit of a surprise to the audience at the TNC, as they were gathered there for the opening of "Solo With Friends" — a group art show curated by Marcus Glitteris — and not expecting performance art of this unique caliber. But, as Perez explained, there is much more to it than what the eye sees.
"You go into a trance when you do this…into an ecstatic state," she said. One question that she is happy to be asked is, "how do you feel when you spin?" The answer is that she "feels a sense of peace — it's the most honest version of myself. I experience the oneness that unites us all."
Perez's sister Claudia has been collaborating with her for years and, while she doesn't twirl herself, she notes that there is a spirituality that guides her imagery as well as she creates the projected images in real time.
"Doing visuals is my passion," Claudia said. "My goal is to make the audience feel what we all share. We want to invoke the essence of nature. In the end it's all about love, the force that keeps it all together."
Claudia has also provided imagery for live bands, working with up and comers like Madison McFerrin, collaborated with dance troupes in Mexico and has provided VFX for brands such as Nike, Kate Spade and Cointreau.
The sisters have a working relationship that goes back to a party in their native Mexico when Claudia first began projecting images on her sister.
"Working together has brought us closer," Perez said, "even when we have our differences. We come together because the message is greater than us. I think there's a trust between us that allows a liberation that makes room for deep experimentation and creation. When we are actually performing together, a kind of synergy is formed that isn't easy to get to. There's also an alignment of mission behind the work that we want to transmit."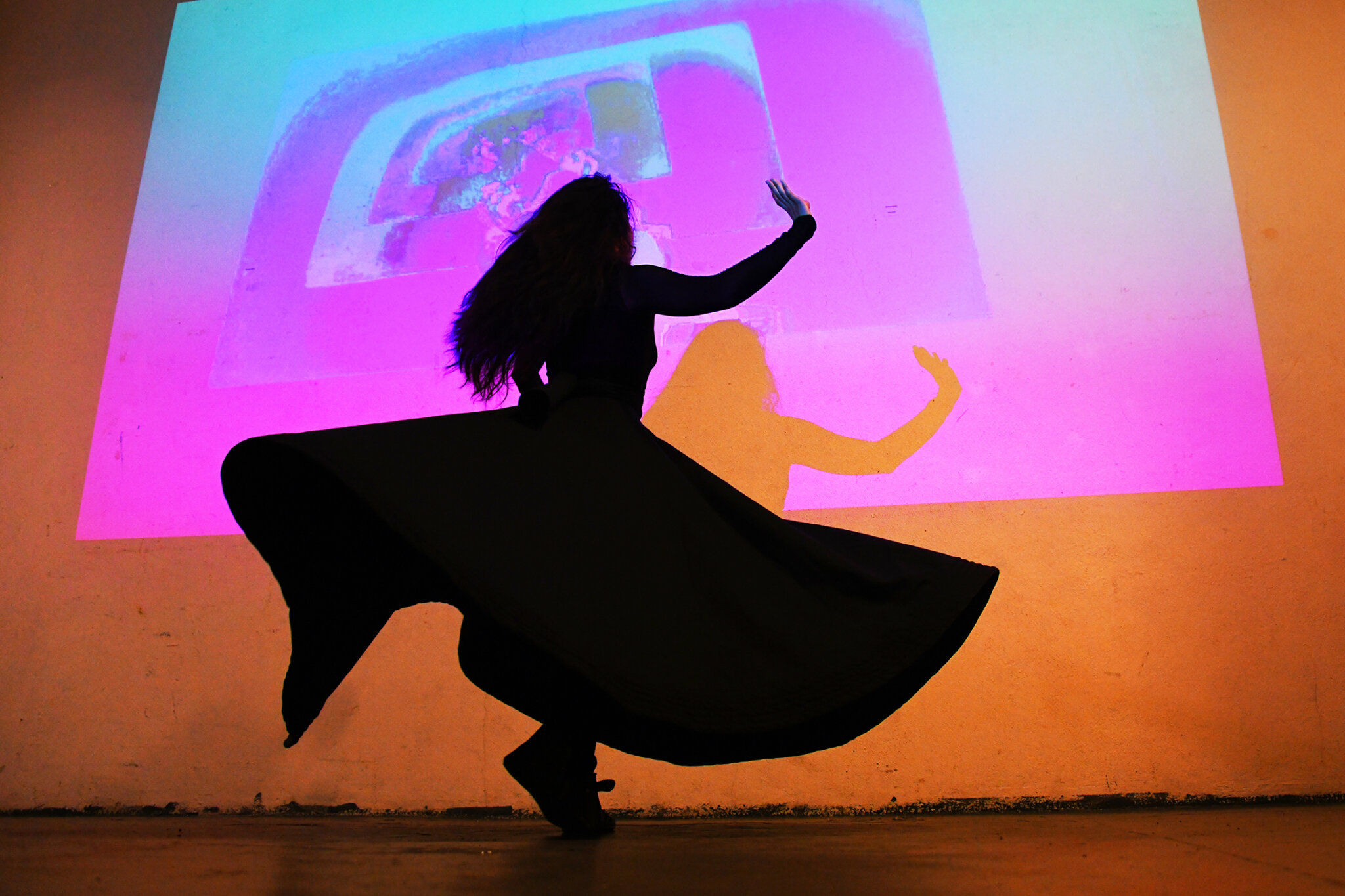 While Perez does sometimes participate in a Sufi twirling religious ceremony — a sema — her public dances are no less evocative of her spirituality. "My work is about finding myself, going deeper. You dissolve into nothingness, you become everything. It's really magical."
Fanny Perez can be found at fannnsystem.com and on Instagram at @fannnsystem. Claudia Perez is at zerezarts.com and on Instagram at @clau.zerez.