The Tribeca Film Festival has now morphed into the Tribeca Festival thanks to its inclusion of other forms of media, such as video games. Film is still the event's bread and butter, though, and celebrities such as Rita Moreno are returning to the iconic event.
The Tribeca Festival is firmly looking to take its place in history by serving as a major contributor to the city's comeback story after the battle with COVID-19 by offering New Yorkers outdoor movie premieres like Rita Moreno: Just a girl who decided to go for it.
This documentary follows the near century-long life of the Puerto Rican trailblazer, including the harsh reality of being a minority and female in the film industry during the 1950s and 1960s. Behind the glitz and glamor, Moreno reveals an extremely dark side of the movie industry rampant with sexual abuse and racism which led to her activism fighting for pro-choice and other women's rights, as well as attending Civil Rights marches helmed by Dr. Martin Luther King Jr.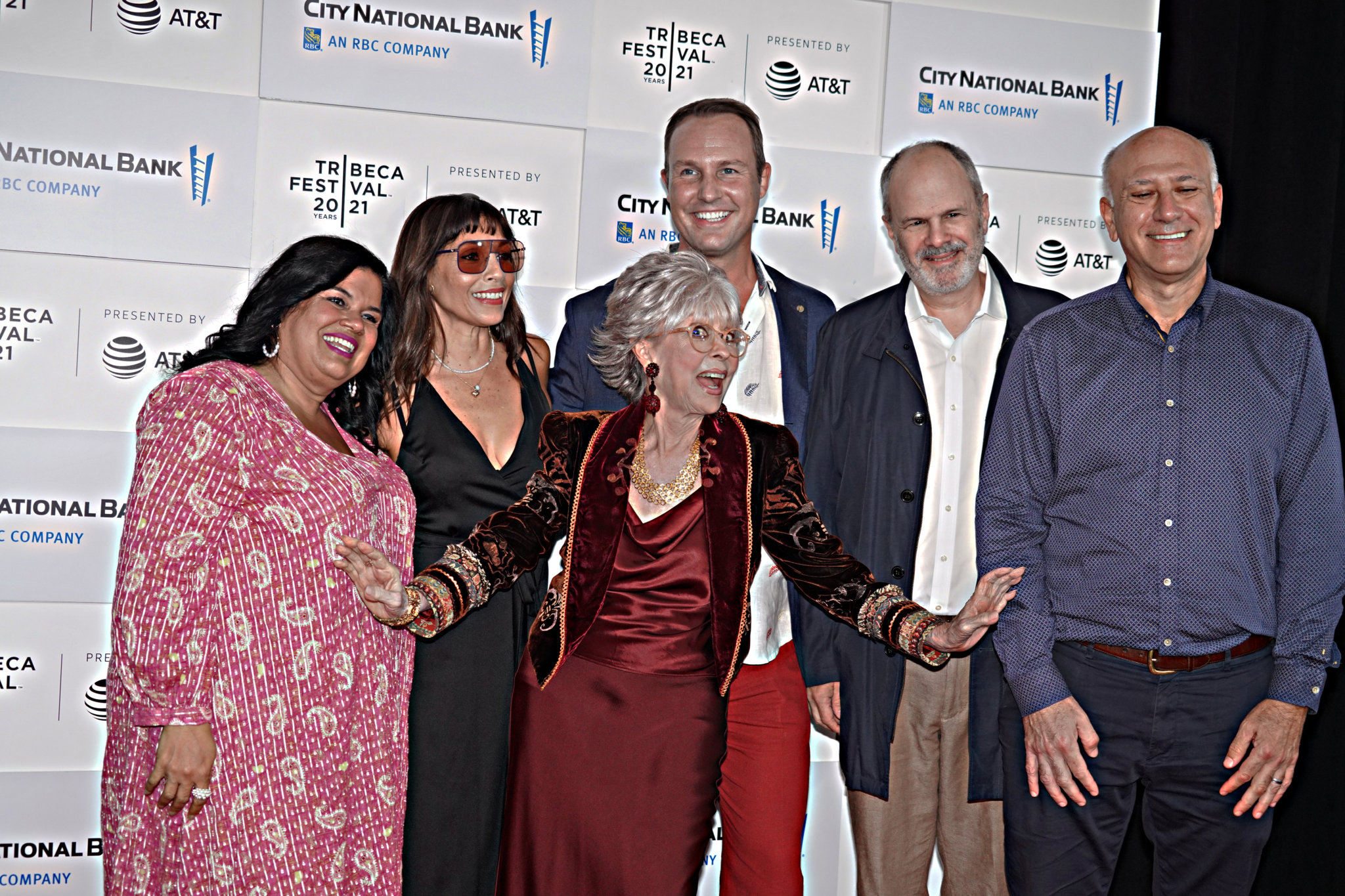 Additionally, the film featured a star-studded ensemble of colleagues and friends who all shared their admiration for Moreno and an appreciation for the barriers she broke and the sacrifices she made.  From her co-star Justina Machado in One day at a time to Morgan Freeman her co-star in the 1970s television hit The Electric Company.
On June 12, Moreno herself walked the red carpet of the United States Premiere at Pier 76 in Hudson River Park. Still young at heart despite creeping up on her 90th birthday, Moreno reveled in the camera flashes, striking pose after pose as she joined the film's director and producers who helped bring the story of her epic life to the silver screen.
Dancing along the red carpet with uninhibited excitement, Moreno glowed sharing her absolute joy to be at the Tribeca Festival just one day before the Puerto Rican Day parade, showcasing her life's story.
"I am so thrilled, and I am so proud," Moreno told amNewYork Metro, gushing how Tribeca co-founder Jane Rosenthal attended the premiere personally and requested an autograph of the children's book The Story of Rita Moreno: Actor, Singer, Dancer, Trailblazer! by Anika Aldamuy Denise.
"You know what's great, you don't start out in life trying to be a hero. All you want is: Can I please be an actress? And a lot of people say 'No not really. You? You want to be that?' That's what all of this is about and getting acknowledged and appreciated because there is a lot of that not happening for many, many years," Moreno said.
Puerto Rican pride could surely be felt at the Tribeca Festival where In the Heights premiered on June 11th, followed with Rita's premiere, and culminating with a grand celebration of the Puerto Rican Day parade.
Director Mariem Pérez Riera, also from Puerto Rico, shared her enthusiasm to be showcasing another film at Tribeca—she debuted her first movie at the festival in 2007 through Maldeamores.
"Being here again with Rita Moreno in her hometown, it's amazing. The Puerto Rican parade is tomorrow, only yesterday In the Heights was premiered, so the whole Puerto Rican vibe is really high right now," Riera said, adding, "It makes me feel very hopeful, and it makes feel celebratory because I think we are finally showing, especially us Puerto Ricans, how awesome we are."
Rosenthal also attended the premiere, showing that even though she is the co-founder of the festival with actor Robert de Niro, she is as much a fan as much as she is a creator and collaborator.
"Being out of COVID to bring it back in person right now is just one of the most momentous times in my life to do this for our community and the weather is cooperating," Rosenthal told amNewYork Metro, highlighting that she hopes individuals enjoy the festival as New Yorkers can gather once again.
For Rosenthal, the Tribeca Festival has always been about providing representation for artists of every race, orientation, and craft. Having the premiere of the iconic Rita Moreno is just the icing on the cake of what is to be a diverse festival from June 9 to June 20.
"She is amazing, she is such a role model for women everywhere. She is just an extraordinary role model and talk about the American dream story," Rosenthal said.
After the showing off on the red carpet, Moreno joined movie goers on the pier to see the film. Sitting beside her daughter, Moreno watched her life unfold once more before her very eyes in the span of an hour and 30 minutes, after which attendees gave the Oscar winner a standing ovation as they danced to the closing song, Preciosa sung by the star.
Additional reporting by Amanda Aponte-Moses