Frank James, who pled guilty to terrorism charges for opening fire on a crowded N train in Brooklyn and injuring 10 straphangers last year, was sentenced Thursday to ten life sentences, plus an additional 10 years, in federal prison.
James boarded a rush hour Manhattan-bound N train in Brooklyn on the morning of April 12 last year, armed with guns and smoke bombs, and opened fire on straphangers near the 36th Street station in Sunset Park in one of the most violent attacks in the history of the subway system.
After setting off smoke bombs, he fired a Glock pistol 32 times and left 10 passengers with gunshot wounds, with many others injured in the mayhem, but no one died in the attack. Amid the chaos, James fled the scene, setting off a frantic citywide manhunt that ended more than a day later with his arrest in Manhattan's East Village.
James pled guilty in January to federal terrorism and weapons charges. He has been incarcerated at the Metropolitan Detention Center in Sunset Park, not too far from the site of the attack, since he was apprehended.
Prosecutors sought to throw the book at James, asking Judge William Kuntz to sentence the shooter to life behind bars, in the hops of deterring any other would-be terrorists from replicating his acts.
His public defenders, however, sought a lighter 18-year sentence. Upon pleading guilty, James told Kuntz that he did not actually intend to kill anyone in the attack, only to cause "serious bodily injury" to fellow passengers. On Thursday, Kuntz ruled that James had committed perjury and obstructed justice when making that statement — due to the premeditation, weaponry, and circumstances of the attack — in an attempt to lighten his sentence.
James' attorney, Mia Eisner-Grynberg, described his acts as "despicable" and "senseless," but characterized a life sentence as excessive for the 64-year-old James, who suffers a rash of health problems and has been hospitalized twice in the past month, first with pancreatitis and later with COVID-19. He later fainted in the shower at MDC and had to be brought back to his cell in a wheelchair.
During his stay at MDC, James has not been able to get the care he needs, Eisner-Grynberg argued, noting specifically that his sharp abdominal pain was disbelieved by guards for days before a doctor brought him to the hospital, and that the extent of his counseling there is one check-in per month and meditation exercises on an MP3 player.
James has an extensive history of mental illness, namely paranoid schizophrenia, which Eisner-Grynberg exhaustively detailed in court. He had been institutionalized multiple times over his life and even once tried to burn down a radio station to silence the voices in his head. He attempted suicide after being arrested and taken to Rikers Island in 1980.
James has suffered lifelong trauma as a result of abuse from his alcoholic father and being knocked out by an MTA employee as a teenager, she said, and he was chronically unable to receive the mental healthcare he needed.
Last April, James' rage "boiled over" to the point he "no longer valued human life," she said.
Taking the opportunity to address the court and his victims, James apologized for his "cowardly acts of senseless violence" and said he wasn't trying to excuse his actions, but said that, at the time of the attack, he believed he was "shining a light" on deplorable mental health care services available to poor residents of New York City, particularly poor Black New Yorkers.
"I'm not a person known to resort to violence," said James, who was previously arrested for threatening to murder someone.
James highlighted the killing of Jordan Neely on an F train this year when he was "screaming for help," and also quoted Frederick Douglass and Harriet Beecher Stowe, the author of Uncle Tom's Cabin.
Ultimately, he acknowledged having "crashed my life into this city" and hoped for mental health services to improve so as to prevent another crime like his.
The government was not convinced by James' story. Lead prosecutor Sara Winik noted James methodically planned his attack for years, buying the smoke grenades he used as far back as 2017, conducting multiple practice runs on subway trains leading up to the assault, and choosing to attack a subway car — where his victims had no means of escape. He had also discussed his violent thoughts and tendencies in raving YouTube videos and Facebook posts, where he even expressed admiration for serial killer Ted Bundy.
"The defendant didn't just snap. The defendant carefully planned this attack over several years," said Winik. "The defendant deliberately created a situation that was like shooting fish in a barrel."
Victims who chose to speak detailed lifelong physical injuries and emotional trauma associated with being on the N train car with James, who refused to look at them as they recounted the agony and aftermath of that April day.
Survivors said they have suffered from post-traumatic stress disorder since the shooting, and many have recurring nightmares that they're back on the train. "My anxieties have come to overtake my personhood," said one who went only by the initials BK.
Another survivor, college student Farong Hu, who was shot five times, said his life had fallen apart after the shooting and the PTSD it caused. "I so desperately want my life back," he said in a statement read by Winik. "The life I had before he took it away."
In particular, the attack traumatized victims into fearing the subway. Lateef, a 51-year-old Staten Island man who didn't give his last name, actually works for the MTA, as do many of his relatives, and has ridden the train alone since he was a child.
But after the attack, Lateef said he spent $12,000 on multiple e-bikes, scooters, and other devices so he could avoid the subway. When he finally returned to the transit system, on a C train, he was terrified to see a man in a green reflective vest sitting in the corner seat, just as James had done on the morning of the shooting. "I thought of you, Frank," he said.
"You did something terribly evil," said Lateef. "Your mother would be ashamed of you."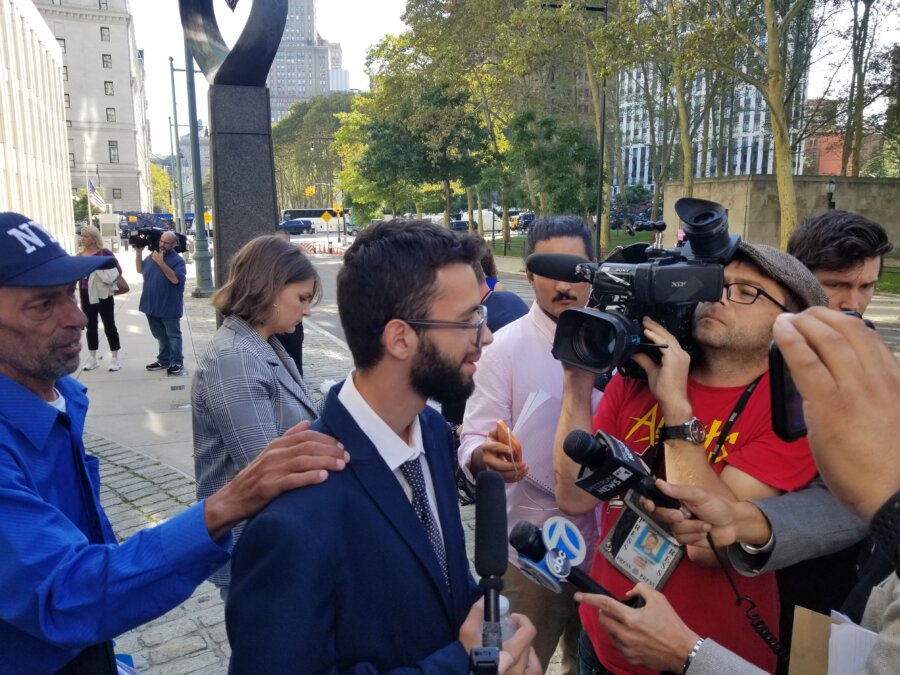 The concept of evil came up several times during Thursday's proceedings, after Eisner-Grynberg declared in court documents that James is "not evil" but rather "very, very ill."
Judge Kuntz, after sentencing James, disagreed, saying his actions "constitute nothing but pure evil," terrorizing his victims and the city at large, and even bringing up subway-related icons of popular culture like Duke Ellington's "Take the A Train" and Gene Hackman's performance as Popeye Doyle in The French Connection.
"Each mass shooting constitutes an act of raw evil," said Kuntz, who compared James' actions to prior massacres in Buffalo, Uvalde, and Sandy Hook. "Mr. James made war on our collective right to live."
Kuntz and the government disputed that James has taken responsibility for his crimes, since he still contends he didn't intend to kill. His lawyers intend to appeal his sentence.
The US Attorney for the Eastern District of New York, Breon Peace, said "justice has been served" and that James' sentence "sends a clear message to any would-be terrorist."
One survivor, Fitim Gjeloshi, broke down in court while reading a victim impact statement. But outside the courthouse, Gjeloshi, a 21-year-old from Bensonhurst, said he forgives James and feels bad for him, and hopes he gets the help he needs.
"I hope in prison, he actually learns and actually knows what he did wrong," said Gjeloshi. "He just really needs the help. If he doesn't get it, he's just gonna go in the wrong path again."