Prominent rapper Sheff G not only drilled hiphop lyrics, but also allegedly ran a major Brooklyn street gang that police busted up in a major operation announced Tuesday.
According to Brooklyn District Attorney Eric Gonzalez, the indictment accuses some 32 individuals of causing bullet-fueled mayhem throughout the borough, all under the ruthless command of famous drill rapper Michael Kyle Williams, also known as Sheff G, as well as Tegan Chambers, better known as Sleepy Hallow.
The indictment alleges that Sheff G's crew were responsible for numerous shootings — including using stolen cars during drive-by crimes — targeting rival gang members from Folk Nation Gangster Disciples and ICG Babiiez. 
The drill rapper's music is so widespread that Gonzalez went as far to say that if you have kids, Williams' music is most likely on their phones. What they may not realize is that away from the studio, prosecutors alleged, Williams demonstrated a brazen attitude as a criminal mastermind — going as far as to celebrate a mass shooting that left a rival dead with a lavish dinner.
Gonzalez announced the indictment at his office on May 16 alongside Mayor Eric Adams and NYPD Chief of Detectives James Essig.
While 7 of the alleged gang members remain on the lam, 25 of the 8 Trey Crips, an affiliate of the 9 Ways gang, were marched into Brooklyn Supreme Court for their arraignment in a 140-count indictment while flipping the bird to cameras.
The Brooklyn DA stressed that removing these individuals off the streets just a month before summer begins will have a great impact on public safety within Brooklyn communities. 
"The senseless gun violence, allegedly committed by these defendants, terrorized our neighbors for years and left more than a dozen people with serious injuries," Gonzalez said. "It is distressing to know that some of the violence was allegedly fueled by a young man who used money he made from a successful music career to allegedly pay for and encourage acts of violence."
The long-term investigation into 8 Trey Crips and 9 Ways gang was conducted by District Attorney's Violent Criminal Enterprises Bureau and the NYPD's Gun Violence Suppression Division within the confines of the 67th and 71st Precincts.  According to investigators, the key areas of focus were the 8 Trey Crips based out of Flatbush (Caton 8 Trey Crips), East Flatbush (40s 8 Trey Crips) and Canarsie (80z Flossy 8 Trey Crips). 
Detectives were able to uncover the 9 Ways gang battle territory, which runs from East New York Avenue to Church Avenue and from Remsen Avenue to East 98th Street in East Flatbush.
A gang war ensued within these areas as 8 Trey Crips and 9 Ways gangs continuously fought over control utilizing stolen cars and guns to commit drive-by shootings for territory domination from the Folk Nation Gangster Disciples and ICG Babiiez.
Over 27 incidents occurred in this area, leaving 12 victims injured and one murdered in a span of 12 shootings. During the continuous battles gang members used 37 different firearms—19 guns were discovered during the investigation—in their wake three of the victims injured were innocent bystanders. 
According to the Brooklyn DA's office, the investigation utilized a combination of surveillance videos showcasing the acts as well as alleged social media posts and text messages discussing the mayhem.
Of the 12 shootings, Gonzalez asserts that the most egregious crime was a mass shooting on Oct. 21, 2020 on Hawthorne Street within what was deemed as Folk Nation territory.
The DA alleges that Kamondre Dekattu, 22 opened fire from a car's sunroof killing rival Theodore Senior, 23, and injuring alleged five other Folk Nation members.
An hour after the mass shooting, investigators claim to have evidence showcasing Williams allegedly sent a text confirming that 8 Trey and 9 ways scored a kill against their enemy. Additionally, it was alleged that Williams even hosted a lavish dinner at a steakhouse to celebrate the murder and wounding of five other individuals.
The DA's office believes that Williams used the money earned in his music career to fund these acts of gun violence by rewarding those who participate in the mayhem with cash and expensive jewelry. Gonzalez alleged that Williams also used his fame and would pay his gang members about $5,000 for a successful killing and even treat them to ritzy dinners for causing physical harm to their enemies. 
In addition to the hail of bullets, the gang is also known for their brutal assaults, including beating one man so badly that an officer said it was the worst attack he had seen in over two decades on the job. With these individuals off the streets, Chief of Detective Essig said he believes local communities will feel the results.
"The benefits are tremendous," Essig said. "Violence will be dramatically decreased."
Charges include second-degree murder, second-degree attempted murder, second-degree conspiracy, second-degree criminal possession of a weapon, first-degree assault, first-degree attempted assault, second-degree kidnapping, first-degree gang assault, first-degree attempted gang assault, second-degree assault, first-degree reckless endangerment, and along with a slew of gun violence charges.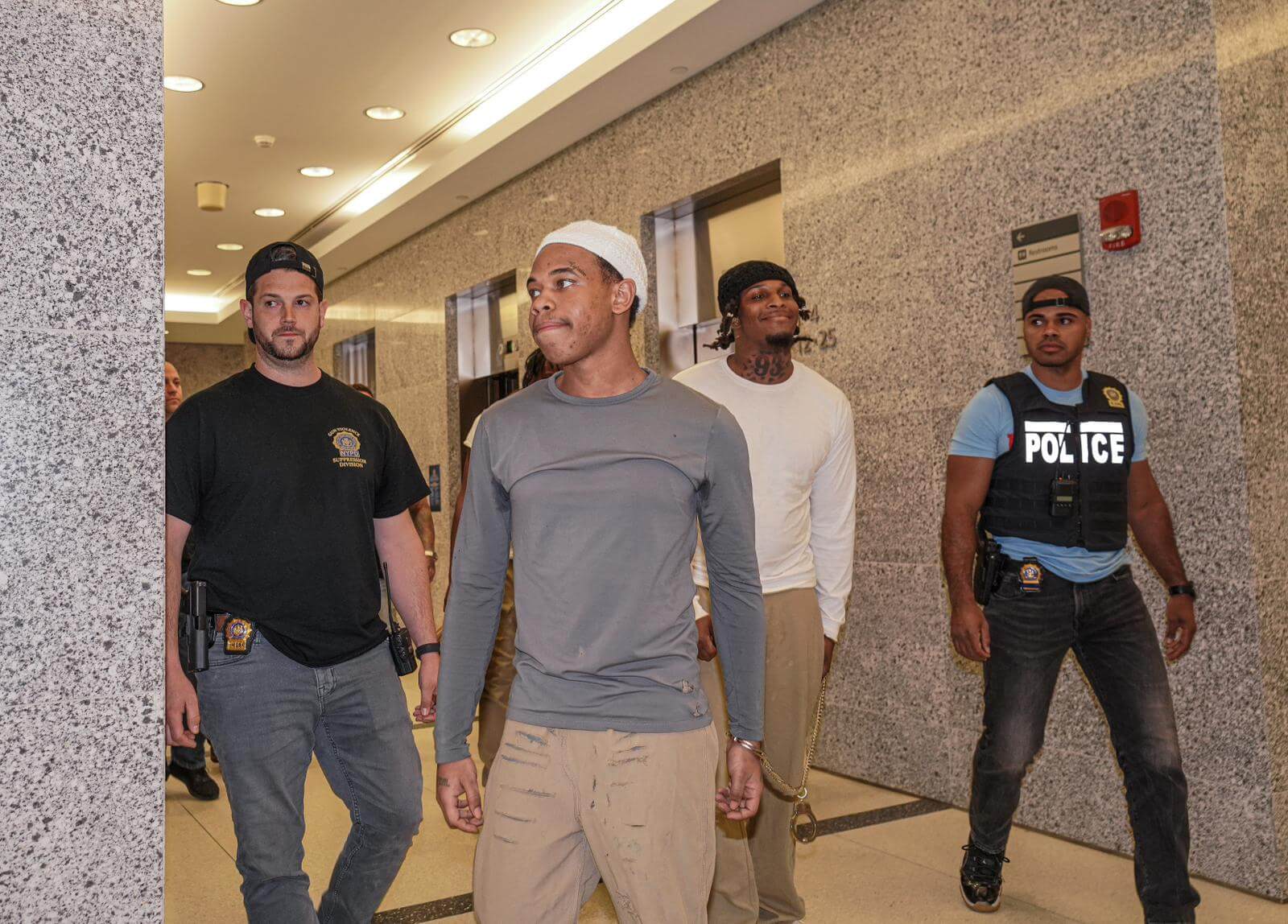 The 32 defendants' ages range from 19 to the oldest being 40 years old. They have been identified as the following:
Donald Audouin, 31
Kenrick Austrie, 23
Alex Brown, 21
Jaquan Brown, 21
Shamar Brown, 24
Tegan Chambers, 23
Jovanie Chouloutte, 22
Joseph Crick-Best, 40
Tony Darden, 19
Victor Davis, 21
Kamondre Dekattu, 22
Nicholas Heaven, 25
Shariff Hill, 25
Shomari Hudson, 21
Najma James, 27
Ricardo Johnson, 26
Marcov Joseph, 22
Dean Jean Louis, 25
Olivel Martinez, 23
Imani Maxwell, 26
Robert Muschett, 21
Celaya Phillip, 23
Shatike Robinson, 23
Jaheim Samuels, 21
Quran Thomas, 24
Tremain Weekes, 25
Garron Whyte, 20
Akeem Williams, 22
Crystal Williams, 22
Michael Williams, 24
Tailynn Williamson, 22
Marc Wright, 21