City officials gathered next to Balsley Park in Hell's Kitchen on Tuesday to introduce infrastructure improvements at the street level and below.
On the surface, city leaders cut the ribbon on a Ninth Avenue sidewalk and bike lane extension. Out of sight, officials celebrated the completion of a less flashy, but more time-consuming and expensive project involving installing 14 miles of new water mains and sewers.
Construction for the long-awaited $231 million project began in the summer of 2017.
"We thank West Siders for the patience and understanding that it took so long. But here we are again in this beautiful spring, coming back stronger than before," said City Department of Transportation (DOT) Commissioner Ydanis Rodriguez.
The street improvements include a concept DOT has dubbed the super-sidewalk, a painted walkway on the east side of Ninth Avenue that extends out into the roadway about 11 feet from 50th to 59th streets. The new pedestrian space is buffered from car traffic by a bike lane and bollards.
Christine Berthet, chair of Manhattan Community Board 4 welcomed the street additions, explaining that Robert Moses had decided to keep the sidewalk narrow during the construction of the Lincoln Tunnel to create a new moving lane for cars.
"What this team has done today on the top of the infrastructure, which is so important, is to reclaim space that Robert Moses took from us 40, 50 years ago. I cannot emphasize enough how important this is and how emblematic it is of what this administration is doing to get space back to the people," Berthet said.
City Department of Design and Construction Commissioner Thomas Foley explained that sewer improvements consisted of four separate projects that the city has tied into the vertical shafts for Water Tunnel Number 3, a 60-mile drinking water delivery system the city has been building since 1970.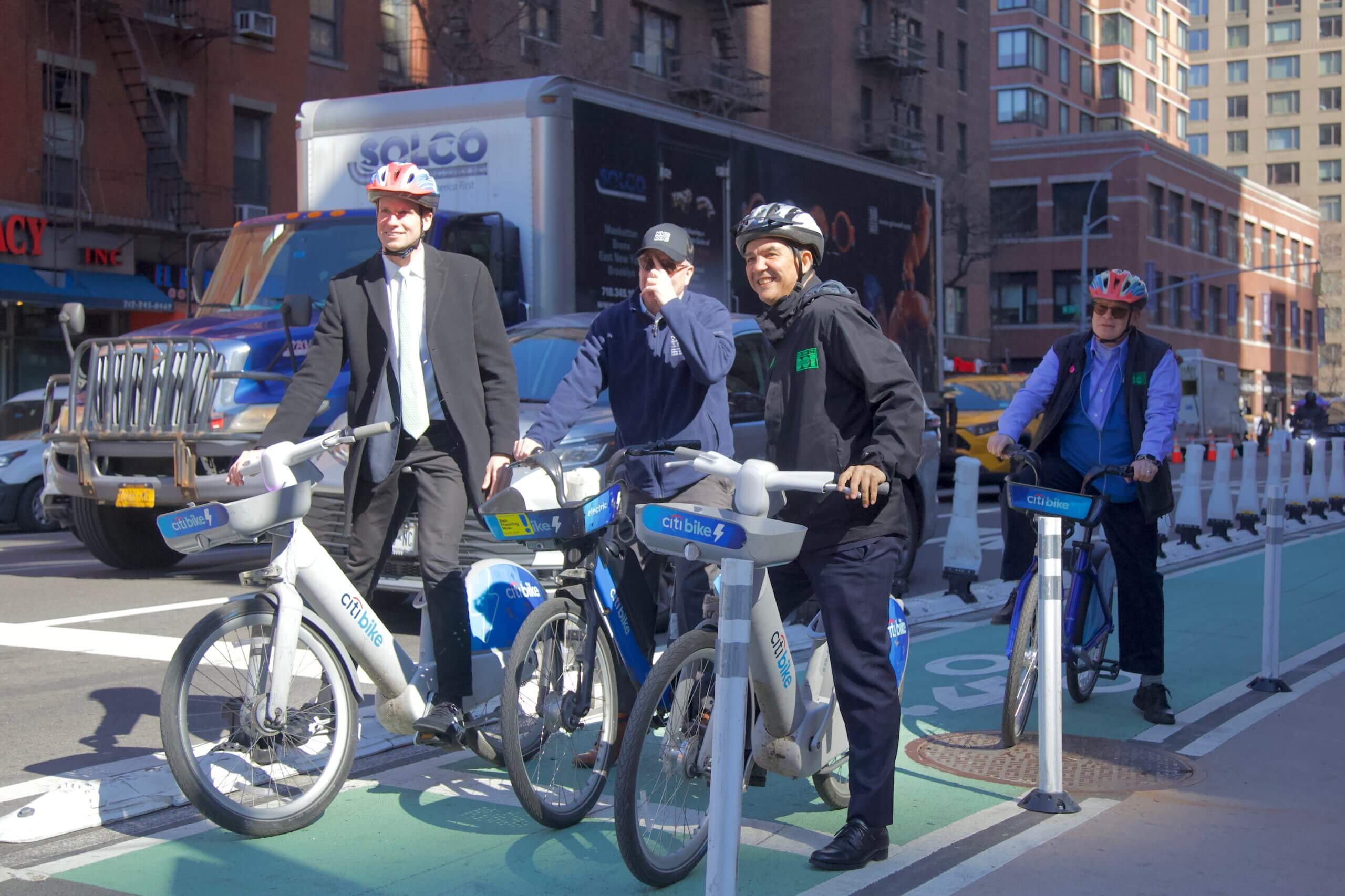 DDC connected water shafts from these four areas, which are down 600 to 800 below the street surface, to several miles of steel water mains. According to DOT, many of the water mains that were taken out of service as part of the Ninth Avenue project were more than a century old.
"Our water and sewer infrastructure on Ninth Avenue is gonna be solid for the next century. And the failure to do this kind of work is why we'll see water main breaks," said Manhattan Council Member Eric Bottcher. "That happens when you neglect your infrastructure and when you rely on these aged pipes."
Before the ribbon cutting, Bottcher and Rodrigez also highlighted the next west side street project this year: building protected bike lanes on 10th Avenue from 14th to 52nd streets.