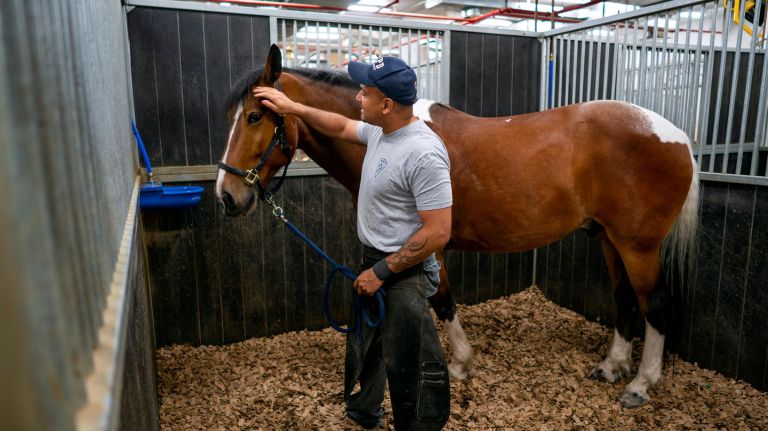 No hoof, no horse.
This simple proverb, highlighted by Deputy Inspector Barry Gelbman, commanding officer of the NYPD Mounted Unit, captures the philosophy that inspires the department's team of three farriers, including NYPD Horseshoer Marcus A. Martinez Jr.
Sparks fly as Horseshoer Martinez pounds on a red-hot horseshoe to be properly fit on Centennial, a remarkably well-mannered horse standing just a few feet away on a recent Thursday morning. The NYPD Horseshoers are tasked with keeping about 50 police horses healthy, happy and productive.
Martinez points out that there is so much more the farrier provides beyond a well-fitting shoe.
"I removed the old horseshoe from the horse, I assessed growth and balance of the horse while it was walking, and its gait," he says. "I trimmed the foot accordingly to the horse's conformation, and then fabricated a horseshoe, applied the horseshoe and fit the horseshoe to the horse's needs."
A shoe placed on an NYPD horse is fabricated to fit New York's unique urban environment, with techniques such as the addition of Drill Tech. This is a titanium strip that's heat molded to three points of the horseshoe to give it grip and extra protection from road hazards such as construction debris that are a constant on the streets of New York.
"With domesticated horses, what happens is, they are being asked to do a lot more than horses back in the day used to do," Martinez says. "They need protection for their feet because it is kind of a hostile environment; from pavement to concrete, sand, dirt. The foot needs protection at all times.
"Overall, it increases the health and soundness of the horse and its quality of life. Shoes definitely do help a horse."
Although there are four stables in three boroughs, police horses on patrol may be a good distance from the stalls, sometimes needing care while on a post. A unique solution the unit has created is a mobile shop, complete with a small furnace, tools, a grinder and of course a selection of shoes, allowing Martinez and his counterparts to re-create the workshop environment on any city street.
Gelbman emphasizes the work of Martinez and his two counterparts is more than just forming hot steel and pounding nails in a hoof.
"There's three aspects of horsemanship," says Gelbman. "You have the medical end of the horse, you have the equestrian end of the horse . . . and then there's also the hoof care of the horse, which brings in the horseshoer. That's their responsibility, which is the greatest responsibility of all three."
When speaking about the importance of the work of farriers, Gelbman adds: "It's a foundation. You can't build a house without a proper foundation and a horse can't move without a proper foundation. That's their hoofs."
Inspector Gelbman points out that years and years of work go into refining the job of a farrier, a physically demanding vocation. Farriers, constantly underneath the horse, face a dangerous workplace. They need to be gentle and gain a horse's trust, and be nimble and quick in case one of the 1,200-to-1,500 pound animals becomes startled.
"It's almost an art," Gelbman says.