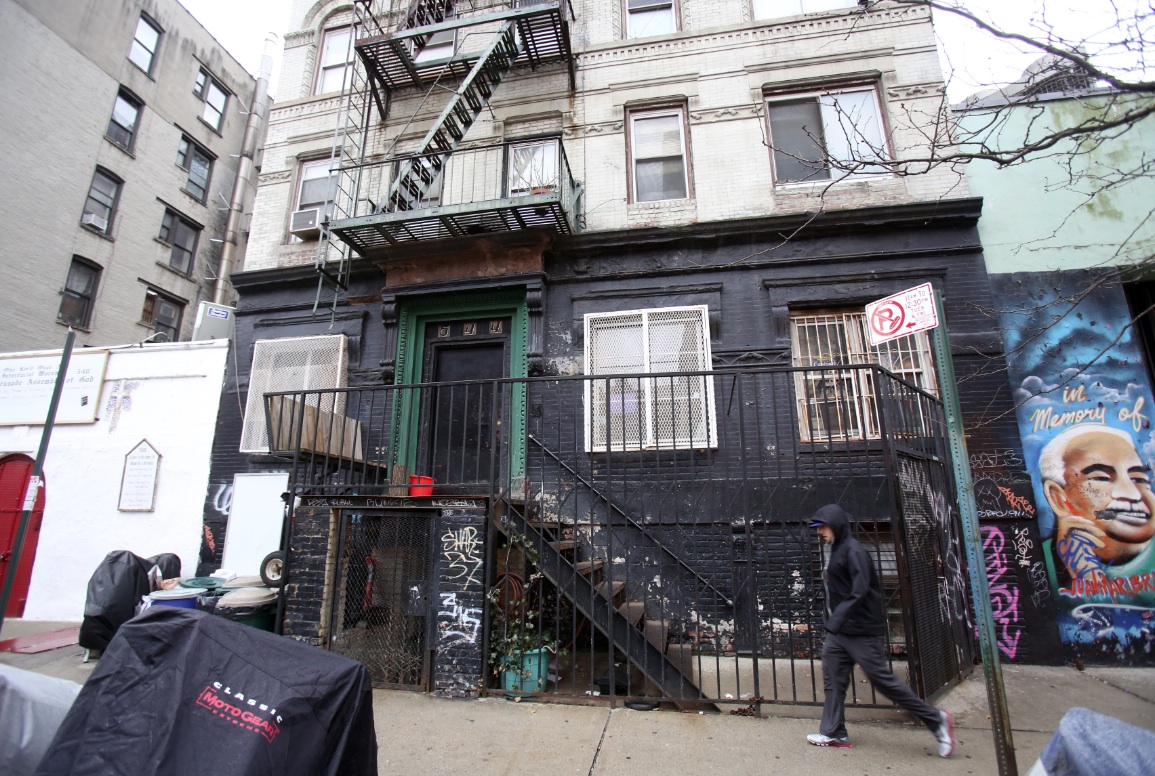 BY LINCOLN ANDERSON | A cousin of actress Rosario Dawson has been arrested for an attempted rape in Stuyvesant Town last week.
On Monday, police collared Juan Scott, 26, and charged him with first-degree attempted rape. His address was given as 544 E. 13th St., the East Village squat building where Dawson grew up, and where her mother, Isabel Celeste, and father, Greg Dawson, and relatives still live. Rosario Dawson stays at the building whenever she is back in town to visit.
According to police, on Fri., Oct. 17, at about 4 a.m., Scott followed a 20-year-old woman into her building in Stuyvesant Town and attempted to rape her.
"The victim yelled and struggled with the suspect, causing him to eventually flee the elevator," the police said.
Scott was described, at the time of the incident, as wearing a black hooded sweatshirt, blue jeans and white sneakers.
A surveillance camera video released by police shows Scott casually sauntering into a Stuyvesant Town lobby through the entrance door — while carrying a white plastic bag — then getting into an elevator. Once inside the elevator car, he starts to chat with the victim (whose image has been purposefully obscured in the video), then starts to move toward her. The video clip doesn't include the struggle that reportedly ensued, which was apparently excerpted before it was distributed by police. The clip skips ahead to when he's seen rushing out the building's front door — then shimmying down a tree to reach street level and sprinting off down E. 14th St.
By Monday, police had made the arrest.
According to a source, late Monday afternoon, Scott had not yet been brought down to Criminal Court and was still being held by police at the Special Victims Unit up in Harlem. He was expected to be arraigned in court on Tuesday.
The Town & Village Blog reported that, according to the Stuyvesant Town-Peter Cooper Village Tenants Association Web site, the attack occurred on the 600 block of E. 14th St.
"The woman was badly injured and treated at Beth Israel Medical Center," according to the tenants association.
Scott's father is Nicky Scott, who is Isabel Celeste's brother and also lives in the E. 13th St. building.
"The last conversation I had with Juan, he said he was paying his father $700 a month," said a building resident speaking on condition of anonymity. "They put him in the bike room in the basement."
Scott lived in the squat for eight or nine months about two years ago, before returning to his mother's home on Long Island. He recently came back to 544 E. 13th St. and had been living there since this summer.
"He had a little scooter and he was working as a delivery boy," the tenant said. "He was working for a restaurant, and he was happy scooting around."
A few days before the alleged rape attempt, the tenant spotted Scott with a woman in her 20s walking down E. 13th St. on the sidewalk across from the building.
"She had on a stylish gym outfit — like a Kim Kardashian style," the tenant recalled. "She had good makeup application — stylish."
The tenant, however, said Scott does have some "boundary issues" with women. "He pushes himself on women," the tenant said.
According to the Daily News, Scott was arrested at his mother's home in Sound Beach, in Suffolk County. The News reported that he has seven prior arrests.
Scott's arrest has put renewed focus on the troubled East Village tenement. It's one of 11 East Village squats that were sold in 2002 under the Giuliani administration to the squatters for $1 per building. Under the deal, the squatters were supposed to bring the buildings up to code, then would get to keep their apartments as low-income units.
More than half of the squats have already gone through that process and are now low-income co-ops. But 544 E. 13th St. has lagged way behind, and, in fact — a full dozen years later — almost no work has been done to fix up the building to bring it into line with the city's building code.
The tenement is sharply divided between two factions: the Dawson clan and its allies on one side versus another group that claims some longtime tenants. The non-Dawson faction charges that Celeste and her family members basically run the building as if they own it, and have aggressively taken over units, and have also impeded efforts to fix up the building.
In June 2013, Celeste — without permits — drilled a hole in her first-floor apartment's floor, then installed a spiral staircase down to a basement room to create a duplex for herself. Alerted by other tenants who were concerned about vibrations from the construction, firefighters arrived, leading to a partial vacate being ordered after unsafe conditions were found, including a partially detached rear fire escape and a leaning parapet.
Former common spaces, like the basement bicycle-storage room, for example, have been taken over and are being rented out for profit.
Tenants also complain that essential services — including heat, gas and hot water — have been nonexistent. Tenants use hot plates to cook and to heat up water for bathing, and electrical space heaters in the winter to keep warm.
Celeste did not respond to a request for comment.
Attorney Adam Leitman Bailey was retained by Celeste and her faction sometime ago. He had recently told The Villager he is fighting a tax-lien foreclosure on the property, which he assured they will defeat.
Speaking on Monday, he said the foreclosure effort has temporarily been put on hold.
Stressing that he is a real estate lawyer, Bailey said he isn't representing Juan Scott. He said he met him at a meeting of what the attorney called the "homesteaders" — they're not technically squatters anymore, he noted — over this past summer.
"I met him once," he said. "I saw no predilections toward someone who would disrespect a female. Nice guy. Respectful. Quiet. But then again, I only saw him once."
Bailey said he is currently working with the city's Department of Housing Preservation and Development and the Urban Homesteading Assistance Board, or UHAB, on a way to get the building fixed up and put into one of Mayor de Blasio's new affordable housing programs.
Bailey said UHAB never paid any taxes on the building, which is what triggered the foreclosure effort.
"The City Council appointed them the owner until our clients were deemed ready to take ownership," he noted of UHAB.
According to Bailey, basically the new plan would involve a "white knight developer" who would invest money into the building — to the tune of $108,000 per unit — in return for which the developer would get a bonus of floor-area ratio (F.A.R.) — basically additional square footage — that he could use at another site to develop market-rate units. This would be done through creating a "comprehensive zoning lot," with the market-rate portion possibly located nearby or elsewhere within the neighborhood.
The details are still being hashed out, and the developers' investment might wind up being less than $108,000 per unit by the time negotiations end, since otherwise that would be a pretty high sum, and possibly more investment than the building needs, Bailey said. There would be a covenant running with the land, so that the units would be permanently affordable. The deal could be finalized in as soon as a month from now, Bailey said.
According to a source, BFC Partners, led by managing partner Don Cappocia, is the developer trying to swing this "inclusionary zoning" deal involving 544 E. 13th St. But Bailey said he could not confirm that.
Actually, this program could work out better in terms of affordable housing than what was done with the other squats. Namely, those other legalized squats actually could convert to market-rate status in 30 to 40 years, once their mortgages are paid off, Bailey noted. He should know since he was the lawyer that represented the 11 squats in their original negotiations with the Giuliani administration. On the other hand, 544 E. 13th St. would be affordable in perpetuity.
About two weeks ago, a UHAB representative toured the building. It's been hard to get answers from UHAB, though, on exactly what is going on with 544 E. 13th St. and if it will ever become a low-income co-op.
Meanwhile, Annie Wilson, a longtime resident of the squat, said, "I'm stunned to know that this dangerous person was living in the building. He appeared to be always polite and I'm very troubled by these recent disclosures of his extremely violent criminal behavior."
She said this latest "very troubling news adds to the uncertainty regarding the day-to-day living in the building. It just adds to it all," she said.
For his part, Bailey countered that the building is well-run.
"We represent some of the richest, most exclusive buildings in the city," Bailey said of his firm. "This board [at 544 E. 13th St.] is as good as any building I've worked with, and they're working really hard on it, using their own sweat equity and money. I'm impressed with it. … To me, there's no civil war. I know that Isabel is trying to fix the building. I think that they deserve medals, not to be crapped on."
If the building isn't as far along as it should be, then it's all UHAB's fault, he said at one point, since the nonprofit was appointed the squats' owner until the buildings were ready to convert to low-income co-ops.
Bailey, in turn, also blasted Wilson and other tenants who are not allied with the Dawsons — "Annie and her minions," as he put it — saying they are really the ones standing in the way of progress.
"Annie does not contribute anything positive to the building," he charged. "She actually should be evicted."
Asked who exactly is footing the bill for his high-priced law firm's services, Bailey just replied that it was "people" living in the building, and said he couldn't be more specific.
For her part, Wilson wasn't thrilled with the idea of the squat helping boost the bulk of a new luxury residential project.
"It makes me sick," she said. "It's the irony of the matter."