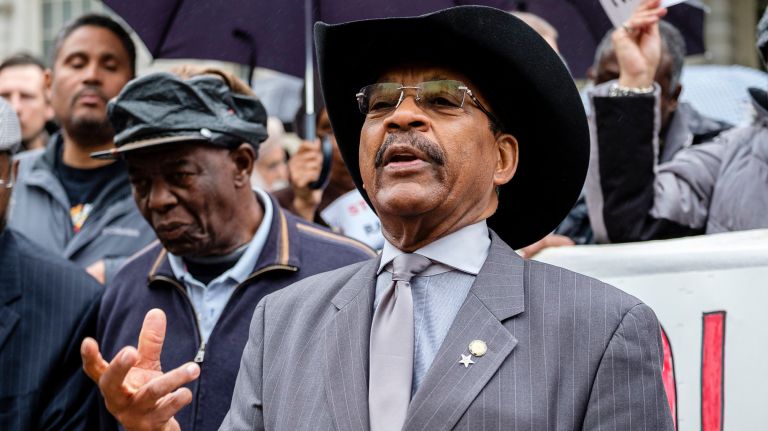 A subcommittee chaired by embattled Councilman Ruben Diaz Sr. was dissolved Wednesday after the City Council voted 45-1-3 in favor of the measure, coming after Diaz Sr. said the Council was "controlled by the homosexual community," in an interview with a Spanish-language radio show.
The vote included a no-vote by Councilmember Chaim Deutsch and abstentions by Councilmembers Fernando Cabrera, Andy King and Ydanis Rodriguez.
Diaz Sr. was notably absent from the proceedings.
The Council took preliminary steps to end the Subcommittee on For-Hire Vehicles earlier Wednesday morning when the Committee on Rules, Privileges, and Elections voted 11-0 to dissolve the subcommittee and have its operations absorbed by the Transportation Committee.
Council Speaker Corey Johnson, who is on the rules committee, said the 75-year-old Bronx elected's rhetoric made him unfit to chair any committee.
"This is not something we do lightly, nor is it something that we do as individuals," Johnson said. "This resolution is a response from the entire City Council to the actions of Ruben Diaz Sr."
The votes came after Diaz Sr., who has a history of making anti-LGBTQ comments, repeatedly refused to apologize over his comments on the Spanish radio show "El Desahogo" and doubled down on them with similar remarks about the state government in Albany.
Johnson also said Wednesday that a "major chunk" of the work assigned to the for-hire vehicle committee has been completed, and was confident the Transportation Committee could continue the remaining work.
"I think it's been very productive, and there isn't that much stuff that's hanging out there," Johnson told reporters before the vote.
Several elected officials, including Johnson, have called for his resignation, but Diaz Sr. has said he will not step down.
During Wednesday's hearing, both Johnson and Councilman Jimmy Van Bramer recounted thoughts of suicide in their youth.
"I will never ever forget the feeling of being a suicidal teenager, terrified that the world will hate me for being gay," Johnson said. "This experience takes me back to that feeling … I am trying to responsibly move this body forward."
Van Bramer followed, adding: "For two years I prayed every night asking God to not make me gay, sometimes crying myself to sleep."