FLORHAM PARK — We're just four days away from the New York Jets taking on the defending Super Bowl Champion Kansas City Chiefs on Sunday Night Football. For two teams that came into the year with high expectations, both are now on completely different paths.
New York lost their franchise quarterback four plays into the new season and have struggled to pick up the pieces. Kansas City, on the other hand, has shrugged off their opening night loss to look like the best team in football for another season.
The Jets have their work cut out for them. There's no sugarcoating it. Despite the lack of faith many across the league (and most Jets' fans) have, there's a way for the team to still be able to come away with a major upset in Week 4. 
To do so, five players need to step up in a big way. Today, we go through that here.
Jermaine Johnson
A breakout candidate during training camp, the start of the 2023 season hasn't been kind to Jermaine Johnson. In three games, the former first-round pick has recorded a sack and 12 tackles, but an average Pro Football Focus grade of 60.7. 
It's not that he's been bad, but for a defense that hasn't gotten after the quarterback the last few games, not getting a consistent pass rush shines a light on the draft capital spent. For the Jets to even have a chance against Patrick Mahomes and the Chiefs offense, pressure is key. 
Unfortunately, Kansas City's offensive line has given up less pressure than any team in football to this point. Johnson will need to be a major catalyst on Sunday night. 
This, of course, is only if Hardman is allowed to see the field. It's quite perplexing how the Jets have refused to use one of their best offensive weapons this season while their offense struggles for under 200 yards in each of their first three games. 
Against his former team, Hardman could provide the necessary speed to counter the Chiefs' underrated defense. If the Jets are creative in how they use him, he could have a massive game, and potentially be a reason for the upset win. 
There's no guarantee they end up using him though which makes this whole saga even stranger.
Joe Tippmann
New York was pleased with how their second-round rookie Joe Tippmann looked Sunday against a strong Patriots' defensive front. He was good in the passing game but particularly good in the run. There's plenty to build on heading into his second start of his career. 
Of course, this Sunday's matchup may be even more difficult. Chris Jones is considered a top-five defensive player in football to date and he's expected to be a force in this game as well. It's unrealistic to expect Tippmann to completely wipe him off the entire game, but how he handles the All-Pro will be a good test for him as he grows during his rookie season. 
Jordan Whitehead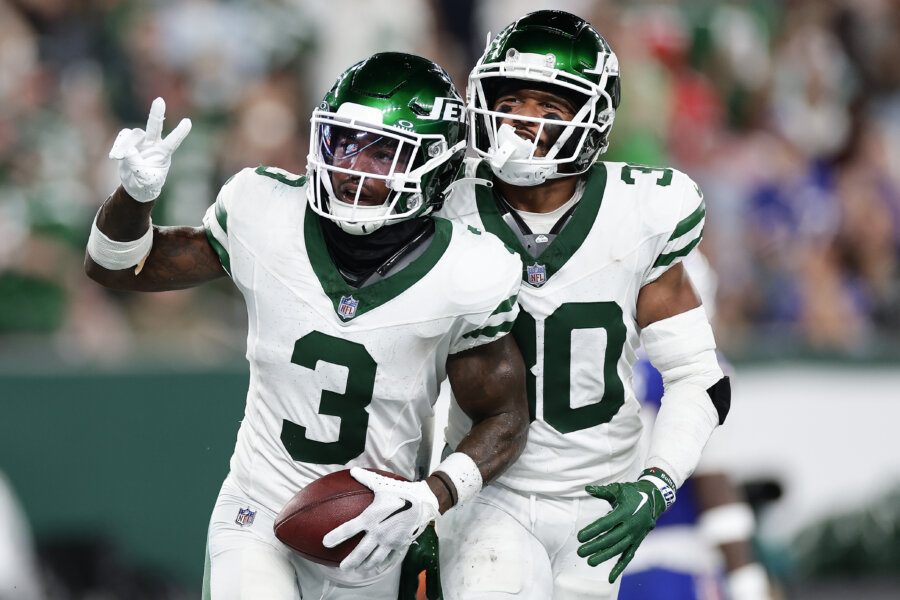 The Jets have a history of not moving their corners to better help themselves in certain matchups. That's why CeeDee Lamb and the Patriots' tight ends all dominated against their "vaunted" defense in back-to-back weeks. In Week 3, the combination of Hunter Henry, Mike Gesicki, and Pharaoh Brown totaled five catches for 107 yards and a touchdown. 
This week, instead of going through three really good tight ends, the Jets have to contend with the best of them all, Travis Kelce. 
How the team handles the Chiefs' premier pass catcher will be key. It's doubtful they line up in man coverage against him, and the odds of him having a big game are high against a Cover-3 scheme the Jets like to employ. If the team were to adjust though, the likelihood of Jordan Whitehead going on the future Hall-of-Famer makes sense to me. 
This is certainly a matchup to watch. 
Zach Wilson or Tim Boyle
It's unclear how short of a leash Zach Wilson is going to get. What is clear is that even after one incompletion or one three-and-out drive, the boo birds at MetLife Stadium will be out in droves. It's not a good environment for Wilson or any quarterback for that matter and how he responds will be very important for the rest of the season. 
If Wilson bounces back and plays well, then the Jets season may be saved after all. If not, I don't think it's too outlandish to think the crowd will be screaming for Tim Boyle much sooner than people outside of the organization are expecting. 
The current offensive structure the Jets have right now is a mess. Unless a quarterback starts to play well, fans will want heads to roll no matter what. 
For more New York Jets news, turn to AMNY.com