While it will likely take us a few years before we fully know who got the most value out of their picks in the 2023 NFL Draft, the Giants were labeled as the immediate winners in terms of value-added, based on a report from Warren Sharp. 
Warren Sharp, the founder of Sharp Football Analysis, posted a team-by-team and round-by-round analysis of the NFL Draft to determine whose picks gave them the best value. He referred to this as "Draft Capital Over Expectation," meaning the difference between the expected draft capital needed to select the player versus the draft capital actually used on the player. 
He based his valuation on big boards and research from Grinding Mocks, Arif Hasan, and Benjamin Robinson. 
At the end of his analysis, the Giants stood atop the rest of the NFL with a score of -3.6, meaning their six draft picks were taken a collective 3.6 rounds later than expected. The Steelers finished second, and the Eagles finished third, while the Jets were 22nd with a 0.7 score, meaning their picks were over-drafted by a combined 0.7 rounds. 
So how did the Giants score this high?
First off, they didn't make a single pick that was below value, according to Sharp. That includes first-round pick Deonte Banks, who was listed as having an expected pick value of 19, which would be five picks of value for the Giants, who selected him 24th overall.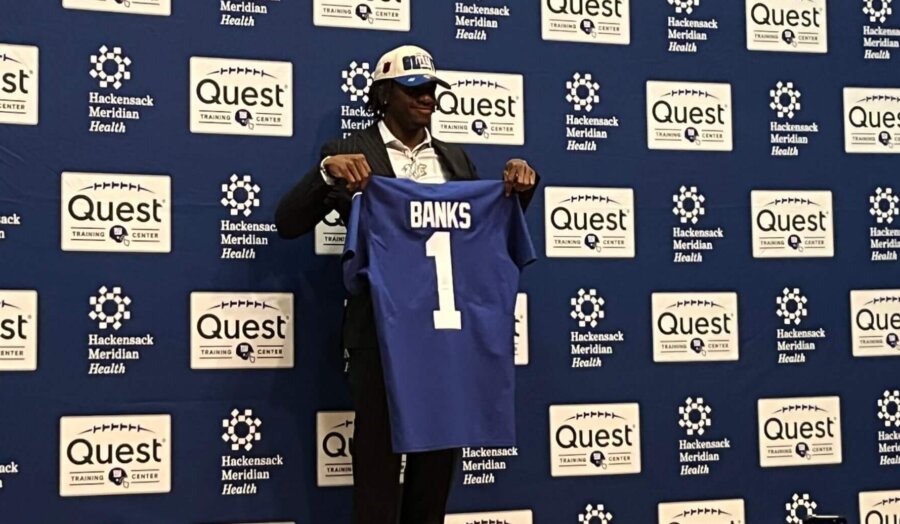 In round two, John Michael Schmitz ranked as the 5th-best value based on his pre-draft expectations. It's no surprise since Schmitz was universally considered the best center prospect in the draft and was often mocked as a first-round selection, sometimes as high as to Seattle at pick 20.
It would not have been a shock for New York to select him at pick 25, so getting him at 57 was a huge win. Sharp had his expected pick value at 39, so he earned the Giants -18 points based on this scoring system (remember, negative is better). 
In the third round, Jalin Hyatt also ranked as the 5th-best value based on his pre-draft expectations. Last year, Hyatt won the Biletnikoff Award, which is presented annually to the season's outstanding college football receiver. As one of the best deep threats in the draft, Hyatt was routinely a late first or early second-round pick in mock drafts. New York getting him at pick 73 earned them -31 points, which was the same score they got for selecting Oklahoma running back Eric Gray in the 5th round. 
The Giants finished with their two best value picks of the entire draft. 
Sixth-round safety Tre Hawkins III from Old Dominion earned the Giants a score of -92 since his expected draft pick was 117th, but the Giants selected him 209th. They then finished the draft with their best value in Oregon defensive tackle Jordon Riley whose expected pick, according to mock drafts, was at No. 83; however, the Giants drafted him with pick No. 243 to give him a score of -160 in Sharp's model.
While we won't know for sure how accurate Sharp's analysis is for a few years, it's a good sign that much of the pre-draft analysis indicates that the Giants selected talented players who could overperform their draft pick with every single pick. 
Now they need to just deliver on the field. 
DRAFTKINGS SPORTSBOOK
States: OH, MA, MD, NY, KS, LA, AZ, CO, Il, IN, IA, MI, NH, NJ, PA, TN, VA, WV.
CLAIM NOW
21+ and present in participating states. Gambling problem? Call 1-800-Gambler.
BET $5, GET $200!


BONUS BETS!
CLAIM OFFER