FLORHAM PARK — It's the catch that could jumpstart his NFL career with the New York Jets. It's certainly the play fans of Gang Green will be watching for a long time. 
Jason Brownlee has certainly made a name for himself throughout camp as an undrafted free agent who has been a favorite to make the final 53-man roster. His speed and size have made him an ideal target for Aaron Rodgers and the other quarterbacks on the roster. 
His hands were the highlight after Tuesday's practice though. Brownlee made an incredible one-handed catch that emulated Odell Beckham Jr.'s catch against Dallas close to a decade ago. It was the kind of play that had everyone in attendance stunned and in awe over the ability of Brownlee to secure a catch like that. It was easily the best catch of training camp across the league. 
Brownlee's catch was the highlight of Tuesday's practice, but as always, it wasn't the only takeaway from it as well. 
Jermaine Johnson shows lethal skillset
There's a reason Carl Lawson has been primarily working on the second-team recently. Not because of what he hasn't done, but what Jermaine Johnson is doing on the first-team. 
Johnson was again sensational on Tuesday with two "sacks" on Rodgers against Max Mitchell. Johnson has been a highlight of camp over the first two weeks and continues to show why his added strength and athleticism could mean a breakout season on the way for the organizations third first-round pick last season. It certainly means he may not even play on Thursday. 
Tim Boyle can sling it
The best play of camp may have come from Brownlee but the best throws of the day came courtesy of Tim Boyle. Boyle made two excellent deep throws, one to Jerome Kapp on a go-route that resulted in a touchdown, and another on a perfectly placed ball in between two defenders to TJ Luther. 
It was the kind of throw you expect from an All-Pro quarterback, not a player battling for a third-string roster spot. Boyle has been very good all camp but has really shone over the last two days. 
Competition continues for Mekhi Becton and OL
Through two weeks of camp, the Jets main weakness has clearly been along the offensive line. While it may be a concern to some, it isn't just yet for the Jets' coaching staff. 
"The OL is going to get better. Pretty good competition. Had a good conversation with (Mekhi) Becton yesterday so they are all getting really good work," Robert Saleh said afterward.
Saleh's comments mesh well with the idea that the Jets' defensive line is among the elite in the NFL and can only make the offensive line better. There may not be a better group the team will see than their own pass rushers this season and that could be a big reason why the group has struggled overall through two weeks. 
Of course, without Duane Brown (still on the PUP list) and Becton still gradually increasing their workload to return to the team, the concern doesn't seem to be going away. Billy Turner and Max Mitchell were consistently beat again on Tuesday.
Starters for Thursday announced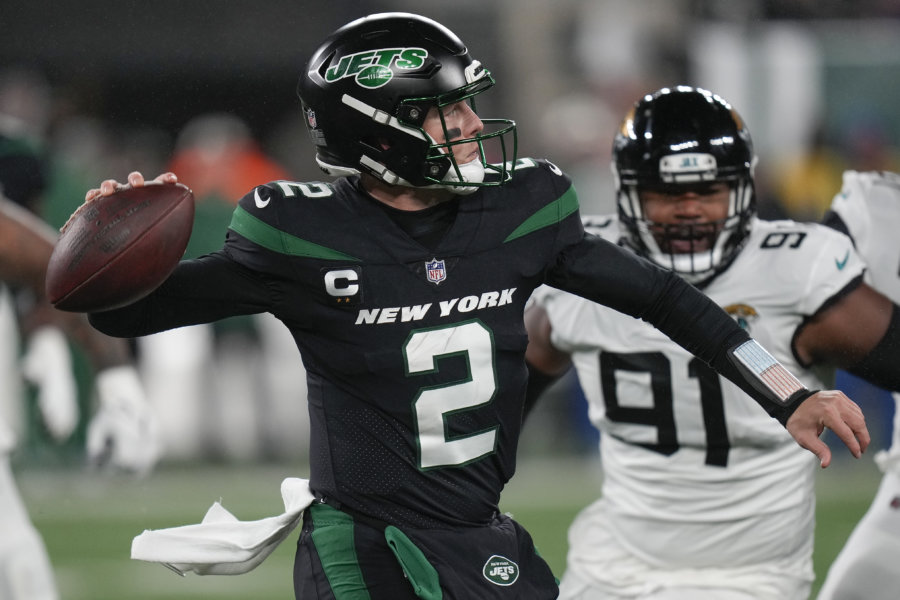 Zach Wilson will get the start on Thursday at quarterback but he won't be the only player with a role on the 2023 regular season starting in Canton. Billy Turner, Max Mitchell and Wes Schweitzer, three players competing for starting roles, will all play for the Jets to start on Thursday night against the Browns. 
Becton is expected to get close to 20-25 snaps on the night as well according to Saleh. 
None of these decisions come as a major surprise. The three offensive linemen are all competing for starting reps during the regular season and Becton is looking to prove his knee can hold up for an entire game. Wilson, on the other hand, needs to show he's capable of leading this offense in game situations under a new play-caller. 
Garrett Wilson Injury Update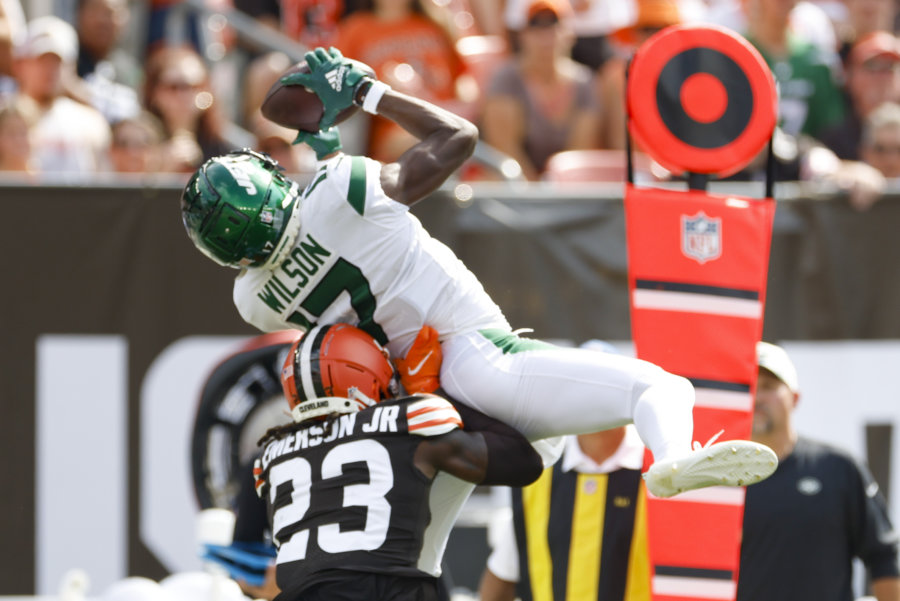 The Jets welcomed the return of Corey Davis to the practice field Tuesday but were still without reigning Offensive Rookie of the Year award-winner Garrett Wilson. That should change over the next few days. 
Saleh confirmed he expects to have his star receiver back on the practice field Saturday following Thursday's game from an ankle injury. John Franklin-Myers, and Allen Lazard have also been at practice the last few days after suffering injuries. 
The only key starter seemingly not in attendance has been CJ Mosley. The All-Pro linebacker was not at practice Tuesday although no reason was given afterward. It could very simply be a case of the Jets not wanting to have him run as he is over 30 years old, and won't be playing Thursday night. 
For more New York Jets news, turn to AMNY.com.