FLORHAM PARK — Week 3 of the NFL season is just days away for the New York Jets, but the team is still trying to figure out who will be suiting up for their matchup against the New England Patriots on Sunday. 
Jets head coach Robert Saleh announced Friday that safety Tony Adams (hamstring) and backup guard Wes Schweitzer (concussion) would not play against New England. Kicker Greg Zuerlein is also questionable but there's a chance he would be ready to play after missing the Cowboys game with a groin injury. 
The big question surrounding the team's health is at left tackle though. 
Duane Brown is set to miss his third straight practice, this time with a hip injury. While Saleh does expect him to suit up on Sunday, the effectiveness of a 38-year-old tackle can be called into question while going through a hip and shoulder problem. 
If Brown cannot go on Sunday, the Jets coaching staff has teased the fact that free-agent acquisition Billy Turner would be the favorite to slot in at Zach Wilson's blindside.
In regards to potentially moving other starting players to the more important position at left tackle, Saleh called the potential move "irresponsible" because the other four starters have spent all week preparing for their current roles, and would need to learn a whole new technique or scouting report in 48 hours.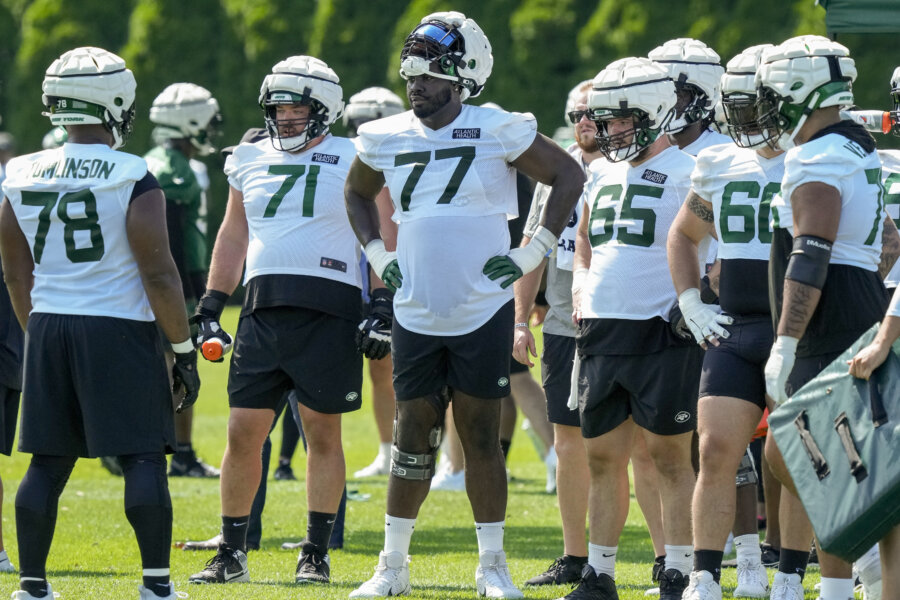 Of course, any backup offensive linemen going up against the might of Bill Belichick and All-Pro pass rusher Matthew Judon isn't exactly "responsible" either. 
"He can win three ways. He's got a high motor, effective, he's a game wrecker," Saleh said of Judon. 
Figuring out where the Patriots will put Judon on the field is a fundamental key for the Jets on Sunday afternoon. Effectively blocking him is the next part. New York struggled with the might of Micah Parsons last week and the entire offense was in a standstill. 
Brown wasn't very good against Parsons either. He gave up four pressures on the day and one sack. The matchup doesn't get any easier. Without a full week of practice, the job is even harder. 
New York may have a plan in place for how the Patriots will defend them, but those plans can be destroyed very quickly if the offensive line cannot protect their quarterback. It doesn't matter if it's Zach Wilson or Aaron Rodgers, no quarterback can withstand the rush the Jets gave up last week. 
If they want to move to 2-0 in the AFC East and turn around the recent negative talks, performing well at home will be the next step. 
For more New York Jets news, turn to AMNY.com