EAST RUTHERFORD — For those who thought a change would be made following two weeks of lifeless offense for the New York Jets, the status quo appears to be even more frightening. 
Despite a second straight week of only 10 points scored on the offensive end, and several miscues in the passing attack, the Jets remain steadfast in their defense of their new starter. 
"Come on now. That's my dawg and he can spin. Yeah, man. All the confidence in the world. You know, we have to figure it out on offense as a whole," Garrett Wilson said after the team's 15-10 loss to the Patriots. 
New York's head coach Robert Saleh confirmed that the team will continue to start Zach Wilson at the current moment. For better or worse, the 2023 Jets are going to roll with Wilson as the starter. 
This wasn't how it was supposed to go. 
Before Week 1, the excitement of having Aaron Rodgers in the fold had many choosing the Jets as a potential championship contender. The offense was seen as a talented group with plenty of playmakers. Now, just three weeks, and Achilles injury later, the same offense seems to have a disconnect into how they can best get those players the ball.
It all came to a head for New York Sunday afternoon. For the third straight week, they recorded less than 200 net offensive yards. They may not have turned the ball over but still struggled to get anything done through the air.
"You're trying to establish a run game and I think it was under two yards a carry today. You're within a score and you have some opportunities and you've got the ball with opportunities, you're getting decent field position with opportunities," Saleh explained. "We've just got to be better."
Caught in the ire of the fans and analysts has been their quarterback though. Wilson threw just 157 yards while completing 50% of his passes. He struggled to read the complex Patriots defense in front of him and made plays that resulted solely in Gang Green's second loss. 
Confidence outside of the organization may be low, but that's not the case for the quarterback or his team.
"I truly believe we got the guys, we're going to keep doing everything we can to get better. We understand the frustrations, it's not fun to go three-and-out, it's not fun to not establish drives, and play football and score touchdowns," Wilson stated. "We understand that and we're doing everything we can, we're going to get better."
The fact of the matter is though that the Jets are at a breaking point just three weeks into their season. The more Wilson plays, the more frustrated the rest of the team appears to be on the field. That frustration boiled over several times in Sunday's game. 
Michael Carter had to be separated from running backs coach Taylor Embree even if they said afterward that it was nothing to worry about. Even Garrett Wilson, the top wideout on the team, seemed to get into it with offensive coordinator Nathaniel Hackett.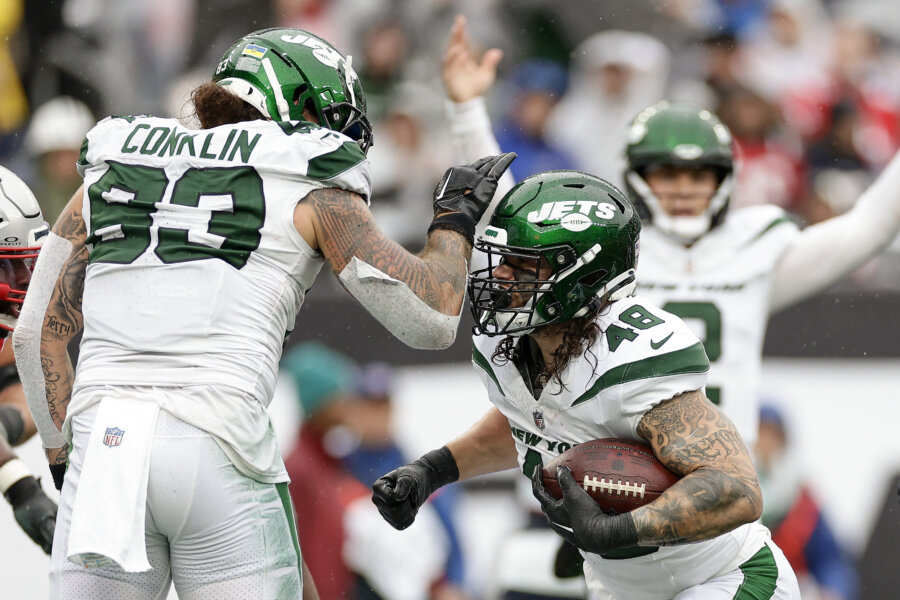 The cracks are beginning to show that frustration levels are coming to a head. If New York isn't careful, their season could be lost before anyone the first month even concludes. 
And it all comes back to the quarterback. Without any free agent brought in, or trade being made, the Jets appear to be ready to make their bed with their new starting quarterback. 
It wasn't how it was supposed to go, but it's clear that the team isn't ready to give up on their own just yet. 
For more New York Jets news, turn to AMNY.com