There hasn't been a more impressive stretch of hockey this season than what the New York Rangers displayed over the last two weeks.
The Blueshirts swept through an entire West Coast trip that saw wins come against Stanley Cup Playoff contenders like the Kraken, Jets, Oilers, and Flames. The last of the road wins came Monday night in Winnipeg where the Blueshirts came back in overtime to knock off a strong Jets squad 3-2.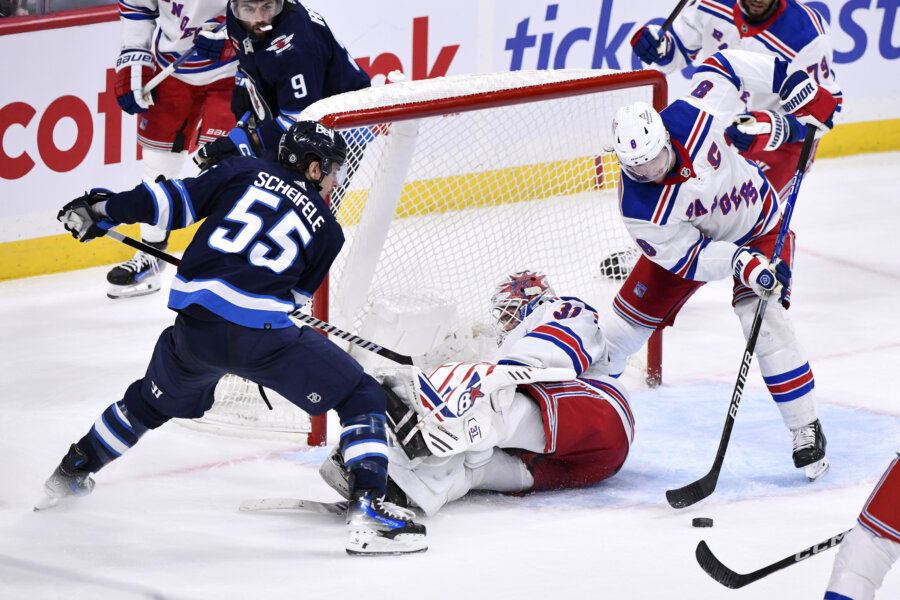 New York's 5-0 mark on their road trip was the first time in franchise history that the Rangers went undefeated during a road stretch lasting longer than five games.
"It's awesome," Rangers head coach Peter Laviolette said after Monday's win. "Any time you can grab a record like that is pretty special. This franchise has been around for a long time so that's a big record. The fact that we were able to take on five games and push through them, that's exciting."
Probably the best part of the Blueshirts' recent run of dominance has been the balanced way they've succeeded. New York crushed a Connor McDavid-less Oilers team, overwhelmed the Kraken and Flames, and found ways to win when they weren't at their best in Winnipeg. Improved performances from players like Alexis Lafreniere, Filip Chytil, and others have made the Rangers a difficult team to defend against.
The biggest addition from last year though seems to be on the coaching side.
Throughout his predecessor's tenure, Peter Laviolette's new team would consistently come out flat on road trips and struggle to find wins through inconsistent play. Through the first 10 games of his tenure, it is clear that Laviolette has been the perfect coach for this contending team.
"We don't waver off our game plan," Mika Zibanejad stated. "I think in both (the last two) games we didn't come up to our higher levels and we were still able to make sure our lows weren't that low. It's a good thing to be able to do that."
10 games into a new season does not crown anyone a championship. The Rangers understand this. But the 7-2 start is already four points better than the previous year's mark. New York is playing better than last season's numbers as well with a more aggressive defense and efficient offense. 
New York won't get too high of a road trip like the one they just had, but it's clear that the coaching staff understands the significance of both making franchise history and what this could do to the confidence of the team moving forward. 
"It's a great way to end the road trip…to throw in an effort like that one (Monday night) and come back is pretty amazing," Laviolette concluded. 
For more New York Rangers news, turn to AMNY.com