The New York Yankees' mysterious timeline for Aaron Judge's return just got a little longer this weekend when the star outfielder revealed that he has a torn ligament in his right big toe and is not ready to begin baseball activities. 
The Yankees have been coy about Judge's recovery and mentioned earlier this week that the reigning AL MVP could possibly start baseball activities this weekend. However, those activities don't seem anywhere close to actually playing baseball. 
"It's something I mentioned to the training staff: I want to test it out a little bit," Judge said. "Maybe play catch, maybe take some dry swings. I just kind of want to see where it's at."
He made it clear that seeing where his toe is just one part of a slow-moving process. 
"I really wouldn't say it's me running on the field and or doing a lot of baseball activity," Judge continued. "It's more me being passive saying, 'We've done a lot of stuff in here. We're making some great progress. Let's test with what I'm going to be actually doing on the field.'"
Judge's admission that he's still a long way from returning to game action doesn't jive with what Yankees manager Aaron Boone has been saying for weeks. 
When Judge was first injured on June 3rd while crashing into the right-field wall at Dodger Stadium while making a catch on J.D. Martinez, Boone said the team wasn't sure if the outfielder even needed to go on the injured list. When Judge did go on the injured list, Boone said it could be a "week to week" recovery; however, the team would have likely known weeks ago that Judge was dealing with a torn ligament. 
That's a drastically different issue. 
When MLB.com's Bryan Hoch spoke to a sports orthopedic surgeon at NYU Langone about the nature of Judge's injury, the surgeon said he believes "optimistically, my best guess would be [that Judge could return] two months from the date of injury." That would be around August 3rd. 
Yet, Aaron Boone said a week ago that "there's a shot" for Judge to return before the July 11th All-Star Game, a comment that feels near impossible just days later.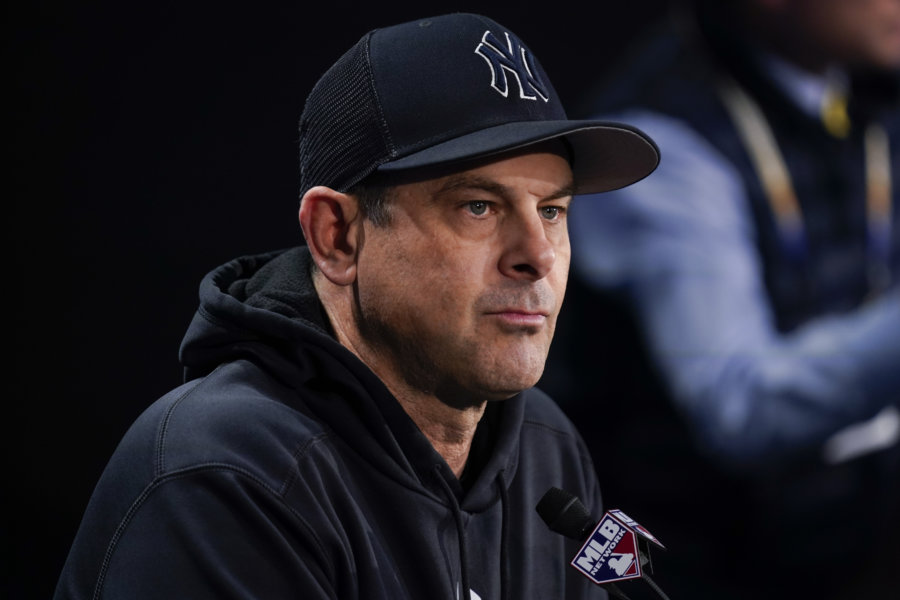 Part of the issue with the timeline is that the injury is unusual for a baseball player.
"I don't think too many people have torn a ligament in their toe," Judge said before Saturday's game. "If it was a quad we'd have a better answer. If it's an oblique or hamstring we got timelines for that. With how unique this injury is and it being my back foot which I push off of and run off of, it's a tough spot."
It's also a tough spot for the Yankees, who have struggled without their star. 
Since Judge has been out of the lineup, the Yankees rank dead last in baseball with a .193 team batting average. They also rank dead last with just 51 runs scored in 17 games and are dead last with a .595 team OPS. 
Any way you slice it, the offense has been dreadful without Judge and now they might need to wait another month to get their star back. 
New York has gone 31-19 with Judge in the lineup this year but now find themselves 42-35 and 9.5 games out of first place in the AL East. They are currently a half-game ahead of the Angels for the final wild card spot, but Toronto, Houston, and Boston are all within two games, so any extended slump by the Yankees with Judge out could be costly for their playoff hopes. 
"He's out right now," Boone said. "So just trying to, obviously, get him well and back as soon as possible, but whether we had a defined day where he'd be back in, the reality is we're without him right now and we got to find a way to get it done."
They're certainly not doing that right now, so it might be time to try something different.