Electric bikes in New York City would have to be licensed and registered under a bill sitting in the City Council, but the legislation is shedding some support as backlash builds among the city's cycling community.
Intro 758, sponsored by Queens Council Member Robert Holden, would require all legal e-bikes and e-scooters to be licensed and registered with the city's Department of Transportation and would require they bear a license plate.
E-bikes, which typically can reach speeds of about 25 mph, have been used for years by food delivery drivers but are becoming more popular as a transportation option for everyday New Yorkers, a more workable alternative to cars or public transit than a traditional bike.
But the proliferation of e-bikes in the Big Apple, along with electric scooters and gas-powered mopeds, has been chaotic — and even cycling advocates acknowledge many on two wheels do not follow the rules of the road, often running red lights or riding on the sidewalk.
Deaths on the street
Road deaths have only heightened that perception among some: in September, 69-year-old Priscilla Loke was killed in Chinatown after being struck by an electric Citi Bike rider, who fled the scene. The rider was eventually tracked down but only received a ticket for running a red light.
Of the record 27 cyclists killed in collisions on New York City streets so far this year, 19 of them were riding e-bikes, Department of Transportation Commissioner Ydanis Rodriguez said in a recent amNewYork Metro op-ed. In most cases, the cyclist was struck by another vehicle like a car or a truck, but in six cases an e-biker died in a collision that did not involve another vehicle, a 500% increase over last year.
Holden says the bill would restore safety and accountability on streets that he believes have become significantly more chaotic, and the bill drew a bipartisan supermajority of the 51-member Council as co-sponsors.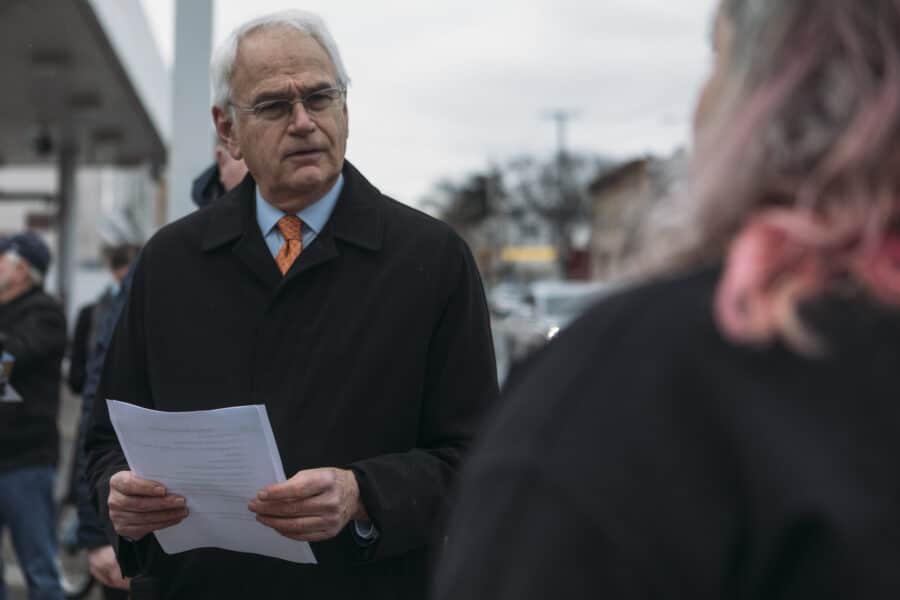 "Just imagine how our roads would be if nobody was required to have their [motor] vehicle registered," Holden told amNewYork Metro in an interview. "My bill attempts to bring some civility back to the streets of New York."
But the wall has started to crack as backlash builds among the cycling community, and two Council Members have now withdrawn as co-sponsors in recent weeks, with the potential for more.
One of the lawmakers, Sandy Nurse of Brooklyn, declined to comment for this story, while the other, Rita Joseph of Brooklyn, did not return multiple inquiries seeking comment.
With 32 co-sponsors remaining, the bill still has a healthy majority backing it in the Council, but it no longer has a supermajority that both ensures a hearing will take place and can override a mayoral veto. Critics of the bill hope they can convince even more lawmakers to rescind their support.
Gateway to racial profiling?
Joseph's and Nurse's defections came after a coalition of cycling advocacy groups sent a letter to the Council urging a rejection of the bill. The groups — including Transportation Alternatives, Streets PAC, Los Deliveristas Unidos, and others — categorized Intro 758 as "ineffective, dangerous, expensive, short-sighted, and bureaucratically complicated."
The bill would discourage e-bike ridership in the city and push people towards cars or even gas-powered mopeds, the advocates argue, while forcing the thinly stretched DOT to establish a massive new bureaucracy handling licensing and registration for bikes.
Further, they worry police enforcement would be racially targeted, as is seen in the NYPD's enforcement patterns for stopping cars, and that police may use stops simply as a "pretext" for searching someone.
"What you're gonna see is what you saw when you had criminalization of biking on the sidewalk, on regular bikes. You saw 8 tickets in Park Slope, 5,000 tickets in Bed-Stuy," said Shabazz Stuart, founder of the bike parking startup Oonee and a critic of Intro 758. "And so, it's going to devolve into a predatory environment where we're seeing Black and brown people on bikes systemically harassed, having their bikes confiscated, and we're seeing folks who are guilty of the same offense exist unenforced upon. That's what happens everywhere this has been tried."
Before e-bikes were legalized in 2020, the mostly immigrant food delivery labor force worked at the ever-present risk of expensive tickets or having their bikes confiscated by police, even as Citi Bike introduced pedal-assist bikes and the demand for food delivery grew.
Perth Amboy, NJ scrapped its bicycle licensing requirements in 2021 after a viral video raised questions of racialized enforcement. Toronto, meanwhile, required cycling licenses for more than 20 years but has since rejected the measure: after studying the issue, Canada's largest city determined it is "not worth the creation of a major bureaucracy to oversee this practice," citing costs, use of police resources, and the challenges of creating standardized tests for both adults and children to take.
The bill also does not include a carve-out for Citi Bike, which has thousands of e-bikes in its portfolio and plans to integrate them further into the service, doubling their number of e-bikes and electrifying docking stations so they can be charged on-site.
Holden notes that Citi Bikes can travel at high speeds just like other e-bikes, and says it's a "no-brainer" that the city's streets are more chaotic than they were before e-bikes became prevalent, contending that "a lot of deliveristas are not adhering to any traffic laws."
As for enforcement, the council member says it can be done not necessarily by police, but by dispassionate cameras automatically issuing tickets to license plates.
'The laws have not been able to catch up'
Although the vast majority of road deaths and injuries are caused by large motor vehicles, fast-moving e-bikes are still capable of causing serious damage.
Upper West Side resident Janet Schroeder founded the E-Vehicle Safety Alliance with Pamela Manasse, a former professional cellist who was partially paralyzed after being struck by an electric moped rider.
The group, with about 500 members, is strenuously lobbying for Intro 758's passage.
"We have people who are paralyzed, we have 37 broken ribs if you collectively count them. We have a woman who has five titanium plates in her head, we have someone that almost lost an eye. Every single one of these people has PTSD," said Schroeder. "Mopeds and e-vehicles have become so prevalent in the last few years that the laws have not been able to catch up."
The bill is just a part of what's become something of a culture war in New York's geeky transportation planning world. Speaking with amNewYork Metro, Holden called Transportation Alternatives "corrupt" and on a mission to remake streets on behalf of wealthy benefactors like Lyft, which owns Citi Bike.
"I'm so appalled that Transportation Alternatives would be actively trying to pick off council members because they want more people riding e-bikes, without any accountability, without identifying them," said Holden.
Cyclists, meanwhile, see the push for Intro 758 as a thinly veiled attempt to stunt the growing adoption of bike transportation in the city, and the associated redesigns of city streets to accommodate bike lanes and other infrastructure.
"What they're really saying is I want less people to be able to use e-bikes. I want to make sure there's a barrier to entry," said Stuart. "I want to take the most progressive, greenhouse gas-decarbonizing vehicle that we have, and I want less people to use that. I want to take the most progressive traffic decongestant that we have on the road, aside from public transit, and I want less people to use that."