Call it con-kvetch-tion pricing!
New Jersey officials are stepping up an effort to derail New York's congestion pricing plan after it effectively got the thumbs up from federal regulators, threatening legal action and the clawback of federal funding to prevent the imposition of a toll to enter Manhattan's central business district by car.
The plan, approved by state lawmakers in 2019, will charge still-to-be-determined tolls — potentially up to $23 — to enter Manhattan below 60th Street. New York contends it will raise $1 billion per year in revenue, which can be bonded out to raise up to $15 billion to bolster the MTA's infrastructure, including replacing near-century-old train signals and making the system accessible for those with disabilities.
That would come with the added benefit of reducing traffic, and by extension carbon emissions, in the most congested area of the nation.
But pols in the Garden State are some of the most vociferous opponents of the plan, arguing it would put a massive dent in the pockets of Jersey residents commuting into Manhattan by car. Governor Phil Murphy says he supports congestion pricing "as a conceptual matter" but says the current plan shafts those west of the Hudson, and on Friday said the state is "closely assessing all legal options."
On Tuesday, Congressional Rep. Josh Gottheimer (D-Bergen County), who has emerged as one of the most consistent foes of the plan, said he's introduced two bills with other members of the "Anti-Congestion Tax Caucus" to demand a "full audit" of how the MTA spent $15 billion in federal COVID aid (which kept trains and buses running during the height of COVID, when ridership and fare revenue was severely depressed) and to rescind all federal funding of the authority unless it drops congestion pricing.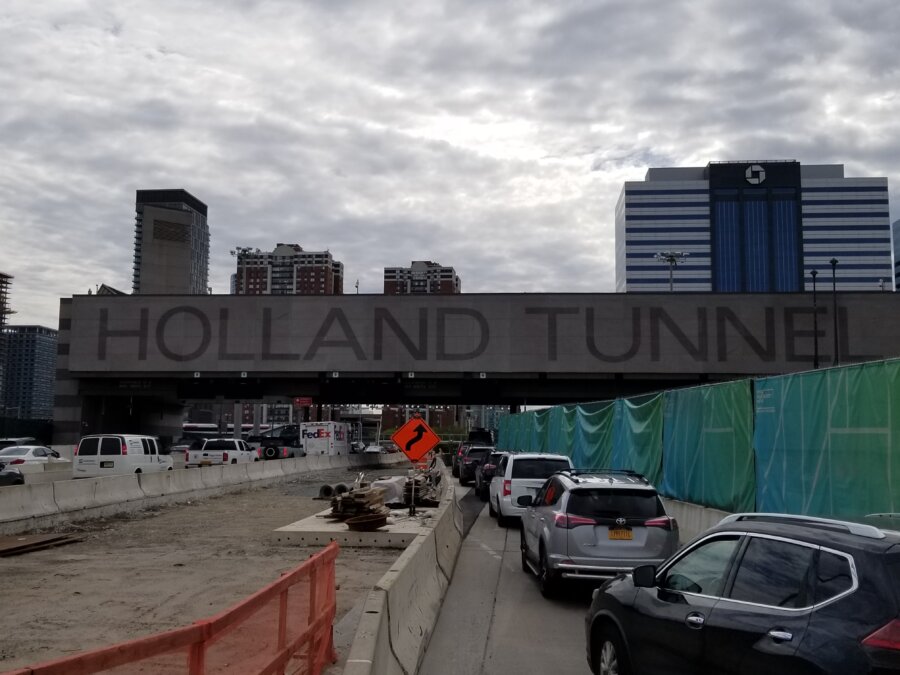 Gottheimer also claims that the MTA's 868-page draft environmental assessment for congestion pricing was a shoddy flim-flam job, and exhorted federal regulators to have the MTA do a full environmental impact statement, which could potentially delay the program by a further several years.
The congressman, who is co-chair of the "Problem Solvers Caucus" on Capitol Hill, argues that whatever environmental benefit comes to Manhattanites from congestion pricing would be negated by pollution from increased traffic outside the urban core, including in New Jersey. While the MTA is considering spending about $130 million to mitigate environmental impacts in the Bronx, such considerations are not being made for Garden Staters, he contends.
"The negative environmental impacts on families will be so bad that the MTA is prepared to spend $130 million from tolling to try and mitigate them in the Bronx and parts of the outer boroughs," said Gottheimer. "But not a nickel in New Jersey."
In response, the MTA said that "localized impacts" are dependent on the final proposal and in any case, are "dwarfed by regionwide environmental benefits."
"What is clear from the document is that the region as a whole will see declines in particulate matter, nitrogen oxide and carbon monoxide," the MTA said in a fact-check of Gottheimer's claims following this article's initial publication. Some increases could be seen under "certain models" of tolling, the agency says, but no final decisions have been made as for a model.
Gottheimer also claimed that his office had concluded the plan could cost the Port Authority up to $125 million in lost revenue each year as toll revenue is shifted over to the MTA, imperiling that agency's capital projects like building a new Port Authority Bus Terminal. But the lawmaker did not provide a methodology, and a Port Authority spokesperson said he didn't know how Gottheimer arrived at the figure.
"I'd be curious what sort of math the congressman is using," the spokesperson said.
The feds last week gave the MTA's congestion pricing plan a coveted draft "finding of no significant impact" (FONSI) designation and approved the release of its final environmental review, four years after the plan was first approved and nearly two years after the MTA initially hoped to start collecting tolls. Thirty days of public comment will follow before the federal Department of Transportation could produce a final FONSI.
"We are grateful to the Federal Highway Administration for approving the release of the final EA and a draft finding of no significant impact," said the MTA's Chief of External Relations, John McCarthy. "This is a generational opportunity to make it easier to get in and around Manhattan's Central Business District, and it's good for the environment, for getting fire trucks, buses and delivery vehicles through the city, and for the millions of people who depend on mass transit."
Afterward, the MTA's Traffic Mobility Review Board will deliberate as to the final tolling rates. In the draft environmental review, the MTA floated variable rates for cars between $9-23, with $12-65 tolls for small trucks and $12-82 for heavy-duty haulers.
All manner of interest groups are clamoring for an exemption, including Manhattan residents, for-hire vehicles, and city workers. Streetsblog reported Tuesday that the MTA is considering giving low-income drivers a discount who frequently travel into Manhattan. For-hire vehicles that frequently cross into and out of Manhattan would also only be charged at most once per day, the outlet noted.
The MTA estimates that congestion pricing would drop car traffic in the central business district by up to 20%, with truck traffic potentially diminishing by up to 80%.
Although Gottheimer argued the charge would unfairly burden the wallets of "hardworking, middle-class commuters" from his district, the significant majority of commuters from New Jersey into Manhattan already ride transit to get there. In its environmental review, the MTA estimated that 85% of all trips into the central business district are already completed on mass transit, with just 3% of trips being made by car from New Jersey.
Transit operations in the Garden State, like commuter rail run by New Jersey Transit and the Port Authority's PATH rapid transit, will not reap the spoils of congestion charge revenue, which is intended to fortify the Empire State's transportation infrastructure.
This story has been updated with further responses from the MTA.