The city's most reckless drivers will be required to install a device in their car restricting their speed if a bill introduced by state lawmakers Tuesday becomes law.
The bill, sponsored by State Sen. Andrew Gounardes (D-Brooklyn) and Assemblymember Emily Gallagher (D-Brooklyn) and unveiled at a Tuesday press conference in Cobble Hill, would require drivers who have been issued six or more automated speed camera or red light tickets to install a "speed governor" on their car, which would limit the velocity their vehicle can travel to no more than 5 miles per hour above the speed limit.
The bill is intended to regulate the behavior of what Gounardes described as the worst 3% of drivers in the city. These reckless drivers are presently able to rack up dozens of speed camera violations without having their license suspended, as the cameras technically only identify cars rather than drivers and thus don't add points to one's license.
"There is a persistent cohort of drivers who are getting 5, 6, 7, 10, 15, 20 speeding tickets and driving on our streets recklessly without any consequences whatsoever, and just a slap on the wrist, a slap on the wrist every single time," Gounardes said at the press conference. "These are the most dangerous drivers on our streets."
The press conference was held at the site where 31-year-old Katherine Harris was killed in April by an impaired driver, who ran a red light while speeding before slamming into her.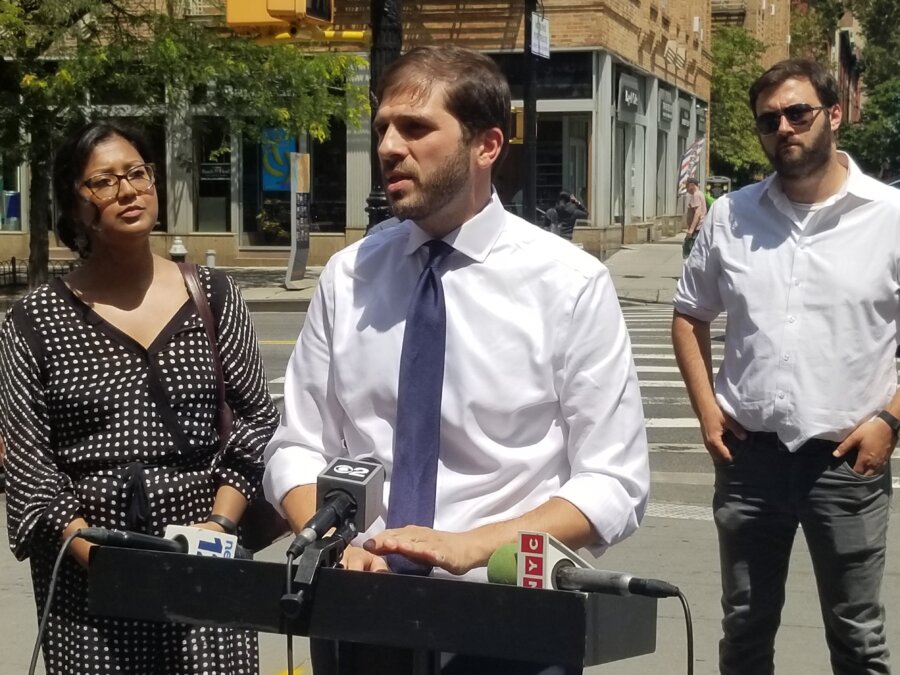 Under the bill, those drivers with six or more tickets in a year — or at least eleven points on their license within 18 months — would be subject to a court order to install a speed governor on their vehicle that limits the speed they can travel to 30 miles per hour, or in other words, 5 miles per hour over the city's speed limit. Speed cameras do not issue tickets unless a scofflaw is traveling at least 11 miles per hour over the speed limit.
New York would be the first state in the nation to enact such a provision if passed into law, but it's modeled after laws in New York and other states requiring repeat drunk drivers to install breathalyzers on their cars that, if failed, prevent a car from starting.
"If you have a demonstrated history of speeding throughout our city's streets, of driving recklessly throughout our city's streets, we are going to literally force you to slow down," said Gounardes.
Last year, the city launched a pilot program placing speed governors on 50 cars in the municipal fleet, and in the first five months of the program, participating cars stayed within the speed limit 99% of the time, while "hard braking" incidents were reduced by 36%. The pilot is ongoing, and the city is seeking federal grant money to apply the technology to 7,500 municipal vehicles.
A separate bill introduced last year by State Sen. Brad Hoylman-Sigal (D-Manhattan) would require speed governors to be installed on all newly registered vehicles in New York State by 2024.
It's unclear if Albany, which is currently in summer recess, has an appetite for legislation aimed at speed demons. This session, the Senate passed Sammy's Law, which would allow New York City to lower its own speed limits and is named for a teenager killed in a traffic collision, but the bill failed to make it through the Assembly amid protests by some city legislators, including Speaker Carl Heastie, despite widespread support in the political class and a hunger strike at the Capitol by Sammy's mother.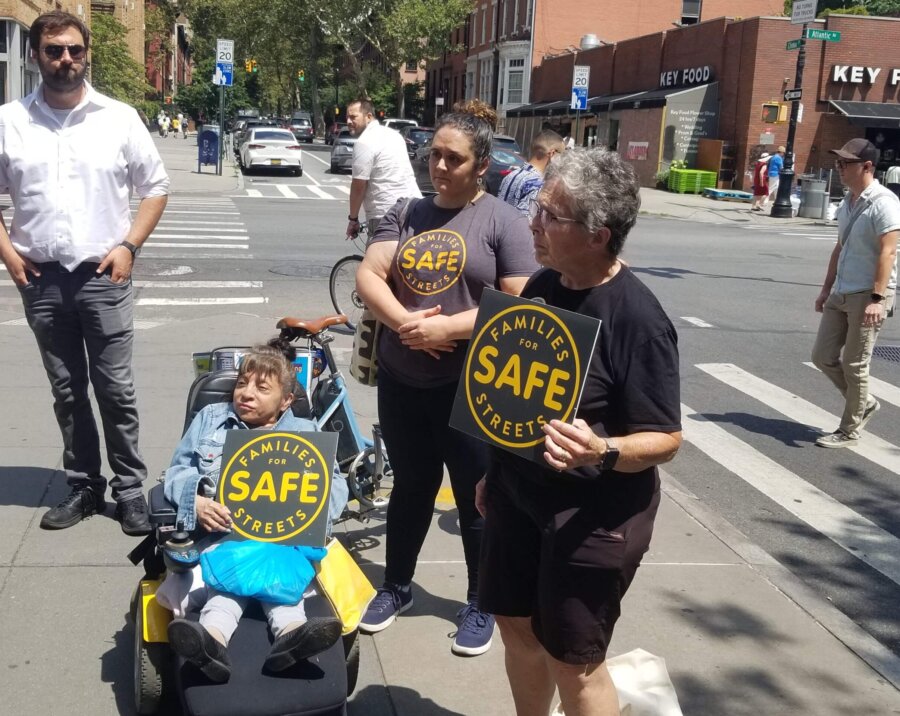 But the inaction comes as the city's streets continue to be deadly for many New Yorkers. So far this year, 131 New Yorkers have been killed in traffic collisions, according to NYPD data. Traffic deaths have also been trending in the wrong direction in recent years: after reaching a low of 206 in 2018, last year they had shot back up to 260. The uptick mirrors a trend seen all over the country.
The risk of death also increases considerably with each mile per hour added to a vehicle's speed. Pedestrians face a 10% chance of dying when hit by a car traveling 23 miles per hour, which increases to 50% at 42 miles per hour and 90% at 58 miles per hour, according to the AAA Foundation for Traffic Safety.
"People don't like to think about it, but speed kills," said Kate Brockwehl, who sustained severe injuries when hit by a car on Houston Street in Manhattan, at the press conference. She is a member of Families for Safe Streets, an advocacy group composed of the loved ones of crash victims.
The city has a somewhat similar policy on the books called the Dangerous Vehicle Abatement Program, which requires drivers with at least 15 speed camera tickets or 5 red light tickets to enroll in a driver safety course, or else have their vehicle impounded. But Gounardes said the DVAP has been poorly implemented, with many eligible drivers slipping through the cracks.
That can have deadly consequences, as it did for the family of three-month-old Apolline Mong-Guillemin, who was killed in Clinton Hill by a speeding driver who had accumulated 160 camera violations on his car, well in excess of the eligibility threshold; the driver, who last month was sentenced to nine years in prison for the crash, had completed a safety course but could have had his vehicle impounded before the deadly crash.
The parents of baby Apolline have filed a wrongful death lawsuit against the city, based in part on City Hall's failure to enforce the DVAP.