Coffee aficionados were greeted with protests picking up their favorite java on Thursday as thousands of Starbucks baristas from coast to coast went on strike, demanding contract negotiations, more staffing, and better schedules. 

The walkout, coined "Red Cup Rebellion," came on Red Cup Day, when Starbucks hands out tens of thousands of free reusable cups, one of the company's busiest days of the year.
Baristas say chronic understaffing, particularly on promotion days like Red Cup Day, leads to piled-up and abandoned orders and frustrated customers, who often take their anger out on workers. 

In New York City, about thirty Starbucks workers and allies protested outside the Starbucks store in Astor Place -the store unionized in 2022 -in the morning before heading to a larger scale protest at the nonunion Starbucks location on 90 Park Avenue for a midday protest. 

Over the past two years, 9000 Starbucks workers successfully unionized at 360 stores nationwide. Starbucks, however, has stalled bargaining efforts over fairer hours and more staffing at stores nationwide while offering workers at nonunion stores benefits like credit card tipping, which isn't available at unionized Starbucks stores. 

Starbucks Workers United, which filed an unfair labor practice claim with the National Labor Relations Board, also calls on Starbucks to shut down mobile orders on promotional days. 
Mary Baca is a barista at the Astor Place location. Baca said their demands are consistent scheduling, better pay, a safer work environment, and credit card tipping at union stores.  

"Other stores that aren't unions have credit card tipping," Barca said. "Union stores don't. That's a union-busting tactic. It takes probably a good $100 – $200 out of our paycheck a week."

Edwin Palmasolis, who has worked as a barista at the Astor Place location for two years, said improper staffing has significant consequences for the staff and wants Starbucks to stop stalling bargaining efforts. 
"We're just asking for better pay, you know, better working conditions," Palmasolis said. "Better safety for our baristas because, again, we do get threatened by some people. We just feel unsafe at certain times."
At noon, Starbucks employees were joined by elected officials and union members from 32 BJ SEIU and SAG-AFTRA at the Starbucks location on 90 Park Avenue. 

Rebecca Damon, executive director of SAG-AFTRA New York, said they joined the rally in solidarity with Starbucks workers. 

"We're here today because when another union calls, union members come running," Damon said. "Today is the Red Cup Challenge, and we're wearing red because we are angry that other workers are being taken advantage of." 
Erin Fritch, a local board member of SAG-AFTRA, said Starbucks workers supported them during the SAG-AFTRA strike. 
"All workers deserve to make a fair wage, and actions like this speak to the power of the workers as a collective," Fritch said. 
Workers say that inconsistent schedules and last-minute changes make it difficult for them to make ends meet, particularly in New York City. 

Crys Mathieu works at a Starbucks near City Hall. His hours were dropped from 27 to 20 hours a week. 

"We're here to kind of send a message to the company that they need to follow the Fair Work Week law and give workers the consistent hours and schedules they deserve," Mathieu said.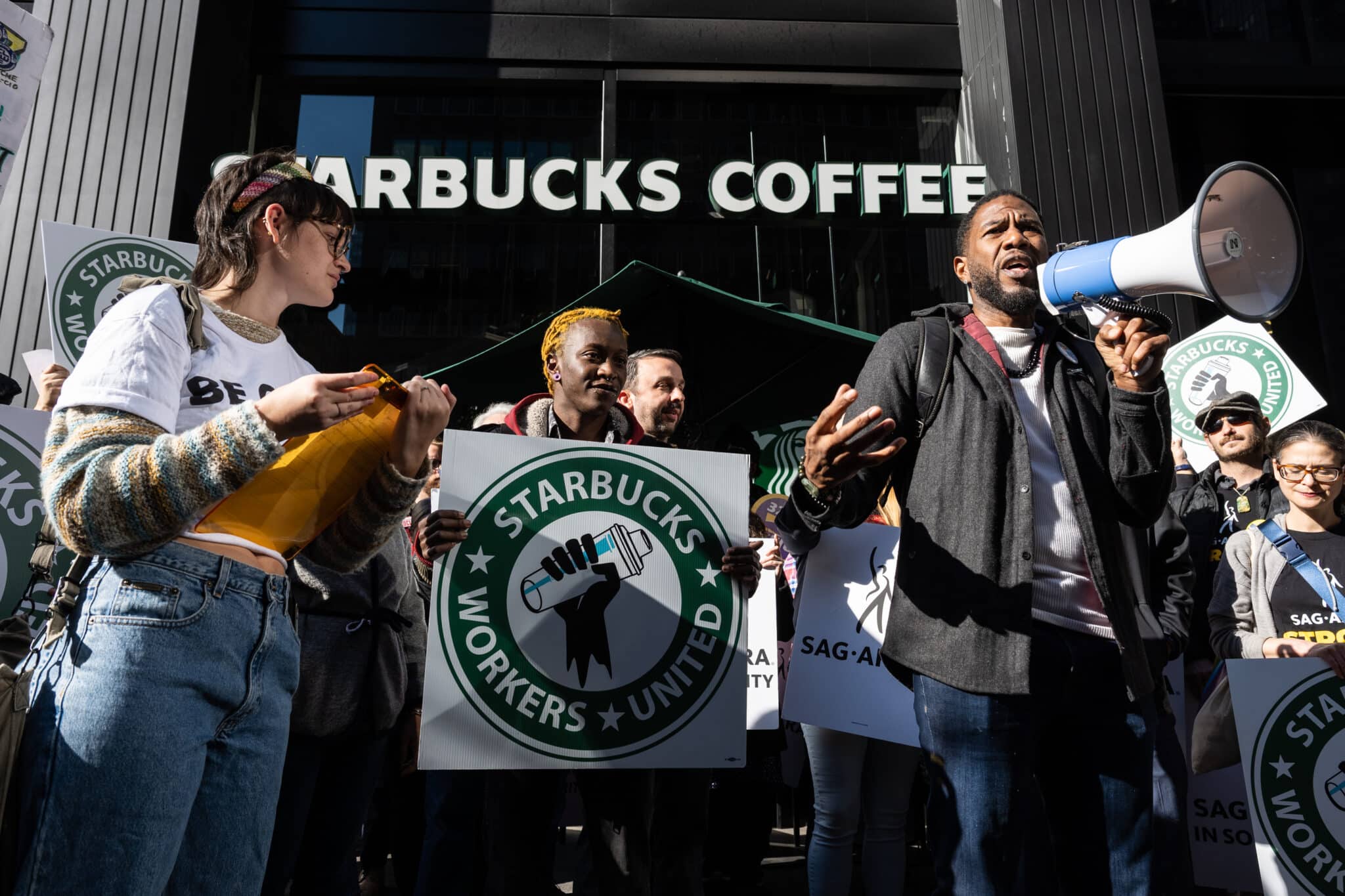 NYC Public Advocate Jumaane Williams said that the strike wasn't about breaking up companies but about the workers who make it possible for companies to rake in profit numbers.

"That's the only reason that these companies are successful is because of these workers," Williams said. "They deserve a share in the gains and the wealth that is going to the top. And they deserve to work in conditions that are both healthy for them, physically and mentally."
New York State Senator Jessica Ramos said Starbucks couldn't be trusted to "do the right thing" because Starbucks was out of compliance with the Fair Work Week legislation and needed to be held accountable. 
"Every single Starbucks worker needs to have fair scheduling, needs to have fair pay, needs to have their union recognized," Ramos said. "And the union-busting tactics have to go."
NYC Council Member Keith Powers said in a city where the cost of living is "bad," it was the decent thing to treat workers fairly. 

"I will continue to stand with these guys and make sure that you guys get the fair treatment and recognition and everything that you guys are fighting for and deserve," Powell said. 
32 BJ union president Manny Pastreich said New York City has set the standard for working people and was excited to keep fighting for Starbucks workers. 
"We're going to continue to make sure Starbucks workers get the respect they deserve, to get the full schedules they deserve, the benefits they deserve, and the wages they deserve," Pastreich said. "And we're going to make sure that short Starbucks workers get a union, and we ready to do that."