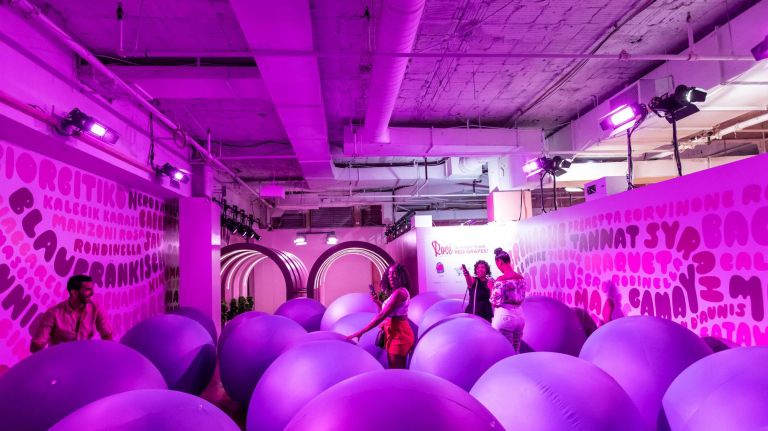 The Rosé Mansion is bucking the idea that the pink drink is reserved for summer and transforming itself into a fall destination.
Extending its stay through Nov. 3, the boozy pop-up revealed plans on Sept. 13 to transform into a "mystical" mansion with new seasonal frosés and a program of events through October.
The pop-up took over the second floor of the Manhattan Mall (near Penn Station) earlier this year with 14 rooms, where guests can learn about the process of wine-making and its history amid an Instagram-friendly backdrop.
Now, the space will have even more installations in addition to what is already there, including a "vineyard" surrounded by rows of grapevines, a flowchart to find your own biological preferences for sweet or bitter flavors, Cleopatra's Palace with Brachetto wine, a celebration room with glitter cannons, a giant cake, giant furniture, bright colors, firework imagery and others.
Rosé Mansion reps aren't unveiling anything about the new "magical" elements, except that there will be new fall frosés like pumpkin spice, "goth" served in a black skull, the "black swan" served in a black swan floatie, the "unicorn" served with candy, and the "birthday" served with a mini party hat noisemaker and balloon garnish; collectible pins, including a crystal ball and a Rosé rendition of the evil eye; and some fun nights planned:
Monday Movie Nights (Oct. 7, 17, 21, 28): Classic fall flicks will be screened in RoséLand, including "Hocus Pocus" (Oct 7.), "Beetlejuice" (Oct. 14), "Casper" (Oct. 21) and "Gremlins" (Oct. 28).

Yoga Sundays (Oct. 6, 13, 20, 27): Yoga classes will be held at noon on Sundays throughout October. Each class will have special surprises that coincide with the weekend theme and a glass of rosé or frosé.

Somewhere Over the Rainbow Night (Oct. 9): Guests will follow the yellow brick road to an "epic party somewhere over the rainbow."

Le Petit Party (Oct. 10): Celebrating all things small, the mansion will give out fun-sized party props, tiny tacos and baby-sized bottles of rosé.

Galaxy Night (Oct. 16): Visitors will be transported to "outer space" at this cosmic party.

Pumpkin Painting and Crafts (Oct. 17): Do some pumpkin painting and festive fall crafts in RoséLand.

Enchantment Under The Sea (Oct. 23): "Mythical mermaids" and "sea creatures" will "float" around the mansion with other deep-sea surprises.

Cleopatra Party (Oct. 24): Honor the Queen of the Nile with special characters, Egyptian burlesque dancers and lots of the pharaoh's favorite rosé.

Into The Woods (Oct. 30): Go on a wine tasting adventure "Into the Woods" where you'll see "fairyland characters and whimsical wonders."
There will also be themed weekends like the "Moonlight Masquerade," the "Pumpkin Spice Soirée," "Mythical Beings," "New Moon Celebration" and "Enchanted Halloween." Check the schedule to find out when these will be held.
This year's Rosé Mansion is literally twice the size of the 2018 edition, spanning more than 32,000 square feet.
Co-founders Morgan First and Tyler Balliet have created pop-up wine-tasting events, geared toward millennials, for more than a decade.
The Rosé Mansion is a way for them to offer more education about wine than they have in past events, according to Balliet.
"Rosé is a really good way to talk about culture, history and science," he said last year. "The people who make it and consume it are the real story — that's what motivates me."
What to know if you go:
Rosé Mansion has a private entrance at 111 W. 32nd St.
Tickets are on sale at rosewinemansion.com and are $35 for "happy hour" (before 5 p.m. on weekdays) and $45 otherwise. Food, wine and private cabanas in "RoséLand" can be reserved for an additional fee.
Tickets include eight wine tastings, a Rosé Mansion collectible pin, and a Rosé Mansion wine glass by Govino.