"My work is self-explanatory," Walter Steding remarks. Unfortunately, that isn't always true of Walter himself.
While listening to Steding ramble on is a fascinating experience, there's a chance that the answer that he's giving you is not exactly on the topic of the question asked. When queried about his fascination with history, for example, he responds with a monologue about the difficulty of understanding string theory.
However, that propensity to digress does nothing to take away from the talent and thought that has gone into the work currently on display at the Howl! gallery's 6 East 1st St. location.
Titled "This Is My Voice," the East Village exhibition contains a mix of portraits and allegorical tableaus that reflect the state of things as filtered through Steding's mind. Curated by Executive Director Jane Friedman, the show is full of imagery that may be self explanatory, but it also may take awhile to absorb.
"Walter Steding's art often speaks to and cross examines our relationship to society while imbued with an inherent musical spirituality," opines Howl! Arts Archivist Aldo Hernandez.
"We can glean much from his playful pop culture and historical knowledge," Hernandez adds. "He mixes mysticism with up-to-date political insight."
Steding, a self-taught artist and musician who started painting when he was five years old but didn't begin his violin playing until he was 15, laments that he should have started playing 11 years earlier. Nevertheless, his first trip to NYC from his native Pittsburgh in 1975 found him providing music for a Yoko Ono installation at an avant-garde festival.
When he returned for the next iteration of the fest, he decided that he wasn't going back home. Finding work as a colorist at a textile company, he also began a career in the art/music world with a performance — "I stood and screamed and then electrocuted myself" — that led to Chris Stein of Blondie producing his first record.
"I walked into the studio and there was Robert Fripp and Richard Lloyd!" he recalls. While that LP did not exactly burn up the charts, he went on to play with such notables as Blondie, Jim Carroll, David Byrne, Chic and Panther Burns.
In 1980, Steding landed a full-time gig with Andy Warhol that lasted three years. While living in a storage space next to the fabled Factory, he "helped Warhol with anything, 6-7 days a week" but excelled at mixing the paints perfectly, always getting the correct colors.
Poet Puma Perl, frequently a musical collaborator with Steding since 2012, explains that "while working as a colorist for Andy Warhol, he always knew exactly how to balance a color," and that "Warhol had previously believed that you could never match a color and Walter astounded him by matching them perfectly. Knowing Walter as I do, I am not at all surprised by his ability to see (and hear) what others cannot. He lives on a different creative plane than most. Walter once told me that he was always an artist and it's true – 100%. "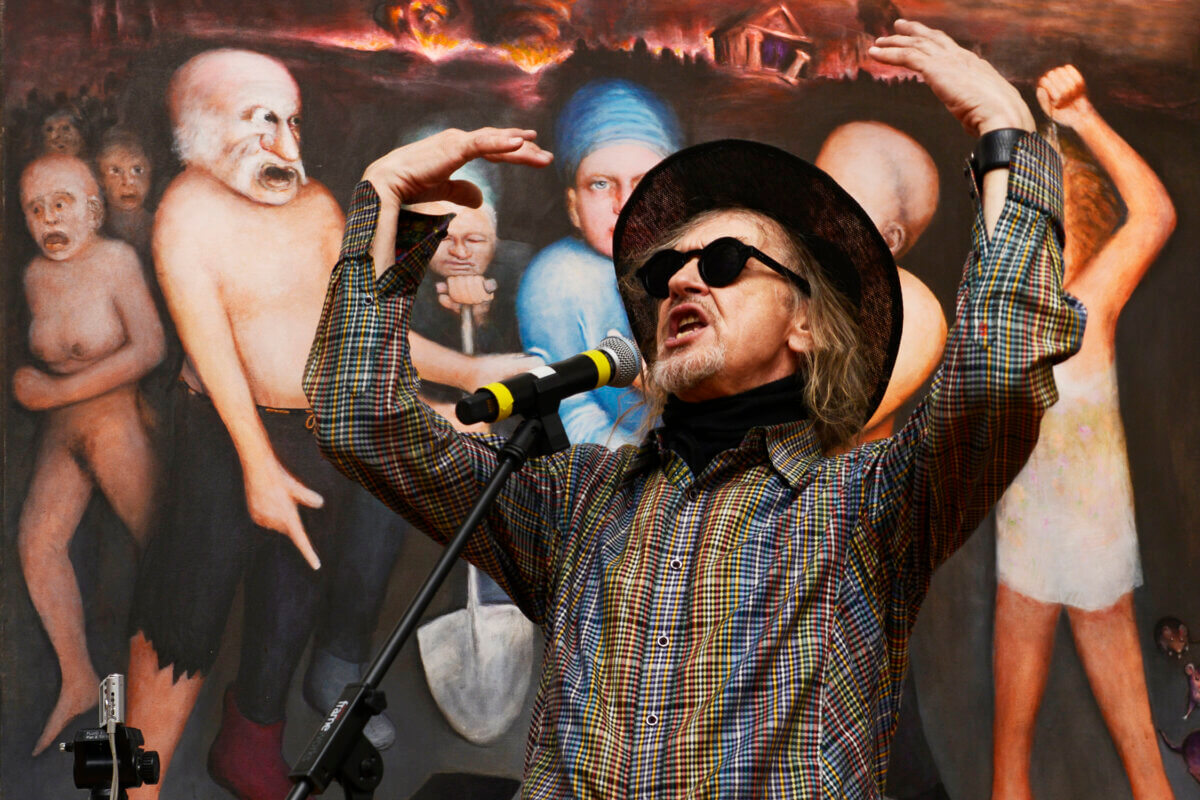 When it comes to his own work, Steding starts with a blank slate and no preliminary sketches. The larger works in the show have all been created in the last year and he doesn't always know why his images end up on the canvas.
"I don't know why these things come to me," he muses. "It's all through divine providence. It's more than serendipity."
Steding is notably devoted to his work, sleeping next to a canvas in progress and sometimes waking up in the middle of the night to add to the piece.
"A painting is never done," he declares. "When it's out of your hands, that's when it's done. I look at some of the paintings in the show and I want to rework them."
He notes that pieces that have gone out the door have ended up in the hands of a Swiss collector and in museums in Budapest and London.
Currently, Steding continues to paint in both his Brooklyn and upstate studios, while playing violin in local haunts such as the Parkside Lounge and The Hard Swallow with the band 'Crazy Mary' and doing assorted solo gigs.
"I went from the avant-garde," he says , "with influences like Varese and Stockhausen to 12-Bar Blues and Rock and Roll."
There will be music and poetry at the closing party this Saturday, June 3, from 3-6 p.m. provided by Steding, Perl and others.
For Steding, it's all about the next show. "I'm like a chess player," he explains. " I'm always thinking three exhibits ahead."
More info can be found at howlarts.org/event/this-is-my-voice.