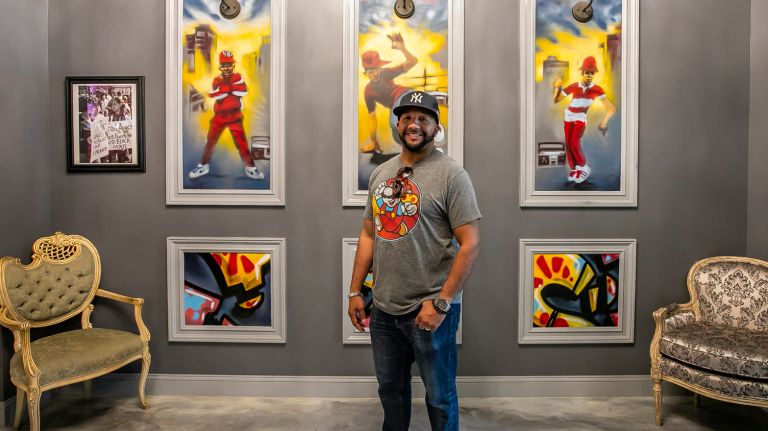 Mott Haven's roots are on display in the midst of a neighborhood rebranding with the opening of Beatstro, a dining and entertainment venue that boasts Bronx pride with graffiti art, soul food and hip-hop-influenced decor.
"We don't want people to feel like we came in and changed things; we want to keep it as familiar as possible," says Bronx native Alfredo Angueira. "We're very sensitive to what's going on in the Bronx."
On a walk last month around the blocks that surround the restaurant, Angueira pointed to shuttered storefronts that'll soon be reborn as art galleries and coffee shops. Beatstro, co-owned by Angueira and Julio Martinez, joins the growing list of businesses hoping to thrive on Alexander Avenue as the South Bronx gentrifies.
"We wanted to tone it down a little bit," he says, referencing the 2,250-square-foot restaurant's intricate interior design. "What we didn't want was for it to feel too upscale, too elegant, and alienate the community. We want the people who are working here and who live in the projects to feel comfortable."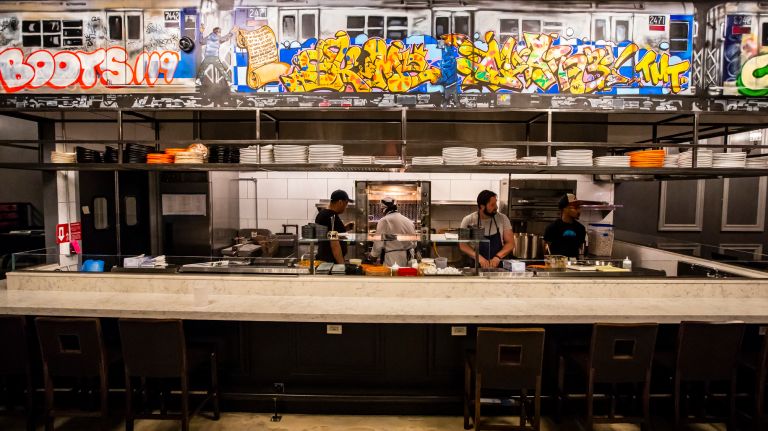 Walking into Beatstro, diners will think they've stumbled upon a record store plucked from the '70s or '80s. Shelves full of X Clan and Def Jam vinyl — with a few more current options, like Wu-Tang Clan — set up the "speakeasy" entrance, separated from the dining space by a black curtain.
The speakeasy concept is a creative "insider" interpretation of the borough's hip-hop block parties, like the ones pioneer Grandmaster Flash used to host before finding fame in the '70s.  
"It was a big thing for these kind of parties in the beginning that you got invited. If you didn't know, you didn't know," Angueira explains. The records at Beatstro are displayed only and were donated to the cause by local DJs — but that's only the beginning of the venue's ties to the borough.
Almost all of the furniture and interior design was purchased from nearby vendors, like Alexander Antique Shop, to keep "as much of the dollars here as we can," he says.
Murals hand painted by local graffiti artists serve as the restaurant's wall decor — with the exception of "hip-hop hall of fame" paneling across from the open-concept kitchen that'll honor greats like the Notorious B.I.G. and Tupac.
"All different bombers came in and did their piece," Angueira says, holding up black-and-white photographs of the borough that served as the inspiration for the murals.
"There's five elements to hip-hop: emceeing, DJing, culture, graffiti, breakdancing. Each mural represents a different one."  
Perhaps the most eye-catching of them all is a tagged subway car lining the kitchen, done by TMT Crew. Diners are seated below the train, where they can see dishes with an Afro-Caribbean flare — including kale and collard green salad, fried chicken and jambalaya — being prepared.
"We wanted to put a twist on traditional food," Angueira says. Consulting chefs Leonardo Marino and R.L. King were in charge of curating the menu. "If I went to somebody's house around the corner, what I eat here may be what I would have had in their house, but dialed up a bit," he adds.
The food is only portion of the experience at Beatstro, though.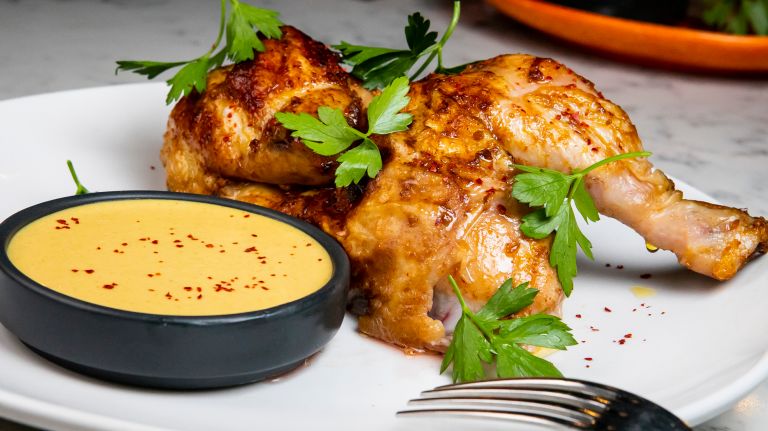 An elevated seating area in the back portion of the restaurant, lined with about 100 golden speakers, will double as a performance space. Weekends will feature performances by anyone from up-and-coming local DJs to retro artists.
"You know, not that we're not interested in somebody like Cardi B, but this is a small venue," Angueira jokes. "This is a place for your local artist or someone who hasn't performed in a while."
The restaurant officialy opens at 135 Alexander Ave. on July 12.
"There's nothing like this in this borough," Angueira says. "It's a callback to this era, an era when hip-hop was first initiated. … This was a culture that was started in the Bronx by African-Americans and Latinos and we'll pay homage to that."