The bling is losing its luster!
Lamor Whitehead, the embattled "Bling Bishop" of Brooklyn, has been hit with a $5 million lawsuit by a church in Canarsie that says he illegally evicted the congregation after purchasing the building at auction, and is now allegedly stalling on handing it back over in violation of a court order.
Glory of God Global Ministry, at 5904 Foster Ave. in Canarsie, filed a suit against the flashy pastor in Brooklyn Supreme Court last week, seeking significant monetary damages for "fraud," "conspiracy," and "tortious interference" with contract and business operations allegedly committed by Whitehead. Glory of God wants a judge to force Whitehead to relinquish the property back over to the parish, and have Whitehead be "forever barred from claiming ownership of the premises."
Lawyers for the church and for Whitehead did not respond to requests for comment. A message to Glory of God on Sunday was also not returned.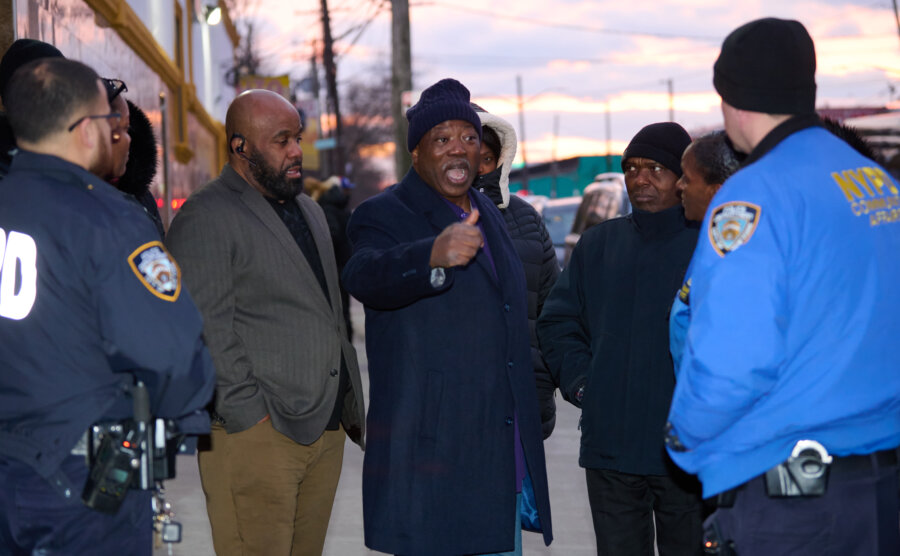 Bishop Whitehead — who leads the congregation at Leaders of Tomorrow International Ministries in Canarsie, is known for his affinity for luxury cars and expensive bling, and now faces a slew of federal fraud charges that could land him in prison — purchased the Glory of God building through a trust at a foreclosure auction last February, paying $1.94 million according to city property records. Glory of God had purchased the building in 2014 through Triple C's Venture LLC.
In December, Glory of God's senior pastor Funmi Williams said that Whitehead illegally changed the locks on the Foster Avenue building and began tossing the church's property in a dumpster. Whitehead had deemed himself the rightful owner, but Williams — who contested the tax lien that sent the building into foreclosure, maintaining the church had tax-exempt status — countered that the congregation had never surrendered the premises to the bishop, calling Whitehead's actions "shocking and traumatic."
"The Subject Building is home to a congregation which conducts Sunday services for hundreds of neighborhood members all of whom are now locked out of the Subject Building based upon Petitioner's illegal acts," Williams wrote in an affidavit to the court. "Myself, Petitioner, and our entire congregation are outraged that Respondent has taken the law into its own hands by changing the locks."
That month, Brooklyn Civil Court Judge Heela Capell sided with Glory of God, ordering the congregation be allowed back on the property and declaring the eviction illegal, as it had taken place without a court order.
Afterward, in January, Civil Court Judge Sandra Roper again sided with Glory of God and ordered that possession of the building be restored to the congregation, and that evening parishioners gathered outside the building to pray and attempt to serve papers to the bishop.
That same day, Whitehead filed for Chapter 11 bankruptcy in federal court. In March, Whitehead's lawyer filed court papers claiming that the bankruptcy application "operates as a stay" against enforcement of the judge's order for him to relinquish the church property back to the parish.
The flamboyant preacher, who counts Mayor Eric Adams as a friend and mentor and previously ran for Brooklyn Borough President, has had a whirlwind year.
After unsuccessfully attempting to negotiate the surrender of a fugitive subway shooter, he received international attention in July after his Remsen Avenue church was robbed during a livestreamed sermon, with bandits making off with about $1 million in jewelry; two men were arrested and hit with federal robbery charges in September. That month, Whitehead was briefly cuffed for pushing a woman during a sermon but was soon let go; the woman was charged with trespassing.
In December, he was hit with federal charges for allegedly attempting to swindle a parishioner of her $90,000 life savings and threaten a Bronx businessman into handing over $5,000. After that, the bishop allegedly tried to use tenuous connections to city government, including the mayor, to get the Bronx businessman to invest $500,000 with him, despite knowing he couldn't deliver on the "favorable actions" he promised. He was further accused of lying to the FBI about owning a second cell phone.
In March, prosecutors added charges of forging bank account information on mortgage applications for his New Jersey mansion. If found guilty on any of the charges, Whitehead could face up to 20 years in federal prison. He is currently free on a $500,000 bond.
Whitehead pled not guilty and has vigorously denied the charges against him. In March, he sued the Bronx businessman, Brandon Belmonte, for defamation, seeking $200 million over comments he made to the New Yorker about the alleged interaction that led to the federal charges.
Mayor Adams has not been accused of any wrongdoing. Whitehead previously said he's not been in contact with the mayor lately as a result of his legal troubles.
Additional reporting by Lloyd Mitchell