An asylum-seeker is picking up the pieces after the Lithium-ion battery of an e-bike exploded inside of his Brooklyn apartment over the weekend, leading to a devastating fire that destroyed crucial documents pertaining to his stay.
Firefighters were called to 376 East 8th Street in Kensington at around 12:14 p.m. Saturday afternoon, at which time they were met by heavy flames venting from a fourth floor apartment and residents fleeing down the building's fire escape. Five residents were taken to Staten Island University North Hospital and Maimonides Medical Center to be treated for smoke inhalation.
The unit on fire was home to Morshed Alam, a Bangladeshi asylum-seeker whose brother told amNewYork Metro that he was scheduled to meet with court officials next month in regards to his status. The man, a driver for Uber and Lyft, lost crucial documentation in the blaze, his brother said as he held back tears.
A total of 60 firefighters from 12 units operated one hose-line to knock down the main body of the fire. Firefighters used another hose-line to cool down the burning battery. Special ops were called in to remove the battery from the apartment and safely place it into a containment drum.
The fire was placed under control at 1:20 p.m.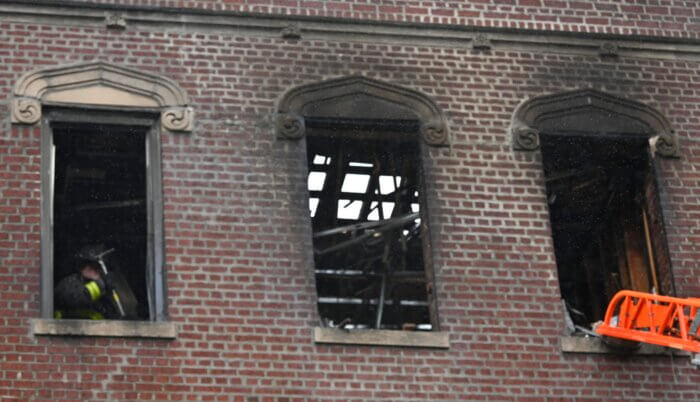 Officials across the city are pushing to regulate Lithium-ion batteries amidst a rash of recent related fires.
According to the Fire Department of New York, these rechargeable power sources have contributed to more than 400 infernos over the last four years, resulting in more than 300 injuries, 12 deaths, and damage to more than 320 structures across the Big Apple.
This year alone, Lithium-ion batteries have sparked 187 investigations, and led to 109 injuries and 14 deaths.
Additional reporting by Dean Moses