After over operating for 100 years, Wegmans, the regional grocery store with a cult following, has finally docked on the Island of Manhattan.
Arriving after the grocery chain made its Big Apple landfall at the Brooklyn Navy Yards in 2019, the new Astor Place store was teeming with early morning shoppers — "Wegmaniacs," as the store's fans endearingly call themselves — at its Wednesday grand opening.
David Frankel, who developed his fondness for Wegmans when he was living in the Baltimore area, said he sees promise in its new West Village digs.
"I think it'll come into its own, with its little Japanese section and its dry aging tower," Frankel said.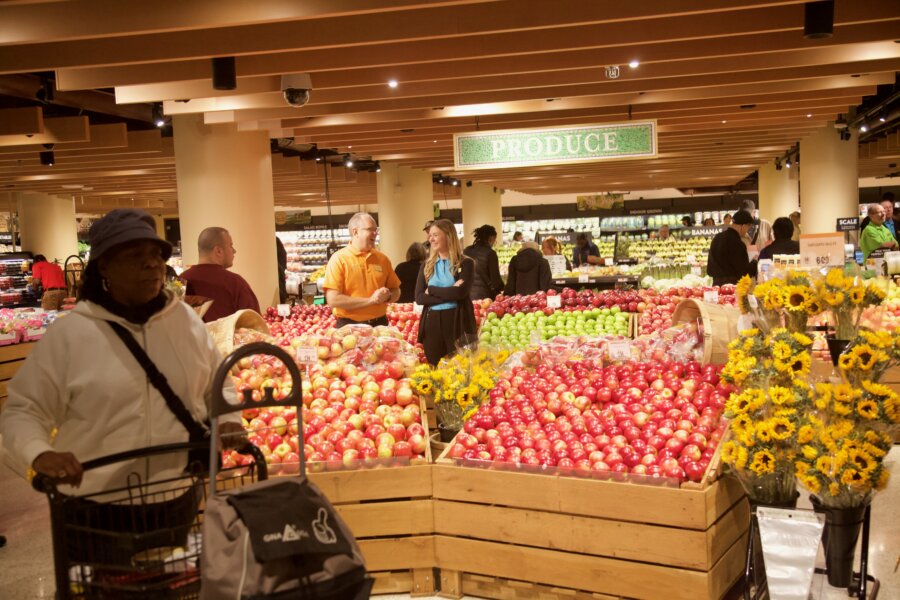 The 87,500-square-foot store opened after years of planning in the historic Wannamaker building at 770 Broadway, originally the grand home to one of the country's first department stores.
Headquartered further upstate in Rochester, the company has opened 110 stores in its 107-year history, stretching the east coast as far south as North Carolina. Next up for the chain is a location in Lake Grove on Long Island.
The new Big Apple store is home to plenty of what Wegmans has become most known for: its artisanal pre-made food section. The store's wide array of restaurant foods is the first thing that shoppers see on the ground floor. Glassy-eyed patrons were pleased and overwhelmed by the huge variety of sushi, pizza, soups, subs, Mediterranean mezze items and more.
Front and center is a sushi counter showcasing the store's seafood department. Fish is delivered daily from across the country and even from the Toyosu Fish Market in Japan.
"They have the best seafood section in America," said Shugji Asano, a visitor from San Francisco who left the store with a fresh box of sushi.
The store also boasts an extensive produce section, stocked full of organic options, and a specialty cheese shop and butcher department that feature craft imports spanning the globe.
Karen Friedlander said the item that has kept her coming back to other Wegmans is their sweet potato hummus, but she was excited to have the pre-made sandwiches, pizzas and soups in her neighborhood.
The only unhappy customers amNewYork encountered at the grand opening were the United Food and Commercial Workers representatives who were canvassing out front of the store. Several union locals came to protest the fact that the chain was opening a non-union grocery store to compete with a handful of other union grocers in the area.
Their presence was enough to deter at least one local from returning after stopping by to explore the new building. 
"It's non-union. I don't like that — end of story," said the shopper who didn't identify herself.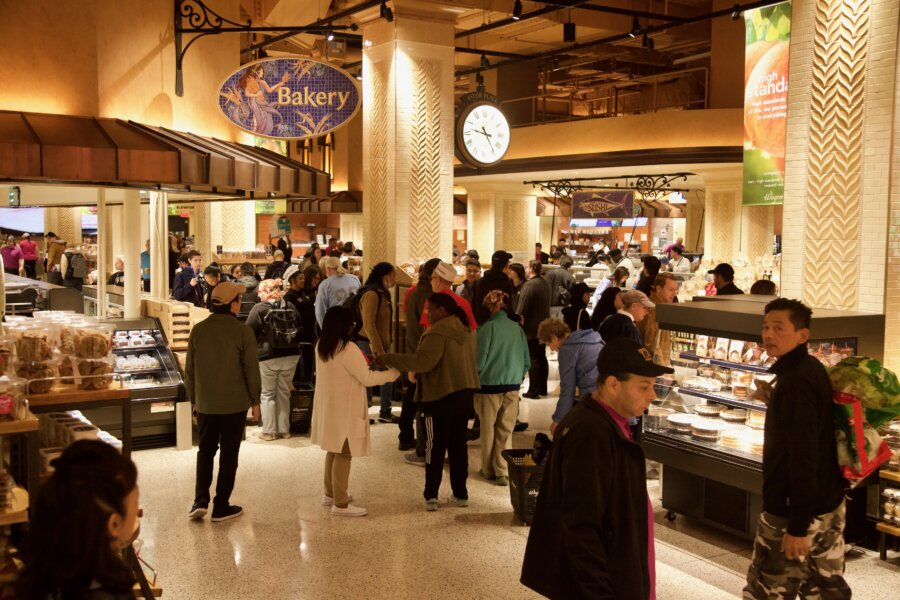 Wegmans said the store employs over 600 people, with the majority hired locally. Any time it opens a new store, it undertakes community initiatives like getting in touch with food banks to give perishable items that are imperfect but still good to eat, a spokesperson said. In Manhattan, it's committed over $87,000 through donations and event sponsorships over the last year.
Customers can complete all their grocery shopping online for delivery to their door in as little as one hour.