Four people are dead and two are fighting for their lives following a 3-alarm fire that tore through an e-bike repair service store and gutted a mix-use building in Chinatown during the early hours Tuesday morning, FDNY said.
Firefighters raced to rescue people after a blaze ignited inside of HQ E-Bike Repair at 80 Madison St. at 12:15 a.m. and started to spread to apartments above. Dense smoke filled the early morning air as some 106 firefighters and personnel raced to quell the inferno. The fire quickly grew out of control, however, and officials upgraded the emergency to 3-alarms at around 12:45 a.m., sending even more first responders into the thick smoke.
"We found heavy fire in an e-bike store," FDNY Deputy Assistant Chief John Sarrocco said.
Police and FDNY sources said that two men and two women were killed in the blaze and two others remain in critical condition. Furthermore, nine additional civilians were injured as a result of the fire.
A firefighter and member of EMS also suffered minor injuries.
Firefighters piled a large number of charred e-bikes and scooters onto the street, adding many more twisted cycles to the heap throughout the night as others smoke eaters shattered windows for ventilation. Locals watched the mayhem with their hands on their heads in disbelief. The fire was placed under control at 2:36 a.m.
While the cause of the deadly blaze is officially under investigation, some are already pointing to lithium-ion batteries as the cause. There have been several e-bike battery fires this year resulting in deaths.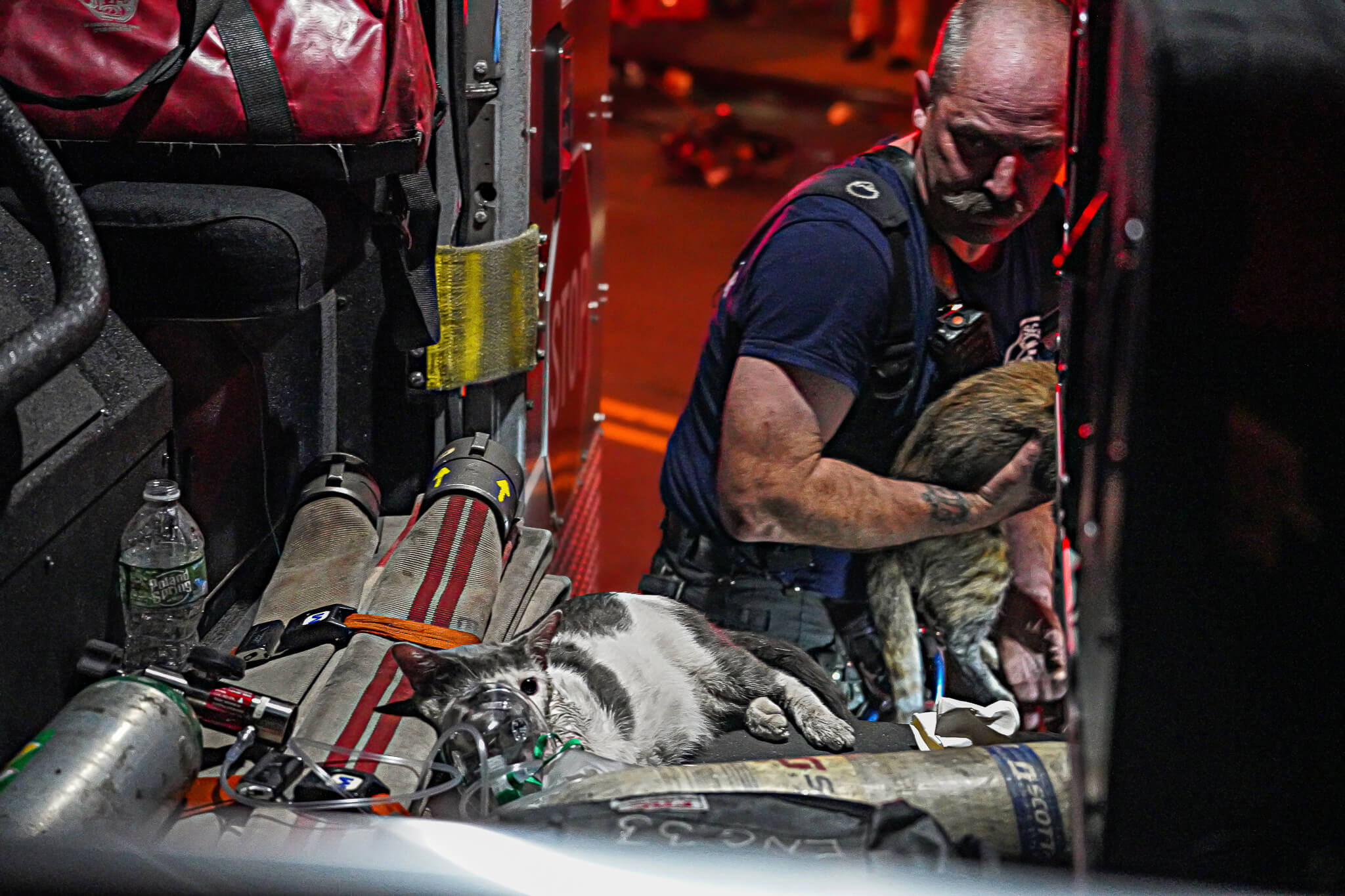 "Horrific tragedy overnight. 4 killed and 2 critically injured in fire at e-bike store at 80 Madison in LES. Already 76+ fires in NYC this year caused by lithium ion batteries. We have to accelerate our efforts to protect against this threat," Manhattan borough president Mark Levine tweeted.
Scores of people were either rescued by firefighters or evacuated the building.
Firefighters not only saved residents from the blaze but also pets. They saved a family of cats that lived inside the deli on the ground floor of the same building by rushing the felines to a truck and pumping them with oxygen.
"This is Sally, they [the cats] are all related," a deli worker told amNewYork Metro petting the rescued cat as first responders resuscitated two others. "There was a lot of smoke, but I didn't hear any explosions.