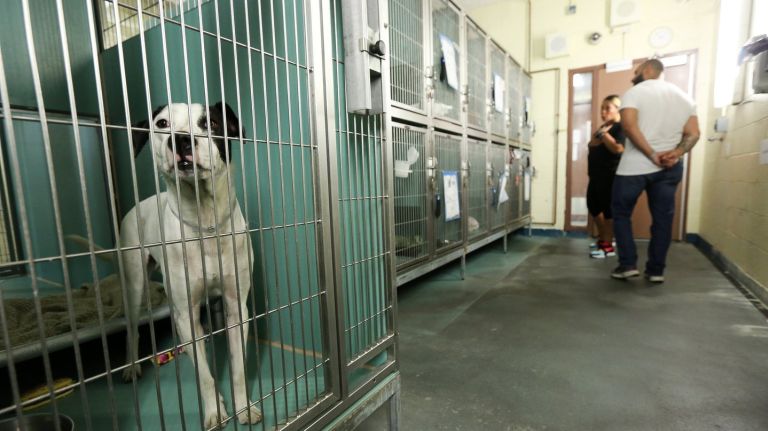 The city's animal shelters plan to give stray dogs that come through its doors a dose of anti-anxiety medication to minimize their stress, amNewYork has learned.
"Almost all of the dogs that enter our shelter experience transitional stress," Dr. Robin Brennen, senior medical director at Animal Care Centers of NYC, said in a memo to rescue groups. "This type of stress can challenge the dog's immune system making them more vulnerable to disease."
Brennen said the limited course of treatment will not mask aggression in dogs but it might make them less fearful during vital evaluations that determine whether or not they can be adopted directly to the public.
"They have just moved from one environment, whether it's the street or someone's home, and entering a new one," Brennen told amNewYork. "By removing stress, we can get a sense of their true behavior."
But some rescuers balked at the idea, saying it's unwise to give dogs any kind of drug without knowing their medical history.
Jo Ann Dimon, of Big East Akita Rescue, questioned whether the drug, called trazodone, would allow an accurate assessment of a dog.
"You need to know these things before you place them," said Dimon, who has taken dogs from ACC shelters to help them find foster or permanent homes. "And if a dog comes in without behavioral issues, why would you medicate them?"
Dimon said she has also seen the drug make dogs sick when taken without food, and many dogs entering a shelter may not be inclined to eat, she said.
Trazodone has been used by veterinarians and pet owners to help animals who are afraid of thunder and other stress-inducing events. The shelter has previously used it to help animals in its care.
Animals that are deemed fearful and aggressive during evaluations are often at greater risk of being euthanized because they might pose a threat to potential adopters.
The nonprofit reached out to some animal rescue groups it works with and offered to hold a conference call with Brennen to answer questions.
Brennen said the medication leaves a dog's system relatively quickly and most dogs would receive just two doses.
Dimon and other rescuers said dogs would be less stressed if the city had not reneged on past promises to build full service shelters in all five boroughs with more services and space for stray animals. There are currently shelters in Manhattan, Brooklyn and Staten Island.
The city has announced plans to build a shelter in the Bronx and the City Council recently passed a bill that would require full service facilities in all five boroughs.
Animal Care Centers of NYC contracts with the city's Department of Health to handle the city's stray and homeless animals, everything from dogs and cats to rabbits and the occasional runaway bull and goat.
Unlike other nonprofit shelters in the city, they are not allowed to turn away any animal.