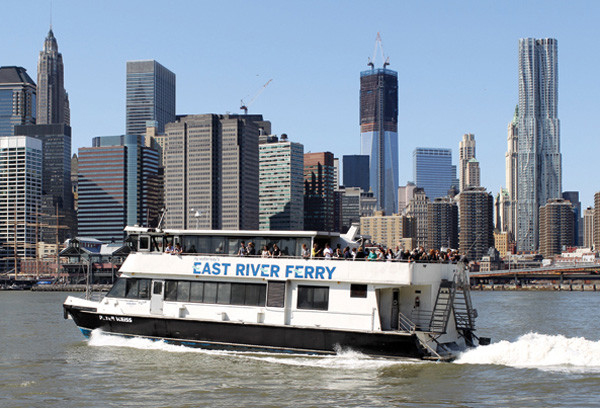 BY REBECCA FIORE | At its Thurs. Nov. 16, meeting, Community Board 2 (CB2) unanimously voted to strongly urge the city's Economic Development Corporation to look into adding more ferry service on the Lower West Side to serve the area's ever-growing population.
Shirley Secunda, the CB2 Traffic and Transportation Committee chairperson, said the simple reason behind the resolution is the need to expand transit for city dwellers and commuters alike.
"We're requesting a study be done," Secunda said. "There's been tremendous development on the far West Side and more is coming."
As the board's resolution states, between the ongoing construction of the virtual "mini-city" of Hudson Yards and the pending development of nearly 1,600 residential units — including nearly 500 units of affordable housing — at 550 Washington St. (at the current St. John's Center site), the West Side is expected to attract more residents, as well as workers. Discussions on the future of Pier 40, at W. Houston St., across from 550 Washington St., are still in the works. In short, people who live, work, play or visit the area will need better public transportation, Secunda said.
"Whereas there is no close-by public transit in this far western portion of CB2… the Hudson River is just a stone's throw away across West St.," the resolution states. "Currently, the far West Side relies too heavily on for-hire vehicles and private cars for accessible transportation, which cause congestion and denigrate the environment."
Tom Fox, the former owner of New York Water Taxi and a longtime Hudson River Park advocate, said the ferry plan is a long time coming since the lower West Side is out of other transit options.
"Buses take up service space," he said. "Roadways are already pretty crowded, especially at some of the intersections of Route 9A [West St.]. That highway was designed more than 24 years ago. Between the Whitney Museum, the Standard Hotel, Chelsea Market, and now Hudson Yards, there are more people living there who weren't there when the highway was developed," he said. "The West Side is poorly served by north-to-south mass transit."
Fox's idea for a West Side ferry service, he said, is for a loop from Pier 1 to Pier 97, then down to Pier 84, Chelsea Piers, Pier 45 and Pier 25, then all the way to the World Trade Center to create a much-needed water route. Piers 40, 45 and 46 were also mentioned in CB2's resolution as possibly providing spots for ferry service.
Fox explained, "It would give you the equivalent to the East Side," which currently has routes from Manhattan stopping in Queens (Astoria, Long Island City, Hunter's Point South and Rockaway) and Brooklyn (Greenpoint, North and South Williamsburg, DUMBO, Sunset Park and Bay Ridge).
NYC Ferry, operated by Hornblower, has six routes that connect Manhattan, Queens and Brooklyn. All are on Manhattan's East Side and two are summer service only.
"There could even be an express and a local where you go to W. 79th St., W. 42nd St., Greenwich Village and the World Trade Center," Fox added. "And you can have a small one that connects various parks on the weekends."
Secunda noted that since the ferries are no longer privatized, a ride costs the same $2.75 as a train or local bus.
"Basically, it's part of the transit system now," she said, "whereas before it was a private company and you paid a lot more. It's really a wonderful innovation happening in the city. It's real mass transit."
The vote of the full board of CB2 was unanimous, with 34 board members in favor.
"I think it makes all the sense in the world," Fox said. "I tried doing that with New York Water Taxi in 2001. It's a great idea, but not a new one."