Former President Donald Trump's call to protest his possible indictment went largely unanswered Tuesday — save for a few devout believers who traveled from out of state and country to show their support for the embattled ex-president.
Despite several reports that predicted hundreds of pro-Trump protesters would swarm Midtown and Lower Manhattan with ravenous fury over their leader's possible indictment, only a small number of his fringe, fanatic fan base showed up to cheer on the man who previously galvanized thousands in a failed insurrection on Jan. 6, 2021.
Far fewer numbers descended upon Manhattan Tuesday as the fate of the former leader of the free world rested in the hands of a grand jury, days after Trump called upon his followers to protest his potential indictment and arrest. But however, those who did appear on March 21 said they traveled far and wide, rather than from New York City.
Spread thin outside of Manhattan District Attorney Alvin Bragg's office and Trump Tower in Midtown, those arriving to demand the election denier's indictment far outweighed those decrying the process.
Anti-Trump group Rise and Resist unfurled banners and brandished signs urging DA Bragg to indict Trump. Despite being overcrowded by their opposition, the few Trump supporters attempted to raise their meager voices by donning Star-Spangled Banner masks and brandishing signs of their own.
Meanwhile, outside Trump Tower less than a dozen advocates sidled up to the mixed-use skyscraper, hailing from Taiwan, Pennsylvania, and other areas, the lonely group meandered about, clinging to signs reading "Let's Go Brandon" (the right-wing code term for cursing the current president, who beat Trump in the 2020 election) and other signs falsely insisting that Trump wasn't really a loser two years ago.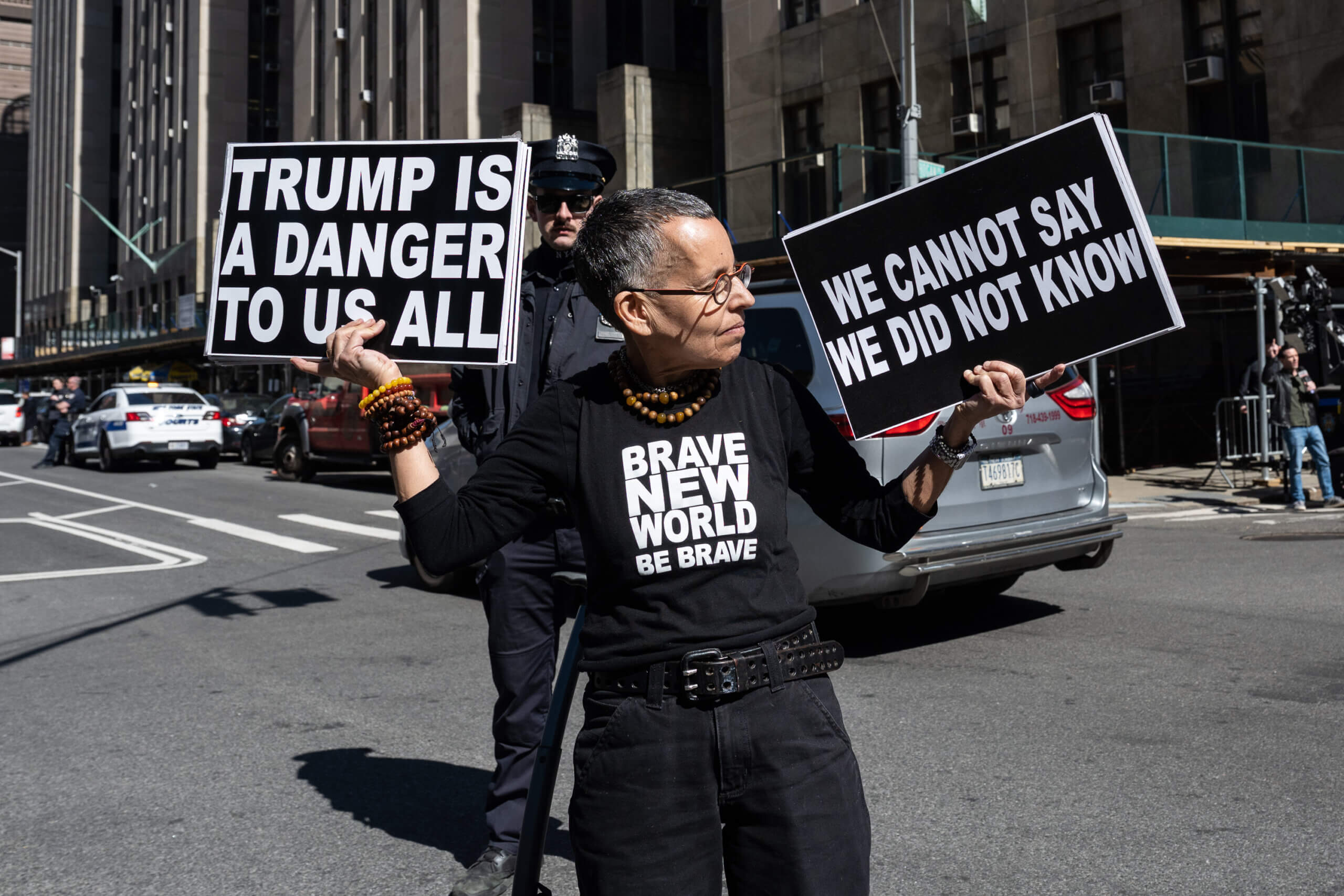 The otherwise lackluster showing nonetheless grew heated when a scantily clad social media influencer wearing a Trump mask managed to gain entry in to Trump Tower.  This enraged a MAGA hat-wearing man who allegedly kicked her, forcing cops and security guards to block the entrance.
In hopes of preventing any further outbursts, NYPD officers cordoned-off the area with metal barricades. No arrests were made as a result of the altercation.
While rumors swirled that a large MAGA caravan intended to roll into the Big Apple and post themselves outside of Trump Tower, no such caravan materialized by the late afternoon.