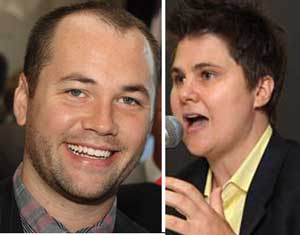 BY LINCOLN ANDERSON  |  In a very competitive endorsement vote for the upcoming City Council District 3 (Greenwich Village/Chelsea) primary election, the storied Village Independent Democrats club gave their nod to Corey Johnson over Yetta Kurland last Thursday.
In the first round of voting, Johnson got 26 votes to Kurland's 22; a third candidate who recently entered the race, Alexander Meadows, got 7 votes, and there were also 3 "no endorsement."
Under the progressive club's rules, because Johnson didn't win a simple majority (50 percent plus 1), a runoff was then held. Ultimately, Johnson picked up significantly more voters than Kurland in the runoff — 5 versus 1 — going on to win by 31 to 23, with 1 "no endorsement." One club member later said the runoff showed that, although Kurland has a very loyal core following, she may not be able to expand her base as well as Johnson can.
In somewhat of an upset, in V.I.D.'s Council District 1 (Lower Manhattan) endorsement vote, District Leader Jenifer Rajkumar beat incumbent Councilmember Margaret Chin by 29 to 20, with 6 votes for "no endorsement."
In the endorsement for Council District 2 (East Village), sitting Councilmember Rosie Mendez easily won the club's support for a third term over opponent Richard Del Rio, by 50 votes to 2, with 3 "no endorsement."
The candidates were each given six minutes to address the club, after which there were six minutes for questions and answers.
Kurland was asked about whether she owned a handgun, and said no. Jim Fouratt — a former ally of Kurland's on the St. Vincent's Hospital issue who subsequently fell out with her — didn't feel she had addressed the question sufficiently.
"Answer the question!" Fouratt demanded, drawing a sharp rebuke from club president Tony Hoffmann.
Kurland is a civil rights attorney who formerly also owned an English language school. She has, in the past, variously said she needed the firearm as a "court officer" and also because she was designated to have it by her Hello World Language Center as part of its post-9/11 security protocol.
At the same time, Kurland has led gun-control vigils — after the Tucson shooting that left Congressmember Gabby Giffords critically injured and also after the more recent Newtown school mass shooting.
Meanwhile, two years ago, The New York Times, in an exposé on high-profile New Yorkers with gun permits, had "outed" Kurland as being a gun owner.
After the Newtown shooting, The Villager queried Kurland again about her gun, and she told the newspaper that she no longer had the weapon because she had left the school.
Kurland basically reiterated this statement to V.I.D. last Thursday night, saying that while she had been the "gun custodian" for her language school, she no longer has a gun.
Being designated the gun custodian was a responsibility she took "very responsibly," she noted, though added, "It was not a position that I at all was interested in or took delight in."
However, she added, "The welfare of hundreds of students who came into this country and were under our auspices is something that's very serious."
"It is unfortunate," Kurland said, "that this issue has been used to try to undermine my candidacy and my work."
She said the real issues include, among others, banning assault weapons, ensuring there are background checks for gun buyers and making sure weapons are kept out of the hands of the mentally ill.
Speaking after the vote, John Geballe, the club's immediate past president, said Kurland "gave a good answer" on why she had had a gun. "She said, 'Yes, I had a gun, but I stood with the people that were for gun control.' "
As for Johnson, Geballe said, "Corey was very solid in saying that there was going to be a sea change in government. There's going to be a lot of new city councilmembers, a new mayor, a new comptroller. There will be 10 or 11 new councilmembers in Manhattan, plus five others."
One observer said, in his opinion, it was an "upset" that Johnson had beaten Kurland for the club's support.
"I mean, she's a woman, a civil rights attorney…," he said, requesting anonymity.
But others said both Kurland and Johnson had come to the endorsement vote fully expecting to win.
In their comments before the club, both Chin and Rajkumar started out by referring to their immigrant roots. In Chin's case, she said she recently marked her 50th anniversary of having landed in New York City without winter boots on a snowy day.
She said she had looked up at the City Council Chambers ceiling on that anniversary and, realizing how far she has come, said to herself, "This is what the American Dream is all about."
Rajkumar noted her parents landed here with "$300, a suitcase and dreams."
Chin said she has overseen four ULURP (uniform land-use review procedure) applications in the past year alone, with three of them being for major rezonings and development projects. Though noting "not everybody was happy with what happened" on the ULURP for the Seward Park Urban Renewal Area, or SPURA, she said she felt the right "delicate balance" had been achieved.
"It wasn't 100 percent affordable housing, but we got 50/50," she said. "On top of that, we got a school."
She notably didn't mention the ULURP for New York University's 2031 expansion plan in the South Village.
Tom Connor, a member of the Greenwich House Senior Center, said, "Margaret has been there" for local seniors, assuring that their programs aren't cut.
Surprisingly, there were no questions for Chin — something Hoffmann later chalked up to it having been late in the meeting, so "people were tired."
In her remarks, Rajkumar, who recently announced her campaign against Chin, said, "I'm here to stand up for my community." As for why she decided to run, she said, "What I saw was there was a representative not listening to the people."
She said the N.Y.U. 2031 plan approved by Chin and the City Council was a threat to "our homes — to Greenwich Village" that would make the area look like "Midtown Manhattan." Rajkumar lives in Battery Park City.
"And on the Seaport," Rajkumar added, "the Council hid part of the development."
She said one of her favorite sayings was by a law professor of hers who told her, "Courage is a muscle and needs to be used… . I'm going to be a person who has courage," she said.
"I took a leap of faith," Rajkumar said, of her decision to run. "And I ask you to take a leap of faith, too," she told the club members. "Because I know we can do so much better."
Dodge Landesman spoke for Rajkumar, saying she had "risked arrest" when she and scores of other local residents were tossed out of the City Council by Speaker Christine Quinn before last year's vote on N.Y.U. 2031.
Afterward, asked about the club's endorsement of the upstart Rajkumar over Chin, V.I.D. President Hoffmann simply commented, "It was N.Y.U."
During her Q&A with club members, Mendez, when asked about the New York City Housing Authority's infill development plan, said, "Personally, I don't like the idea. There is a federal process that has to be put in place, and NYCHA is just steamrolling this along."
Queried by Fouratt about what can be done to keep the Village from losing its supermarkets, Mendez said that Councilmember Robert Jackson has a bill pending that would implement some form of commercial rent control, but that it has "sat in the City Council for the past year."
Speaking in support of endorsing Mendez were Assemblymember Deborah Glick and state Senator Brad Hoylman.
Glick said Mendez is a politician who has never lost "the connection" to her community.
Said Hoylman, "Rosie is an elected official who leads from the heart — and that is so valuable in this job."
Del Rio is pastor of Abounding Grace Ministries, which has held worship services in P.S. / M.S. 34 on the Lower East Side for the past four years. Although the Department of Education wanted to put an end last year to religious groups using its school spaces for worship services, a district judge's injunction is allowing the churches to continue the practice.
V.I.D. also endorsed Scott Stringer for comptroller and Cy Vance for re-election as Manhattan district attorney.
Click on the link below for a video from the V.I.D. endorsement meeting in which Yetta Kurland responds to a question about her having owned a handgun in New York City and shares her views on gun control in general.