New Yorkers turn to Rite Aid and other big pharmacy chains to cure or treat what ails them. But what's ailing Rite Aid as they now seek federal bankruptcy protection, shutter locations and lay off workers?
Some blame the rampant rise of shoplifting in the post-pandemic era, and say that not enough crooks getting a "five-finger discount" are being caught or are being held accountable for their actions. Others cite the effects of inflation that has driven operating costs sky-high, or the impact of lawsuits stemming from the overprescription of synthetic painkillers in the national opioid epidemic.
With these symptoms knocking out 154 Rite Aid locations across the country, including four here in New York, some wonder whether other big pharmacy chain stores might suffer the same fate.
As part of the company's recent round of closures, the following New York City locations have or are ceasing operations: 
115-10 Merrick Blvd. in Jamaica, Queens

4188 Broadway in Manhattan

195 8th Ave. in Manhattan

1033 St. Nicholas Ave. in Manhattan
Rite Aid, which doubles as a one-stop shop for housing supplies, has previously closed several other locations in the five boroughs, and says it has selected its "underperforming stores" to close during the company's court-monitored bankruptcy process. The company says it has no specific plans to shutter any other locations. 
"At this time, we have not made or confirmed any decisions on additional specific store closures as part of our financial restructuring process," the spokesperson said. 
Rite Aid has just under 2,000 remaining stores.
The company filed for bankruptcy in a New Jersey court earlier this year, with the aim to help it get out from under mounting billions of dollars in debt. The filing will allow the company to cut costs on rent, while reducing its financial redundancies. 
Paying for the opioid crisis
While many companies faced financial struggles in the wake of the COVID-19 pandemic, which contributed to Rite Aid's problems, the pharmacy chain is also struggling to deal with several lawsuits targeting the company for its role in allegedly perpetuating the opioid epidemic. 
Rite Aid faces more than 1,000 lawsuits related to painkillers, mostly from individual plaintiffs. However, the most damning lawsuit came in March when federal prosecutors with the Northern District of Ohio sued the company for allegedly filling many opioid prescriptions that it should not have — such as for customers who sought large quantities (often refills) or because of suspicious customer behavior. 
"We allege that Rite Aid filled hundreds of thousands of prescriptions that did not meet legal requirements," said Vanita Gupta, the associate attorney general of the United States at the time. "According to our complaint, Rite Aid's pharmacists repeatedly filled prescriptions for controlled substances with obvious red flags, and Rite Aid intentionally deleted internal notes about suspicious prescribers." 
While the Department of Justice's case has not yet been resolved, and the monetary damages have not been determined, observers expect the company to ultimately face an eye-popping penalty in the near future. 
In total, federal prosecutors have collected over $50 billion from pharmaceutical companies, providers and pharmacies as a result of the opioid crisis. 
Perhaps expecting the worst, the company is taking preemptive steps to cut costs and get its financials back out of the red prior to being hit with a pricey legal settlement. 
The company has sought $3.45 billion in financing to help it stay afloat during the bankruptcy process. 
Theft hurting the bottom line 
Shoplifting is also harming the company's revenue, according to company leaders. 
Last year, when first hinting that they would be "shrinking our footprint" in the Big Apple, Rite Aid CEO Heyward Donigan singled out New York City stores when telling shareholders that thievery was a growing problem. 
"[We've] experienced unexpected headwinds this quarter from front-end shrink, particularly in our New York urban stores," he said in September of 2022. 
According to Donigan, theft had caused a $5 million revenue decline in 2022, compared with 2021. 
This week, the Council on Criminal Justice released a study showing that incidents of shoplifting had increased a whopping 64% in New York City between mid-2019 and mid-2023. 
Surprisingly, many of the shoplifting theft incidents in the Big Apple were attributable to just a handful of people. During 2022, almost a third of all arrests for retail stealing involved just 327 people, who were cuffed over 6,000 times, combined. 
That led Mayor Eric Adams to launch a "comprehensive plan to combat retail theft" earlier this year, which involved creating a database of repeat offenders so they could be more easily identified after future thefts, and to aid harsher prosecutions by attributing multiple crimes to offenders when they are caught. 
"Shoplifters and organized crime rings prey on businesses that have already taken a hit due to COVID-19, but, with this comprehensive plan, we're going to beat back on retail theft through a combination of law enforcement, prevention, and intervention," said Adams, when announcing the plan on May 17. 
In addition to the city's plan, Rite Aid has taken steps to stop shoplifting by putting more items behind locked doors, forcing consumers to seek out a store employee in order to get their hands on items.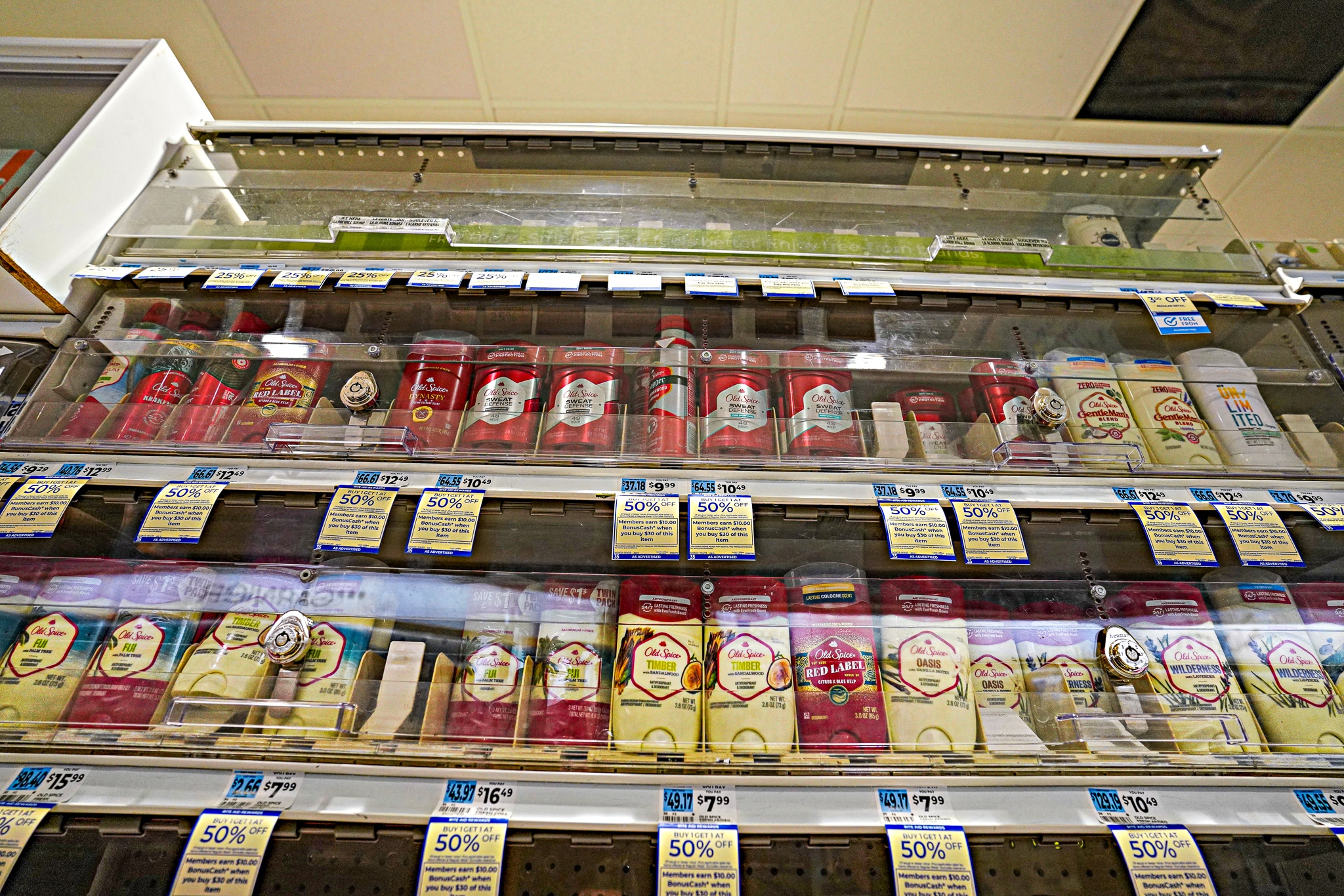 Rite Aid says it is focusing on putting the most-often, and most-valuable items behind locked doors to maximize the effectiveness. 
Some consumers said they were happy to see such measures in place. 
"They have to do it. They have to. There's no penalty for stealing, so they have to lock up items," said Sal Rossi, a shopper at Rite Aid near Court and Warren streets in Brooklyn. "If the police are not allowed to do their jobs, the store has to stop it somehow." 
Others, though, said the experience of shopping for items that are locked away was tedious, and said they actively consider patronizing other stores with a more seamless experience. 
"If I can go to a local, small, neighborhood place that makes it less of a kerfuffle to buy my stuff, I would. Having to ring a bell to get someone's attention, just to get eyeliner? It's not very pleasant," said Peggy O'Shaughnessy, a shopper at the same Brooklyn location. 
In any case, there remains a raging debate among industry insiders about the total impact of shoplifting on business' bottom line. 
William Blair, a financial services company, released a study earlier this month claiming that corporations were exaggerating the losses suffered at the hands of shoplifters, in an effort to excuse revenue declines that actually result from mismanagement and other factors. 
Walgreens, a major competitor to Rite Aid, actually admitted they had overstated the problem earlier this year when announcing they would scale back some of the security measures they had previously implemented. 
"We've put in incremental security in the stores in the first quarter, actually, probably we put in too much, and we might step back a little bit from that," said the company's chief financial officer, James Kehoe.
Higher costs wreaking havoc
Of course, aside from lawsuits and theft, the company is facing the very-real issue of inflation. 
According to a study from New York City Comptroller Brad Lander, prices for basic goods have risen 3.5% over the past 12 months — causing New Yorkers to stretch their budgets, and buy less products they can potentially live without. 
The city's inflation rate is actually less than the national Consumer Price Index, which shows that costs for basic goods have risen 3.7% across the country over the same 12-month span. 
While Rite Aid, and chain pharmacies like it, sell prescription medication, which tend to be less affected by inflation, they also rely on sales of other products like junk food and beauty products — which are among the first items cash-strapped consumers cut from their budget.
When customers pull back on spending, businesses like Rite Aid see their bottom line suffer. In its first quarterly filings of the fiscal year 2024, Rite Aid reported a net loss of $306.7 million, with $300 million in revenue declines compared to the same quarter last year. The company had a total debt of $3.3 billion, exclusive of future legal settlements. 
Consumers in New York City widely acknowledged that they were not spending as much as they were, largely due to rising costs. 
"Prices are going up around the city. Everyone is struggling — mostly middle and lower class, and they can't really afford things," said Rite Aid shopper Steven Rivera, at the location at 81 1st Ave. in the East Village.
Another said they were more conscious about buying only what they need, when they would have splurged on non-necessities while shopping at outlets like Rite Aid in the past. 
"I'm definitely keeping myself in check more, and reminding myself that I don't need certain things. I'm definitely less likely to buy snacks or things I can live without," said O'Shaughnessy, the shopper at the Brooklyn location at 182 Smith St. 
Others simply expressed their sadness that the company would be shuttering locations. 
"I would love for it not to close. It's convenient but also I love the exclusive deals. I feel like they have better sales and better deals than the other pharmacies," said a Rite Aid shopper named Alicia, who didn't want to disclose her last name, at the same East Village storefront.
Another shopper at the 1st Avenue branch worried about getting his medication if more branches were to close.
"I get my medication here, I suffer from hypertension and I do all my shopping here. I have been living here for 50 years," Raul Irizarry said.