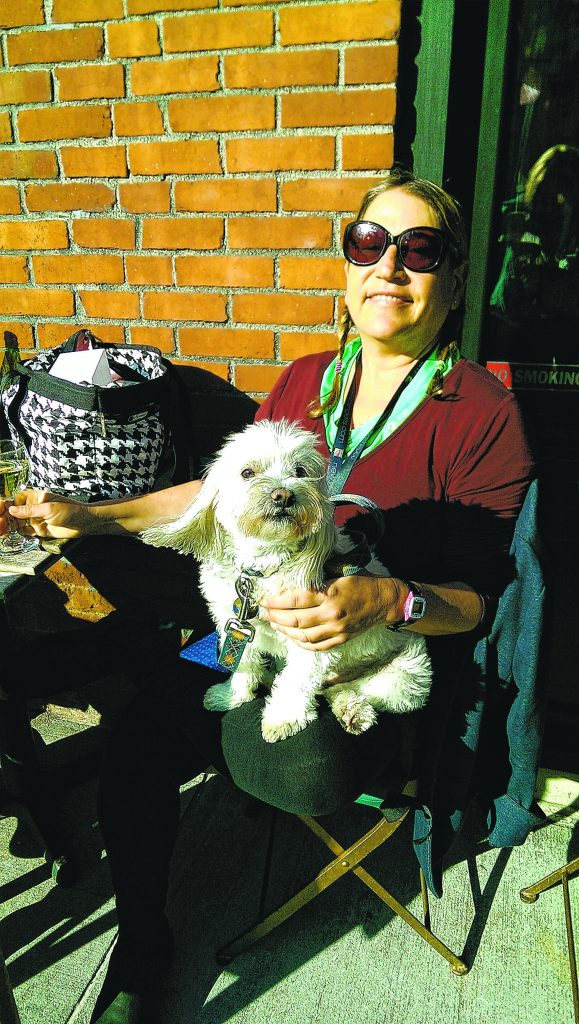 BY JANEL BLADOW
May flowers are everywhere! Enjoy your hood!
DOGS & SUDS…
Long before the Council and Mayor De Blasio passed the law last month to let pets dine with their humans at the city's sidewalk establishments, we at the Seaport have been chowing down with our hounds. Almost every spot with outdoor seating — from Cowgirl Seahorse to Fresh Salt — has seen a pup or two sit outside while their buddies sip and dine. Last week's sunny afternoons were no exception.
Battery Park City resident Leslie Lipton brought her "baby" Hogan (as in "Hogan's Heroes") to Acqua at 21 Peck Slip while she enjoyed some fun time. "It's a fabulous, beautiful, spring day," said the Condé Nast executive chef, who is also an attorney.
"I'm a lawyer with knives," she joked as she sat outside with two friends, one of whom recently moved to the neighborhood from Tribeca. "After a hard day's work, I hate to leave the pooch home while I have a glass of wine."
Acqua has a history of wine and woofs and we've even had a few canine birthday parties there. "I'm all for the dogs… and cats," Gerardo Proto, manager and cat owner, told us. "Why shouldn't they also enjoy a nice time outside? Our customers love our Italian food, even the dogs love it!"
So next time you're out walking your four-legged friend, stop by Nelson Blue or Dorlan's, or any of the spots with outdoor tables. Dogs like people watching too!
TODDLERS & TUGBOATS…
The spring session of miniMates set sail this week. But it's not too late to get your toddler into the program. Parents who didn't sign up can enroll for any or all of the remaining four sessions. Or, you may want to reserve a spot in the next round. The educational program for tykes 18-months to 4-years-old and their caregivers is 75-minutes of creative playtime, art projects, storytelling, dancing and more on Thursday mornings. Kids learn about boats, sea creatures, water and history while having fun. Since the South Street Seaport Museum launched the weekly playdate program five years ago, it has been a huge success. Each session consists of five meet-ups for $125. There's a 10-percent discount for more than one child and a family membership to the museum gets another $15 discount. For information, email minimates@seany.org.
DESIGNING WOMEN & MEN…
If you see a lot of fashionable fun people around the Seaport this week it's all because the Downtown Design Festival kicked off a few days ago. The 12-day fest is a major part of NYC Design Week, a citywide celebration of our top-notch design community. Exhibits, events, and panel discussions explore the explosion in design and creative energy in Lower Manhattan over the last 10 years.
The exhibits from Parsons School of Design range across new products, lighting and fashion design. Many of the projects were created by students who collaborated with established businesses and industries. The festival runs through May 17 and includes Downtown Dialogues speaker series.
For instance, "Downtown Dialogues: Beer is Culture," is one hot topic. On Friday, Sixpoint Brewery Manager Danny Bruckert offers an overview of beer-making, from inception to branding, followed by a beer tasting with the Sixpoint team.  It's at Seaport Studios, 19 Fulton St., 2nd floor, on May 6 from 6:30–9 p.m.. Reservations are a must for this one.
Seriously, plan to be at the big opening-night party on Monday, May 9, at 6–8 p.m. The cobbles of Fulton St. will fill with free music and entertainment (with food and drinks for sale). The event celebrates the ways artists, designers, scholars and other creative minds come together to create "new possibilities for social change." Or how about just to have fun, see clever creations, and meet new friends?
Sponsors are the Howard Hughes Corporation and the Downtown Alliance, along with Parsons and Wanted Design NYC.  While the party and panels are free, reservations are suggested. Go to the events calendars at www.southstreetseaport.com.
NOT YOUR SUNDAY FUNNIES…
There's a super new monthly series started by an enterprising artist, Yvonne Grzenkowicz of Eyesnare, Inc. ANNY, Animation Nights New York, screens animated short films from across the world. This month's movies include "Dirty Laundry Day" by Jamil Lahham, "Downtown" by Tran Nguyen Tuan Anh, and 16 more mini-movies less than 10 minutes each.  Grzenkowicz hopes to make this the Seaport animation fest equivalent to the Tribeca Film Festival, and it should become a fun way to bring our unique neighborhood together. Their new location, 180 Maiden Ln., has plenty of space — and hopefully enough chairs — but bring a blanket or pillow to sit on the indoor "lawn" and make it a party! Beer and wine are available and the movie night is free. Reserve your seat for the next screening on Wednesday, May 11, at 8 p.m. www.animationnights.blogspot.com.
MARK YOUR CALENDAR…
Seaport's Knickerbocker Chamber Orchestra will perform a free concert to celebrate 100 years of the National Park Service and to honor the late Peter Stanford, founder of the Seaport Museum and champion of our neighborhood's unique character and history. It will be at Melville Gallery, 211 Water St., on Friday, June 10, from 6–8 p.m. If you haven't seen them perform, you don't want to miss this. It's a fun time.