BY LINCOLN ANDERSON | Local politicians, university presidents and faith leaders — Jewish, Muslim and Christian — gathered in Washington Square Park last Thursday to condemn the recent spike of hateful incidents in the area following the presidential election.
The rally was, in particular, "to support the West Village community" in the wake of the troubling rise in hate.
The incidents have included anti-Semitic graffiti on student dormitory doors at The New School, threatening graffiti and post-its at New York University on an Islamic prayer room and a dorm door, and swastikas gouged into an elevator door at state Senator Brad Hoylman's building on Fifth Ave.
Just three days after the press conference, Hoylman was targeted by a hater yet again, receiving anti-Semitic fliers at his Village home, apparently sent by an Arizona man. Hoylman's husband and their young daughter are Jewish, and Hoylman follows the faith.
At Thursday's press conference in front of the iconic park arch, the politicians and faith leaders challenged such bigotry and pledged their united opposition to any act of violence against individuals because of their faith, gender, sexual orientation or political views. Many of them called out the president-elect for appointing Stephen Bannon, a leader of the so-called alt-right movement, who Trump has named as his chief strategist and senior counselor.
"We find ourselves at a deeply challenging and demoralizing moment for our great city and country," Congressmember Jerrold Nadler said. "The recent spate of local acts of hate and bigotry ought to alarm our New York City community. We must come together to defend the foundational principles of justice and tolerance that ground our democracy. The horrible rhetoric that emerged during the election campaign has in no small way contributed to the upswing in hate crimes that we have witnessed — and we must do all in our power to stand united in opposing such divisive forces. This includes speaking out when hate crimes happen in our neighborhoods, or when figures like Steve Bannon are appointed to positions of power and influence in the White House."
City Comptroller Scott Stringer said, "We have many questions about where President-elect Trump may take America — and together we must stand up for what we believe in. But there's no question that hate speech, offensive symbols and discrimination have no place in our city. We stand for modern values — not an agenda rooted in the 1950s."
In his remarks at the press conference, state Senator Hoylman added, "Since last Tuesday's election, more than 400 incidents of hateful harassment and intimidation have occurred, according to the Southern Poverty Law Center, including some in our own Greenwich Village neighborhood. In response, President-elect Trump must denounce and disavow the purveyors of hate speech and rescind the White House appointment of Steven Bannon, a known white nationalist."
Other Village officials speaking at the rally included Assemblymember Deborah Glick and City Councilmembers Margaret Chin and Corey Johnson. The pols at the rally were all Democrats and Trump and his new administration are Republican — but the concern transcends mere partisan politics.
Andrew Hamilton, the new president of N.Y.U., called the perpetrators gutless.
"The acts we have experienced in recent days — anti-Muslim, anti-Semitic and racist — share something besides their loathsomeness and divisiveness," he said. "They share a cowardly anonymity. That's why today's gathering is so important: The antidote is for people to stand together in the full light of day and publicly reject the hatred and intimidation. … Our values — diversity, inclusiveness, courage, justice — will prevail."
Similarly, Imam Khalid Latif, executive director of the Islamic Center at N.Y.U., said, "Now more than ever, it is important that we all come together. Organized evil will always triumph over disorganized righteous. Our strength lies in embracing our diversity and coming behind only those leaders who support it."
Rabbi Sharon Kleinbaum leads Congregation Beit Simchat Torah, the L.G.B.T. synagogue that was formerly located in Westbeth in the Village, but recently relocated to the Chelsea area.
"As a rabbi, as a Jew, as a member of the L.G.B.T. community, as a human being, I am outraged at the signs of hatred against Jews and Muslims that have already increased since the election," she said. "We will stand together — and create powerful spiritual communities of resistance and love. We will stand against anyone and anything that threatens the well-being of immigrants and others who are targets of the hate mongering of this elected — but not by the popular vote — Trump administration."
In the latest incident, Hoylman said he received several fliers on Saturday in the mail, sent in a Hallmark envelope "by a known anti-Semite" in Phoenix, Arizona, who previously served prison time for attacking a Planned Parenthood clinic, according to the state senator. Hoylman and his husband, filmmaker David Sigal, turned the materials over to police at the Sixth Precinct and the Police Department's Hate Crimes Unit is investigating.
"There were three fliers, all of them threatening Jews with damnation," Hoylman told The Villager this Tuesday.
Asked if he felt threatened or upset by being made a target, Hoylman shrugged: "I wear it as a badge of honor, frankly."
"It's more representative of what this presidential campaign has unleashed," Hoylman added. "And it makes it all the more important for President-elect Donald Trump to speak out and disavow these attacks by extremists and white nationalists. But I don't have a lot of hope of that, considering that he's appointed an anti-Semite like Steve Bannon as his top adviser."
In an interview last Friday, Hoylman said the swastikas that were carved into a service-elevator door at his apartment building at 30 Fifth Ave. were found on the second floor by a neighbor. Hoylman lives on a different floor. The sinister symbols have since been sanded away and painted over. However, following the state senator's going to the media with the story, he was, in turn, targeted on social media by haters.
"I had the alt-right attacking me for the last 28 hours on Twitter," he said. "One of them suggested that my daughter should have her brains blown out.
"This is why so many of us feel we're entering a dark chapter of our nation's history," he continued. "Trump has unleashed the bottom feeders of our society, who now feel validated that they can wreak havoc on the rights of people they feel have taken advantage of our system for too long.
"There is a palpable sense of fear. People have stopped me on the street, my friends and relatives [are all afraid]… . I don't think it's unfounded. We have seen who Trump has appointed, including Bannon and now Jeff Sessions, a bigot, for attorney general. Hopefully, Senator Schumer will be able to block Sessions's appointment."
Hoylman, though, predicts Trump will at least eventually dump Bannon.
"I think pressure is building," he said. "At some point, he's going to see Bannon as a liability."
But that doesn't mean Trump himself will soften his hard-line policies, in Hoylman's view.
"I don't think there's a hidden Trump," he assured. "There's no 'Trump card' here."
Up until Tuesday, Trump had done little to reassure Americans that he does not support the growing hatred. After the election, he was asked in an interview with "60 Minutes" what he would tell his supporters who are harassing minorities — specifically, Latinos and Muslims, including young students who have been threatened by some teachers and staff. The president-elect answered that he was "so saddened to hear that," and looking into the camera, simply said, "Stop it."
"I'm going to bring this country together," Trump assured.
This Tuesday afternoon, though, it was reported that during an interview with New York Times editorial staff, Trump sought to distance himself from the alt-right, saying he did not support them — and yet, he refused to disavow Bannon.
"I don't want to energize the group, and I disavow the group," Trump said of white nationalists, according to a Times reporter who was tweeting the meeting. "It's not a group I want to energize," Trump said, "and if they are energized, I want to look into it and find out why."
Meanwhile, at N.Y.U., Muslim students are still very much on edge after a prayer room they regularly use was vandalized the day after the election with a threatening one-word message — "Trump!" — written in black magic marker. The incident happened at the N.Y.U. Tandon School of Engineering, in MetroTech in Downtown Brooklyn.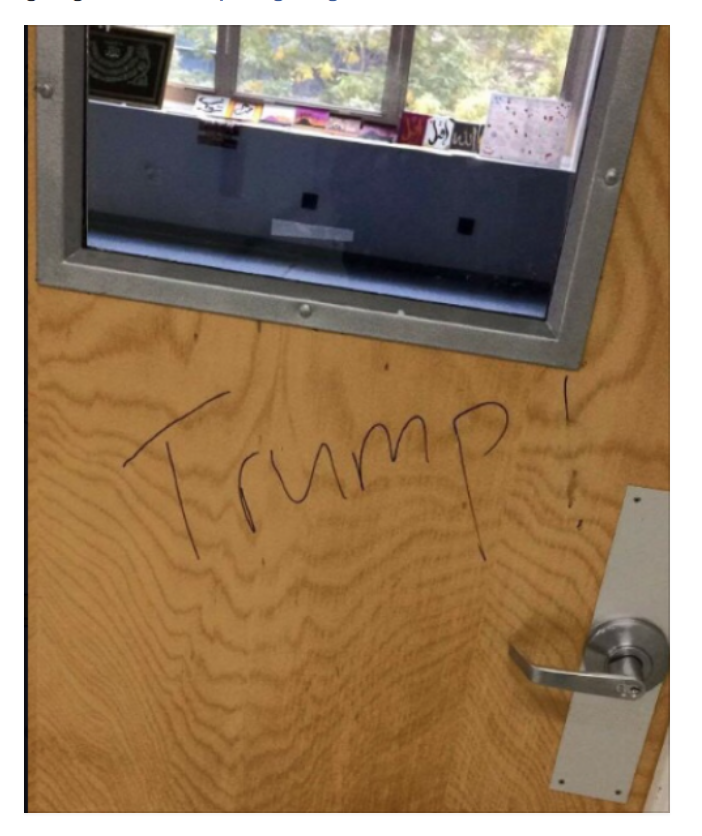 Sumayya Vawda, the treasurer of the school's Engineering Muslim Students Association, said that since the incident, a security guard now patrols 24/7 the third floor of 6 MetroTech, where the prayer room is located. The students also had a security camera installed.
There is also an Islamic prayer room at the Islamic Center on the main N.Y.U. campus in the Village. Vawda goes to the Manhattan campus two days a week, to use the prayer room or see her adviser and because, she said, "I just like being in the Village. I love eating food on MacDougal." She noted that she did observe a security guard standing outside the prayer room there last Thursday.
The prayer room is a safe space for students to observe their religion, but also to socialize and hold discussions, such as about the election, she said. On a weekly basis, 150 to 200 students use the Brooklyn prayer room and 500 use the one in the Village, according to her.
Vawda said it was shocking that the hateful vandalism had happened at N.Y.U. and in New York City.
"We have a lot of friends from diverse communities," she said. "It made us feel, 'Hey, we don't really know our peers.' That deep-seated hatred is among us. It's scary."
In response, the Muslim students and N.Y.U.'s Imam Latif held a vigil and speak-out at the university's Greenwich Village campus that was attended by 250 students. Also showing their solidarity were the N.Y.U. Christian chaplain and groups representing the school's Hispanic, black and L.G.B.T. engineering students.
Vawda, who lives in Queens, was born in the States to Indian immigrant parents. She wears a hijab.
"I'm a visible Muslim," she said, "a young woman of color, hoping to enter medicine, eventually."
She said, as chilling as Trump's rhetoric and his appointments are, she won't be deterred.
"Nothing's going to stop me," she said. "I'm going to make sure I can be of use to my community and other people. He's just going to make it harder. But I'm not going to back down from the fight."
Yet, she admitted, the bigoted graffiti — though now erased — has left its mark.
"It's gonna take more than a week for this to be put to the side," she said. "It's gonna take awhile. Once your safe space has been violated, can you ever feel that level of comfort again?"
In addition, racist post-it messages were plastered on the door of four students' suite at N.Y.U.'s Gramercy Green student residence at E. 23rd St. and Third Ave.
The Washington Square News, the university's student newspaper, reported the story on Thurs., Nov. 17, with a photo of the sticky notes, bearing the messages "Make America White Again," "Trump!" and "White Pride," plus one with a swastika.
After seeing the notes on her door last Thursday morning, sophomore Anastasiya Muravyeva posted a photo of them to a Facebook page for the dorm and also on her own Facebook page.
"To whoever did this to my door today, joke or not, I am not laughing," she wrote. "My Jewish and homosexual roommates are not laughing. Nobody is laughing."
She alerted N.Y.U. Public Safety and filed a police report, and the Police Department's Hate Crimes Task Force came to speak with her about the incident.
Similar messages on post-it notes were reportedly also found on other doors in the E. 23rd St. dorm, reading, "White Lives Matter Too."
In a statement, university spokesperson John Beckman called the behavior "appalling," adding, "We have brought in the N.Y.P.D. to investigate and will assist them in any way possible with their investigation. N.Y.U. will remain focused on the safety, well-being and support of our students, and on fostering a diverse, inclusive and respectful community in which these kind of cowardly, ghastly, anonymous actions have no place."
As reported last week, swastikas were found on doors of students' rooms at The New School's Kerrey Hall on Nov. 12.
New School President David Van Zandt condemned the divisive scrawls in a school-wide e-mail.
"The New School is a diverse community comprised of a mixture of race, ethnicity, religion, sexual or gender identity and political beliefs," he said. "This is not what we as a community stand for, nor is it something we will tolerate."
— With reporting
by Sarah Ferguson